Roberto Luongo not frustrated by still being a Canuck; 'I was OK with that'
Earlier this summer, Roberto Luongo said it was time to move on from the Vancouver Canucks. He's singing a different tune these days.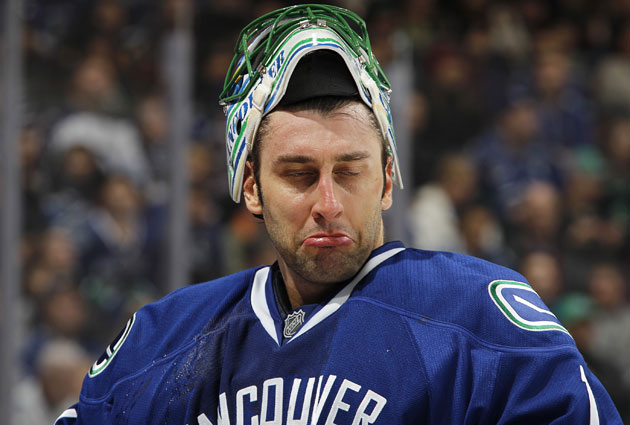 Luongo isn't pouting about getting out of Vancouver. (Getty Images)
Remember earlier this summer when Roberto Luongo was preparing to play in the World Series of Poker and he gave his first radio interview since the season ended? If not, here's a refresher on what he said then about his career with the Vancouver Canucks.
"I would never say never, you never know, but I think we all know what's going on," Luongo said of possibly returning. "We've all seen what's developed. At the end of the day, I think it's time to move on and I'm OK with that. I had a great six years in Vancouver. I think it's a wonderful city, I really enjoyed my time there. Unfortunately, I wasn't able to bring a Stanley Cup there, which is probably my biggest regret. It will be remembered for six great years."
It's a good thing he wasn't willing to say never even if he spoke in the past tense and about his legacy with the Canucks. Why? Because here we are in mid-September and he still is a member of the Canucks, flying out of his home in Florida to join the team in a golf outing and what would be some precamp preparations (insert usual lockout disclosures here).
That tune he was singing earlier this summer, or even last week when he hinted that the Panthers would be a great fit for him? It's a bit different now that he's back in Vancouver with his teammates.
Here's what Luongo had to say most recently, from NHL.com:
"Two months ago, after what had just happened and [Schneider] had just signed, I didn't really see myself being here," Luongo said before teeing off at the team's annual charity golf tournament -- his first comments locally since the end-of-season address. "But I realized once we got into August that was a possibility and I was OK with that."

That's not to say Luongo necessarily wants to be back. And with 10 years left on a deal with a $5.33 million annual salary-cap hit, the Canucks can't keep both goalies long-term.

"I pretty much stand the same where I left off," Luongo said. "I said I would be willing to lift my no-trade clause if asked, and so far I haven't been asked, so I'm here."
Luongo went on to say he's not frustrated by the lack of movement and that he's never given a list of teams to general manager Mike Gillis.
My take? Luongo is doing his absolute best to make the best of a tough situation. When he originally said he would waive his no-trade clause if asked, it seemed like a polite way of saying he wanted out of Vancouver where he now would appear to be No. 2 behind Cory Schneider. I still don't believe for one second that he wants to remain in Vancouver because a guy like him wants to -- and probably deserves to be -- a starter still in this league.
But Gillis has said for months now that he was OK with going into the season having both Schneider and Luongo around. Put another way, there are worse problems to have than two outstanding goalies on your roster. Luongo knew this was a possibility, which made it surprising to me when he spoke of his time in Vancouver in the past tense and said it was time to move on.
Gillis wants to get a good deal in return for Luongo, and rightfully so. He said he has received some offers, but clearly none were enough to his liking. But he has so little power in these negotiations, he's trying to regain any of it by holding onto his property longer.
"We're one of the wealthiest teams in the League so we don't have fire sales," Gillis said.
Unfortunately there aren't any teams nipping at his bud to take Luongo off his hands and that still will be the case whenever a new CBA is reached and the season beckons. It's odd but there just isn't much of a need at all for a top-level goalie like him carrying that contract. That could change, though, and perhaps that's Gillis' hope.
What happens when some team loses its starting goalie to a season-ending injury or something else that dramatically changes needs across the league? Then and maybe on then will he be able to get what he's looking for in return for Luongo, when desperation kicks in.
In the meantime, desperation is nowhere to be found in this saga and that would include Luongo and his apparent wishes to change locales.
More from Eye on Hockey
Luongo thinks trade to Florida makes sense
Luongo says it's time to move on
Luongo says he'd waive NTC if asked
For more hockey news, rumors and analysis, follow @EyeOnHockey and @StubitsCBS on Twitter and like us on Facebook.
Los Angeles isn't rushing to sign the 45-year-old forward any time soon

The University of Denver star and Hobey Baker Award winner is drawing interest

Intrigue is high in Arizona after a wild offseason, but expectations should still be tempe...
Players are set to give personalized messages for Adidas' former hockey equipment brand

The 40-year-old center is returning to the Wild after a successful run in Pittsburgh

Edmonton locks up its 21-year-old RFA a month after McDavid's historic extension