Rosislav Klesla exits game on stretcher after hit from Kings' Nolan
Coyotes defenseman Rostislav Klesla left the ice on a stretcher Sunday night after a hit from LA's Jordan Nolan; teams disagree on hit.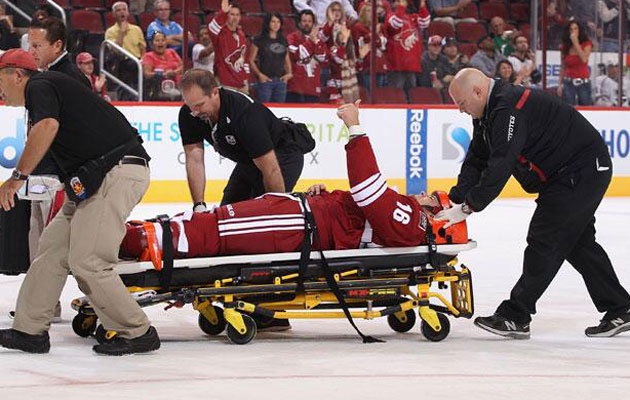 More NHL offseason: Rumors | Top 50 Free Agents | Buyout Tracker | Trades | Transactions
It's only the preseason but the NHL has already had an awfully scary moment, coming on Sunday night in Phoenix in a split-squad game with the Kings.
Early in the game, Coyotes defenseman Rostislav Klesla was hit in open ice by the Kings' Jordan Nolan and was left down on the ice for a while. Some of the details were chilling.
Klesla is down on ice. His leg sort of twitched for a moment and then he stopped moving. Stretcher is out. Medical staff attending to him

— Craig Morgan (@cmorganfoxaz) September 16, 2013
Soon enough, Klesla was taken off the ice on a stretcher, giving the fans a thumbs up in the process. He remained alert at the arena until he was taken to a hospital for further evaluation.
Immediately the question was asked; was it a high hit? Did Nolan crush Klesla legally or was it something that's going to draw a suspension from the NHL? This was much was made clear; the Coyotes didn't like the hit one bit. Once Nolan was let out of the box, things got physical and that's when Coyotes tough guy Paul Bissonnette was assessed a game misconduct for leaving the bench. Normally that comes with an automatic 10-game suspension but the league will do its best to review that first before handing down the ban.
If that wasn't a sign of how the Coyotes felt, they shared their thoughts after the game (via Craig Morgan/Fox Sports Arizona).
"Seemed to me like our guy got hit in the head and their player left his feet, but that's not for me to diagnose," said Coyotes coach Dave Tippett, noting that Klesla "got his bell rung pretty good."
"Obviously, we think there's a finish high, a finish off the ice," captain Shane Doan added. "As we've been witness to, that's usually not very good."
For his credit, Nolan didn't think it was a bad hit.
"I thought it was clean. He was skating through the middle of his ice, and I was just focusing on his chest, and I feel like I hit him square in the chest," Nolan said.
Despite the fact the game wasn't on TV, there is video footage and the league will undoubtedly review it. It's hard to say anything about the legality (or lack of) of the hit without seeing it but judging by the response and the few writers that did have a chance to see it live and again on in-house replays, it sounds like Nolan could have some discipline heading his way. Same for Bissonnette.
By the way, if such things matter in the preseason, the Coyotes won the game 4-2 in Arizona while winning the simultaneous road contest in LA 5-1.
The unsigned forward, still in search of a team, is campaigning for himself

The league shoots down a report that NHL players could still be permitted to go to the Oly...

The 45-year-old forward remains unsigned but has shown little desire to hang up the skates
Pittsburgh also has been linked to Matt Duchene and could be in the mix for Tyler Bozak

Nashville extends its 24-year-old restricted free agent with what could be bargain numbers

Calgary forward is all for playing for the Flames, but he also likes the idea of going to...