Russia facing punishment for actions following World Championship
The Russian national team is facing IIHF sanctions for leaving the ice early following their Gold medal game loss to team Canada on Sunday.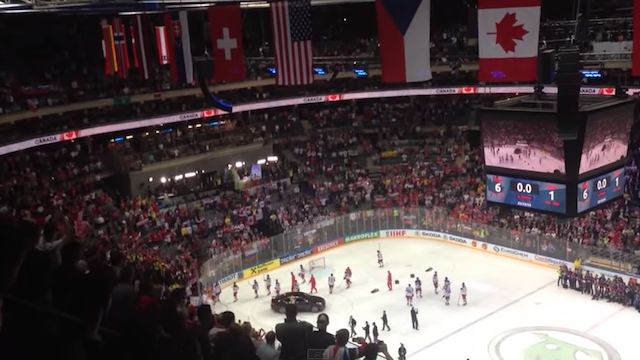 The Russian national team is facing sanctions from the IIHF for its actions following a 6-1 loss to Canada in Sunday's gold medal game at the World Championships.
Following the game, the majority of the Russian team exited the ice before the playing of the Canadian national anthem.
It was a statement that did not please IIHF president Rene Fasel, who said on Monday that some sort of punishment will be handed down.
"Once we arrive back home after the world championships we will look into this question and we will get in touch with those in charge at the Russian Ice Hockey Federation," IIHF president Rene Fasel said in the statement to the TASS news agency.

"The IIHF has its own protocol and some sort of punishment will be handed down.

"When I saw what had happened, I was very upset. In the 29 world championships that I have had the honor of attending, this is the first time I have seen something like this. What the Russian team did was completely out of order.

"On the ice during the game, anything can happen -- collisions, fights. However, after its conclusion, respect to the opposition is always necessary," he added.
Only a handful of Russian players remained on the ice following the game, including Washington Capitals forward Alex Ovechkin, Pittsburgh Penguins forward Evgeni Malkin, Florida Panthers defenseman Dmitry Kulikov, and former NHL player Viktor Tikhonov. 
According to TSN's Darren Dreger, Ovechkin tried to convince his teammates to stay on the ice. 
Slava Malamud has video of the Russian team leaving for the locker room following the game while only six players remained on the ice.
The league's GMs want goalie interference to be determined by the situation room in Toront...

Donato was signed to the Bruins on an entry-level contract Sunday

Erik and Melinda Karlsson announced they were expecting their first child back in November
This could have ended a lot worse for the Kings defenseman

Jay Inslee dropped the name of a Seattle hockey team this week, but was it intentional?

Nashville has to be favored to return to the Stanley Cup Final, but Columbus is suddenly on...