Ryan Callahan open to staying with Lightning, considering options
Ryan Callahan is still set to be a free agent this summer and with the Lightning now eliminated, he says he's open to staying in Tampa but hasn't thought much about his options yet.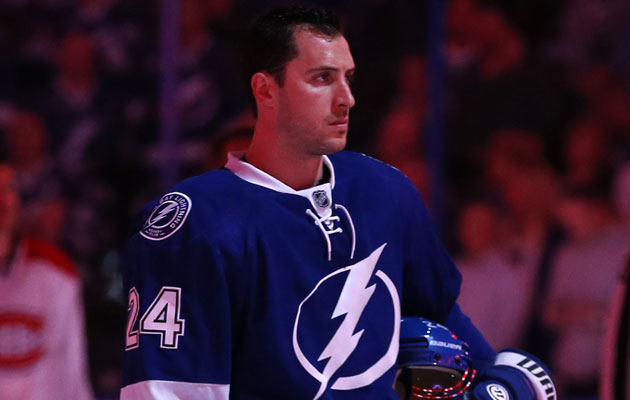 More Playoffs: Schedule, TV listings | Expert Picks | Bracket | Scores | Odds
The Tampa Bay Lightning earned the dishonorable distinction of being the first team booted from the Stanley Cup playoffs, swept in four games by the Montreal Canadiens. It's not exactly how they had envisioned their postseason, of course.
But with the quick exit also means they can quickly turn their attention toward next season and join the non-playoff teams in planning for the offseason. In the case of the Lightning they have a pretty important issue to address before July 1; Ryan Callahan.
Traded to Tampa Bay at the deadline with a couple of high draft picks in exchange for Martin St. Louis, Callahan is a free agent after this summer. His contract demands and lack of a deal with the Rangers were what made him expendable in the first place.
Lightning General Manager Steve Yzerman has made it no secret -- and he said it again on Thursday -- that he would like to re-sign Callahan to join a nucleus that will rely on a lot of young and skilled players. Now that his season is over, Callahan is being asked about his intentions on that front.
Callahan said he's open to returning to Tampa, but hasn't thought much about future yet. Also said he sees team going on upward trend.

— Missy Zielinski (@Missy_Zielinski) April 24, 2014
You'd have to be blind not to see the upward trend so that is more than just lip service. In addition to the quality play they got out of their young players like Ondrej Palat, Tyler Johnson, Radko Gudas and a still young Victor Hedman among others, they have all-world talent Jonathan Drouin in the QMJHL right now and undoubtedly he will make the lineup next season. So undoubtedly the future is bright.
But with so much youth there is always a premium put on players with veteran experience and leadership intangibles. Callahan has both of those having served as the captain in New York for a few years. Add in 11 points in 20 regular-season games after joining the Bolts, you can see why they would want him around.
Of course how much do they want him is the question. Callahan was reportedly asking for a lot of money and term from the Rangers and it's unlikely that will change now. From all accounts he enjoyed his time in Tampa but enough to bypass a shot at free agency for the first time at 29 years of age?
Right now it's hard to get a ready on where this might head.
Reading mixed messages in Callahan today - on one hand said he enjoyed his time here (past tense) but also mentioned "how young WE are''

— Erik Erlendsson (@erlendssonTBO) April 24, 2014
So it sounds like he's open to a return but not committed to it. It's up to Yzerman to convince Callahan Tamps i$ where he want$ to be.
Vladislav Yeryomenko was the Teddy Bear Toss goal scorer for the Calgary Hitmen

The Golden Knights are finally getting their No. 1 goalie back after a 25-game absence

Washington has won four straight, and the Kings are also on a tear right behind the Lightn...
The NHL says it's only interested in expanding to Seattle, but here's a look at all the moving...

The NHL says it is only looking toward Seattle for the next expansion team

The 33-year-old defenseman hopes to help find a cure for serious head injuries in athletes