Ryan Callahan suffers knee sprain, out for 4-6 weeks
Rangers captain Ryan Callahan had to leave Tuesday night's game in the first period after he sustained a Grade 2 knee sprain. He'll miss 4-6 weeks.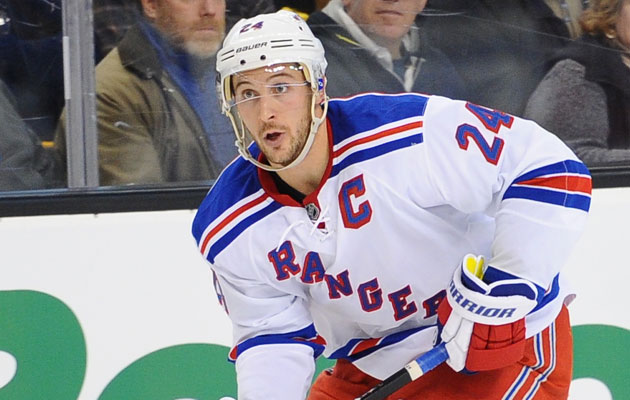 More NHL: Scores | Standings | League Leaders | Odds | Injuries | Power Rankings
Things just aren't going Ryan Callahan's way this year. Or the Rangers' for that matter.
The New York captain missed the first couple of games of the season after offseason shoulder work and later missed two weeks of action after breaking his thumb while blocking a shot. On Tuesday he added to the injury trifecta when he was forced out of the game with what the Rangers announced as a sprained knee.
The injury to Callahan came in the opening period against the Predators when Vic Bartley's leg hit Callahan's after Callahan checked Bartley into the boards. The captain limped to the bench and his night was done.
Even worse, after the game the Rangers announced it's a Grade 2 knee sprain and Callahan is going to miss a lot of time.
#NYR Callahan has Grade 2 MCL sprain. Will be out 4-6 weeks

— Katie Strang (@KatieStrangESPN) December 11, 2013
Callahan came into this season with a Rangers team that had pretty high hopes and he had the extra incentive of playing for a position on the US Olympic team, a spot that seemed pretty safe earlier this season. Not so much now with how things have been going and this injury won't help at all.
But the Olympic team is second right now to the Rangers and they can use all the help they can get at the moment. Callahan does have seven goals and six assists in his 23 games this season while playing his usual solid defense. He's their captain for a reason.
There are a lot of peole hoping it's not on the severe side.
Players are set to give personalized messages for Adidas' former hockey equipment brand

The 40-year-old center is returning to the Wild after a successful run in Pittsburgh

Edmonton locks up its 21-year-old RFA a month after McDavid's historic extension
Even with a new coach and added veteran help, the Canucks have a long road ahead

Unlike expansion teams before them, the Knights have enough talent to entertain right away

Brian Lawton says he 'would not be surprised' if Boston deals its young star to end contract...