Ryan McDonagh, Rangers agree on new deal for reported six seasons
Restricted free agent defenseman Ryan McDonagh has himself a new contract with the Rangers fora reported 6 years and $4.7 million per year.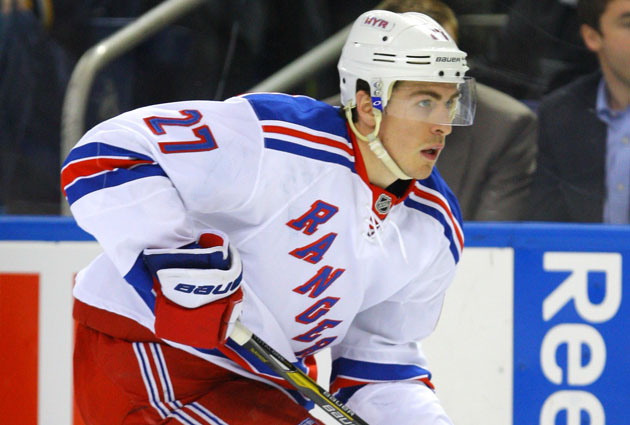 More NHL offseason: Rumors | Top 50 Free Agents | Buyout Tracker | Trades | Transactions
The main reason the New York Rangers were quiet in free agency this year with their biggest acquisition being Benoit Pouliot was because they still have three important restricted free agents to sign. They've taken care of the first one, Ryan McDonagh.
McDonagh, the young defenseman who has established himself as one of the best up-and-coming defensemen in the game, has agreed to a new deal with the Rangers, the team announced on Monday. According to Larry Brooks of the New York Post, it's a six-year deal worth $28.2 million. That's a $4.7 million salary cap hit per year.
Not bad, Rangers, not bad at all. McDonagh, 24, could have commanded a little more than that so to come in at what has to be seen as a fair number is a win for the Rangers. It not only puts McDonagh on the roster at a good salary cap hit for what he provides, but it also keeps him in New York until he's 30, eating up the first couple of unrestricted free agency.
Now they will have to turn their attention to Derek Stepan and Carl Hagelin. With McDonagh coming in at $4.7 million per, they have about $6.5 million to get the other two signed to new contracts under next season's salary cap. It's not a lot of wiggle room, especially when you consider the newly acquired Justin Falk is also an RFA.
Frankly, the Rangers are ripe to be hit by an offer sheet if any GM is daring enough to do it. Throw a good deal at Stepan or Hagelin and the Rangers might not be able to match.
The other interesting angle to watch from this McDonagh deal is how it impacts the other RFAs out there. Guys like Alex Pietrangelo and Karl Alzner need their new deals and McDonagh helps to further establish where they should fall in line.
McDonagh played in 47 of 48 games for the Rangers this past season, scoring four goals with 15 assists. He played all 82 games the season before. In both seasons he averaged more than 24 minutes per game, already establishing himself as an irreplaceable part of their team.
The NHL says it's only interested in expanding to Seattle, but here's a look at all the moving...

The NHL says it is only looking toward Seattle for the next expansion team

The 33-year-old defenseman hopes to help find a cure for serious head injuries in athletes
Chicago becomes the latest NHL club to earn an evaluation of $1 billion or more

The city council has approved a $600 million redevelopment project for KeyArena

Arvidsson took off his glove to reveal an engagement ring for one lucky fan