Ryan Nugent-Hopkins signs seven-year extension with Oilers
The Oilers continue to lock up their young talent in long-term deals. The latest is Ryan Nugent-Hopkins, who has signed a seven-year deal.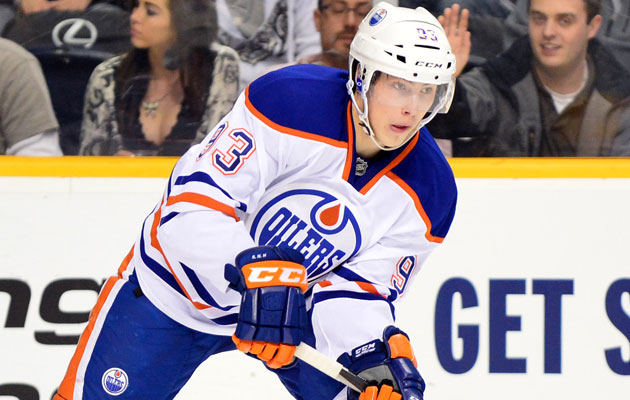 More NHL offseason: Rumors | Top 50 Free Agents | Buyout Tracker | Trades | Transactions
The Edmonton Oilers are making a habit of signing their young talent to new contracts well in advance and did so again on Thursday with former No. 1 pick Ryan Nugent-Hopkins.
The Nuge is headed into the final season of his entry-level deal and already he has himself a seven-year extension. Per Elliotte Friedman the contract calls for $42 million over the seven seasons, or $6 million per.
At this point it has become a formula for the Oilers. In the past couple of years they have signed Jordan Eberle and Taylor Hall to extensions off entry-level deals. Those contracts? Six years, $36 million for Eberle and seven years, $42 million for Hall. The going rate sure seems set, now doesn't it? Should make negotiations in a year from now with Nail Yakupov pretty easy.
However it must be noted that there is undoubtedly some risk in this contract with Nugent-Hopkins. There is no questioning his potential skill as an NHLer but he has had various injury issues thus far and hasn't shown as much at this stage of his career as Eberle or Hall had. He missed 20 games in his rookie campaign then missed eight more last season. Still, he has 76 points (22 goals, 54 assists) in 102 career games and still has plenty of growing to do.
It's interesting that the Oilers have elected to go against the trend across the NHL of signing players to bridge contracts off of ELCs. They have instead elected to sign these players to long-term extensions right away, deals that will take them right up to unrestricted free agency. It has allowed teams to keep individual costs down in their early years, which often turn out to be their prime  years.
Then again it's a bit easier to give away guaranteed big money to guys who went No. 1 overall, you have a pretty good idea of what you're going to get from them. And frankly, there was little other option based on the precedents with Eberle and Hall.
What's interesting is that with these big deals in place the Oilers are going to be running out of a lot of free cap space in coming seasons, although that depends how much the salary cap climbs.
One thing is for sure, though; the Oilers are establishing quite the core. Nail, you're next.
Rage is all the rage in Montreal

Buffalo's 20-year-old phenom pulls off the highlight of the night against Vancouver

The North American love affair with Edmonton's superhuman center continues to grow
The defending Western Conference champion Predators are also heating up early in the year

The Oilers' young star remains seriously unfair

David Kelly, a Toronto-born hockey analyst, has strong advice for Edmonton vs. Chicago game...