Ryan Suter likely to decide on Wednesday; Will he and Zach Parise join Wild?
Free agent defenseman Ryan Suter will make his decision on Wednesday, according to his agent.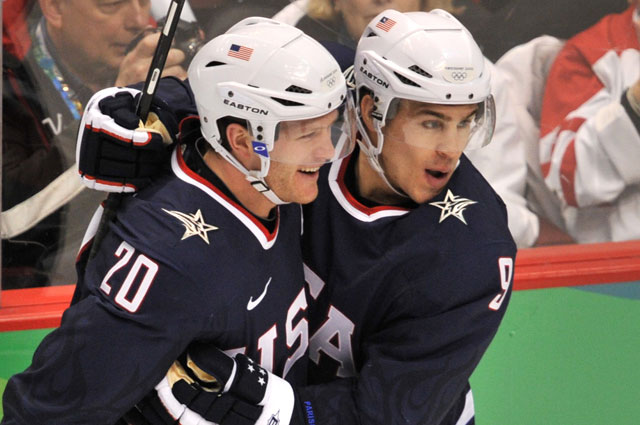 Will Americans Ryan Suter and Zach Parise join forces again on the 4th of July? (Getty Images)
It appears that the waiting is almost over. Free agent defenseman Ryan Suter is expected to make a decision as to where he will play on Wednesday, as tweeted by his agent.
Client Ryan Suter plans on making a decision today.

—PAUL OSTBY (@SHEEHYHOCKEY) July 4, 2012
While the serious contenders for his services are narrowed down to a select few (Detroit, Minnesota, Nashville, Pittsburgh, Philadelphia), there seems to be a growing belief that he, along with the other big free agent on the market, forward Zach Parise , could be a package deal that ends up with the Minnesota Wild.
The latest from Wild beat writer Michael Russo of the Star-Tribune:
The Wild's certainly putting out all the stops. On that plane trip with agent Neil Sheehy yesterday, the Wild agreed to terms with center Jake Dowell to a two-year deal (two-way in Year 1, one-way in Year 2). Not only is Dowell buddies with Suter after playing together at Wisconsin, he's also friends with Parise. The 27-year-olds played together in world-under-18's (gold medal) and the world junior championships.

Now, does all this mean everything is a done deal for the Wild and they'll soon have a new No. 11 (Parise) and No. 20 (Suter) in the fold?

No. But the stars seem to be aligning that the Wild's got a better chance to get this done than a lot of us believed.
Well that would certainly be something.
Then, just to add a little more smoke to the fire, came this tweet early Wednesday morning from hockey agent and former general manager of the Lightning, Brian Lawton.
Sorry about late night ...... Just back in town. Not sure yet on Parise but word is Ryan Suter will be playing for the MN Wild next season!

— Brian Lawton (@brianlawton9) July 4, 2012
The Wild have been in the NHL for 11 years now and for the most part have remained out of the spotlight for almost all of them. They've made the playoffs just three times, advanced past the first round just once, and haven't reached the postseason in four years. They're coming off a season that built hopes with a fast start, and then crushed them all with disastrous second half.
They're desperate for impact talent at this point, and signing the two biggest free agents on the market would not only go a long way toward fixing that, it would also put them on the NHL map for the first time in ... well, perhaps ever.
If (and that's still a big if) they're able to get it done.
We had a good laugh on Sunday when the Wild Tweeted from their self proclaimed "war room" that they had made offers to both free agents. As it turns out, the joke may have been on us for not believing they actually had a shot to pull it off.
For more hockey news, rumors and analysis, follow @EyeOnHockey and @agretz on Twitter and like us on Facebook.
Bovada says the two nicknames are favored to be used, with Rainiers coming in third place

Here's everything you need to know to watch the NHL's marquee midseason event

The expansion Golden Knights officially moved into first place in the NHL on Sunday
The former Boston Bruin was the first black player to play in the NHL

Inclement weather led to the Charlotte Checkers and Bridgeport Sound Tigers playing in front...

The NHL chose the Detroit rocker as its All-Star Game entertainment and not everyone is th...