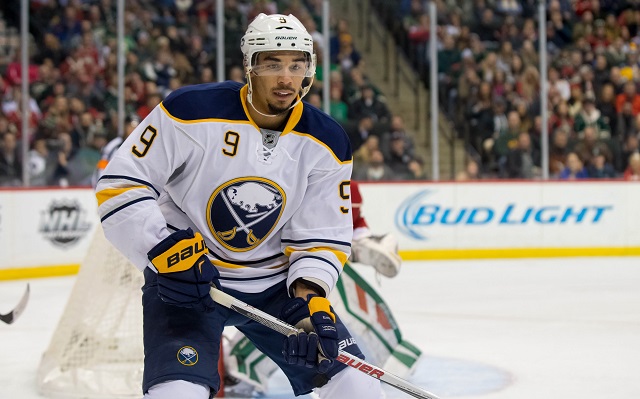 Buffalo Sabres forward Evander Kane will face no criminal charges following an investigation into a sexual encounter between he and a woman in December by Buffalo police, according to the Buffalo News. Kane was never accused of a crime, but the investigation was triggered when the woman sought medical treatment at a local hospital when she couldn't remember what happened, according to the report.
Upon the first reports of the investigation back in December, Kane addressed the media at a Sabres practice, expressing that he had done nothing wrong and looked forward to clearing his name. The winger was allowed to continue practicing and playing with the team over the course of the investigation, which is now complete.
"There was never a criminal complaint filed. After a careful and diligent examination of all the known facts, including the results of forensic and toxicological testing, neither the provable facts nor the applicable law support the filing of any criminal charges or a prosecution in this matter," Acting District Attorney Michael J. Flaherty Jr. said in a statement.

Paul Cambria, Kane's attorney, said the hockey player is "relieved but not surprised."

Hospital officials contacted police after finding evidence of trauma and examining the woman for signs of sexual assault. That resulted in police searches of Kane's downtown hotel room and his sport utility vehicle.
As a side note, Cambria was the same attorney that represented Patrick Kane after he was accused of raping a woman in his home in Hamburg, a suburb of Buffalo. Kane was not charged following that investigation and just this week, the NHL concluded their own investigation into the allegations against Kane and considers the matter closed.
In Evander Kane's case, this is one chapter that appears to be closed in a year that has been full of personal ups and downs for Kane. In February 2015, Kane was traded to the Sabres after a reported falling out with teammates with the Winnipeg Jets. Kane also underwent surgery that cost him the remainder of his 2014-15 season.
This year, Kane has had a fair season on the ice. The former 30-goal man with the Jets has 19 goals and 31 points over 58 games this year. At one point he was suspended from the team after missing a practice following a night out after attending the NBA All-Star Game in Toronto. Kane publicly apologized and was reinstated after sitting out one game.