Sabres' Kaleta angry about scratch; Miller says he needs to grow up
Patrick Kaleta was able to return from suspension on Sunday but instead he was a scratch and none too pleased. Ryan Miller thinks he just needs to grow up. Ah, the 2013 season in Buffalo.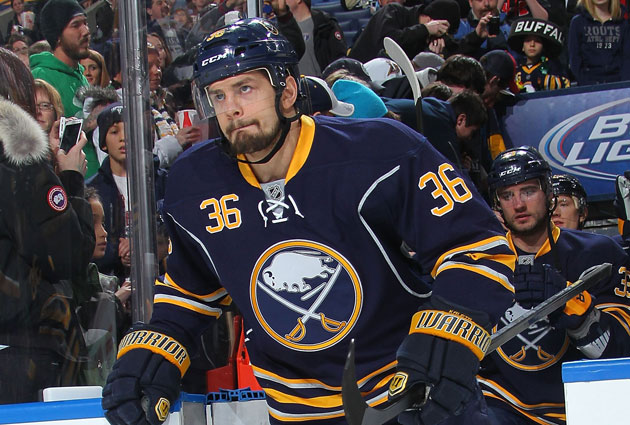 More NHL: Scores | Standings | Odds | Fight-O-Meter | League Leaders | Rumors
Buffalo Sabres forward and agitator extraordinaire Patrick Kaleta was eligible to return on Sunday after his five-game suspension for a hit from behind on Brad Richards. Only you couldn't tell if you actually watched the game.
That's because Kaleta wasn't on the ice at all in the Sabres' 5-3 loss to the Washington Capitals. He was instead scratched by interim coach Ron Rolston in favor of John Scott. When Kaleta found out before the game, he was none too pleased and let the media know.
From Mike Harrington of the Buffalo News:
Multiple observers said Kaleta was screaming his disgust on the ice ... while reporters were in the locker room and having their pregame briefing from Rolston. And when the media got to Kaleta, he didn't hold back about the state of a team that's 13th in the East and going nowhere.

"I'm pissed off. I want to play," Kaleta said. "And especially after watching some things, sitting there watching the game, I want to play. ... I guess they don't need me right now I guess. I've been pissed off watching for the past couple weeks. No matter if you're a fan, a player, you guys know what's going on. You should be pissed off. You should play with a little piss and vinegar. You shouldn't be happy. We're not in position we want to be in. We have to work harder, come in and do something about it."
Not that that attitude is surprising; everybody wants to play. But Kaleta's frustration boiling over is just another example of what a mess this season has been in Buffalo.
Since Kaleta was suspended, the Sabres are just 1-3-2 including Sunday's loss. Of course, they weren't much better with Kaleta in the lineup. It's not like Kaleta is going to turn the Sabres from the Dumpster to the playoff push. His zero points in 18 games aren't exactly the cure for what ails them.
But he's frustrated, like any pro athlete would be if they were told they weren't playing. Can you blame him? At least he wants to get out there and try to help out while showing some of that piss and vinegar that he's lamenting.
Apparently Ryan Miller can.
Miller on Kaleta: "That's just drama and he needs to just grow up. ... He had a stupid play in a game. He sat, he was punished. "

— Mike Harrington (@BNHarrington) March 18, 2013
More Miller on Kaleta: "He had a stupid play in a game. He sat, he was punished. He has to get over it and move on." Yikes...

— Mike Harrington (@BNHarrington) March 18, 2013
The words "harmony" and "Sabres" don't belong in the same sentence this season. Worst of all, the great cure of winning is nowhere to be found to ease the frustration.
At this point, it's tough to see the Sabres staying together as currently constructed much longer. Not that this exchange is going to get either guy on the first train out of Buffalo, but you figure just about everybody on this roster is available at the right price right now, Miller first and foremost.
For more hockey news, rumors and analysis, follow @EyeOnHockey and @StubitsCBS on Twitter, subscribe to our YouTube account and like us on Facebook.
The decision would likely be met by anger from some fans, but it could also make sense

Toronto shoots to the No. 1 spot, just ahead of the Chicago Blackhawks

The Penguins' standout is at it again
Gary Bettman all but reverses course from his September comments on anthem demonstrations

The 'Washington Post' says many teams have stopped booking stays at Trump-owned properties

New Jersey has the long-term promise; Vegas is nothing like an expansion pushover