Sabres make big front-office moves in midst of rebuilding effort
The Buffalo Sabres made some huge moves on Wednesday, firing GM Darcy Regier and coach Ron Rolston in the midst of a massive rebuild. Why did they wait until now?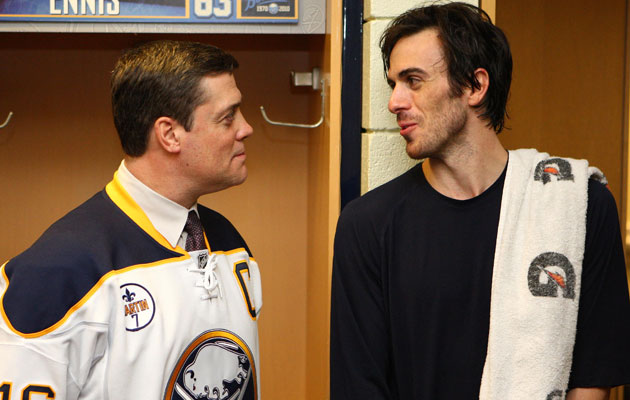 More NHL: Scores | Standings | League Leaders | Odds | Injuries | Power Rankings
Just when you think the Buffalo Sabres were all set to move forward with their rebuilding efforts, Wednesday's bombshell gets dropped throwing everything out of whack once again.
Ironically the morning after the Sabres actually won a game, they pulled a surprise and announced the firing of longtime general manager Darcy Regier as well as coach Ron Rolston. In the process they welcomed former Sabres great Pat LaFontaine back to the mix as the President of Hockey Operations and brought Ted Nolan back as coach on an interim basis.
So, how was your Wednesday morning?
Immediately a question has to enter the equation: Why now? Why, after a few years of struggling and after years and years of Regier running the show, did the Sabres decide this was the time? It would have made sense to part ways with Regier before the season or last year when the Sabres fired coach Lindy Ruff. But now? It makes little sense.
By sticking with Regier, the Sabres had apparently elected to give him the opportunity to try to lead the rebuilding. He had already begun it in fact by making such big moves as trading Thomas Vanek and Jason Pominville, each for excellent returns. Instead, they decided it was time to stop Regier before he could finish the job.
"Why now? I guess it was time, I just decided," Sabres owner Terry Pegula said Wednesday. "That's the only answer I can give you. Sometimes you get to the point that a change is needed. Darcy Regier had a heck of a run with the Buffalo Sabres. It's not like he was a failure."
While nobody is going to argue that this wasn't a warranted move and one that has been welcomed with more than open arms in Buffalo (try block parties), the timing is all sorts of odd. Implicitly it had seemed the Sabres had given Regier the green light to do the rebuild his way. Why else give him the latitude to trade top assets like Pominville and Vanek?
That doesn't even mention that he seemed to have this long, arduous process going in the right direction with the amount of picks he has piled up. Painful as it was, the Sabres did seem to be putting the right blocks in place for the future, some that Regier had already done with recent drafts. They let him start the rebuilding effort in his mold and will leave it to somebody else to finish.
Pegula said that all the decisions are made by a group so perhaps it's easier to let go of Regier for him; the plan can move forward. Of course they need a general manager first, but they don't have one right now. LaFontaine will be working with the front office staff that remains while searching for the next general manager. It better not take long because the Sabres still have a couple of big assets to try to trade, including Ryan Miller and Matt Moulson .
Maybe this will turn out to be the great, joyous day that Sabres fans are treating it as right now. A change from Regier was more than needed; not only was the team looking terrible but the fans would have been nearing the stage of an open revolt if apathy hadn't set in. The arena in Buffalo had begun resembling a church. That said, decisions like this aren't made to appease fans, but nothing is going to appease them more than turning the fortunes of the franchise around.
By going with LaFontaine, the Sabres are choosing the route of history and familiarity. LaFontaine, of course, has his number retired in the rafters in Buffalo. He was one of the best players to ever wear their sweater. Much like Joe Sakic in Colorado, where the early returns are enormously positive, the Sabres are hoping nostalgia can get them where they want to go.
LaFontaine at least has a little experience with his time working for the Islanders, but he's a smart man. Maybe the smartest thing of all was realizing his limitations and admitting he is not cut out to be the GM, but he says he will find somebody who is. As wild as it sounds, that kind of awareness is encouraging.
"I don't have the experience right now," LaFontaine said. "I know the people out there who know how to do the job."
As to the coaching situation, well, Rolston hadn't done himself any favors, but the Sabres didn't exactly hand him the keys to a Stanley Cup contender.
"As you all know we didn't exactly put Ron in the best of situations when he came in as head coach with some of the moves we made and the direction we've taken the franchise," Pegula admitted.
In comes Nolan for the remainder of the season. His future beyond that will be left to whomever LaFontaine hires to be the general manager. He's going to do all he can to make good on his time in Buffalo despite the limitations; he's getting a second shot from an organization that fired him more than 15 years ago.
But with all due respect to the position, changing coaches isn't going to turn this team's fortunes around. It might make them more exciting and perhaps a little better, but they're still going to be years away from contending. It's what happens in the offices above that matters.
Wednesday's decision to change the direction did come across as odd from a timing standpoint, but perhaps it comes early enough that it won't hinder the long road ahead that Regier had embarked on. And while it's being seen as a positive day in Buffalo, especially with the warm and fuzzies of LaFontaine returning, there are as many or more questions about the future of the team today than there were yesterday.
The University of Denver star and Hobey Baker Award winner is drawing interest

Intrigue is high in Arizona after a wild offseason, but expectations should still be tempe...

Players are set to give personalized messages for Adidas' former hockey equipment brand
The 40-year-old center is returning to the Wild after a successful run in Pittsburgh

Edmonton locks up its 21-year-old RFA a month after McDavid's historic extension

Even with a new coach and added veteran help, the Canucks have a long road ahead