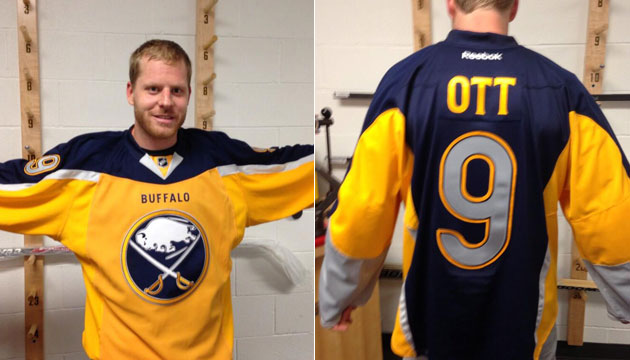 NHL previews: Atlantic Division | Metropolitan Division | Central Division | Pacific Division
All offseason long the Buffalo Sabres had a Twitter version of a scavenger hunt. They promised at the beginning of the summer that they were going to reveal a new gold jersey. Piece by piece they revealed a little at a time, leaving people to guess what the final result would be.
Nobody could guess that the actual new third jersey would be as hideous as it truly is when they finally revealed it using new co-captain Steve Ott. The response was almost universal (you can't get everybody to agree on anything); it's bad. Reallllly bad.
Sabres president Ted Black joined the Howard Simon Show on Buffalo's WGR on Thursday morning and addressed the backlash in a colorful and honest way (via Puck Daddy).
"It's received a ton of criticism and a lot of attention. I think it had over four million mentions on Twitter. I've seen it. It's something that doesn't offend me. I think people have had a lot of fun with the criticisms of it. Judge for yourself whenever you see it. If you come into the store and you look at it and say I don't want to buy it or you do buy it, in terms of moving the needles on revenues, it won't do anything.

"If it doesn't sell, it won't really mean anything to our bottom line. It's a third jersey. If it's a turd burger I'll have to put it on a bun and eat it. It's the way it is.
Oh Ted, it's definitely a turd burger so grab a bottle of ketchup and get ready to chow down.
Black explained the throught process, saying they wanted to do something different, something unique. That's what led to the two-tone back vs. front aspect of the sweater, perhaps the design's worst aspect of all.
Still, Black doesn't seem daunted. He's like that guy wearing polyester pants and just doesn't care. He and the Sabres will be proud of to sport those jerseys for 10 games this season. Yes, 10 games.