Sabres' Ron Rolston fined for 'player selection, team conduct' in brawl
How could the NHL punish the Sabres for the brawl on Sunday in Toronto? By fining coach Ron Rolston for 'player selection and team conduct.'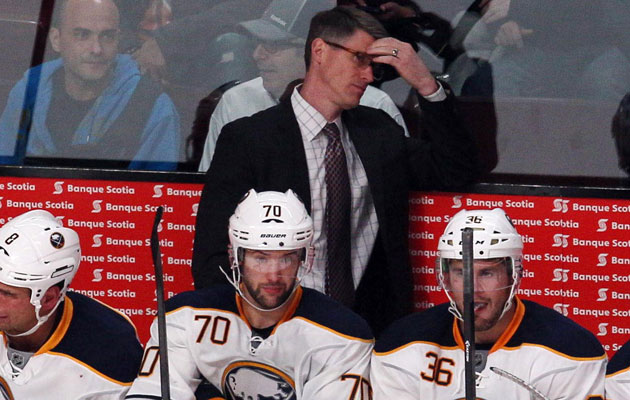 NHL previews: Atlantic Division | Metropolitan Division | Central Division | Pacific Division
Buffalo Sabres coach Ron Rolston has been fined by the NHL for "player selection and team conduct" in the brawl on Sunday night that broke out between the Sabres and Maple Leafs.
The player selection part of this fine is clearly pointed directly at one player; John Scott. The Sabres' mammoth enforcer was put/left on the ice after a fight between Jamie Devane of the Leafs and Corey Tropp of the Sabres, which didn't sit well with Buffalo. What happened next was Scott attempting to jump Phil Kessel and all hell breaking loose.
In the chaos, David Clarkson of Toronto earned himself a 10-game suspension for leaving the bench while Kessel has himself a hearing with the NHL regarding his actions. The problem was it looked like the Sabres were going to get away scott free.
Instead the league found a way around it by fining Rolston.
I have completely mixed feelings on this. For starters, it's good to see the league is finding a way of hitting the Sabres for this mess because it just didn't sit right that Scott was able to cause this without some form of retribution because really, what did he do against the rules? It seemed to potentially open up Pandora's box if the Sabres faced no retribution. What would stop enforcers from going after stars all the time after that seeing how this worked against the Leafs and for the Sabres?
At the same time, though, the league is going out of its way to pin something on Buffalo. There's no rule that says a coach isn't allowed to put a cetain player on the ice at a certain time in the game. It's a crazy idea. Yes, we all know what Scott's job on the ice is and yes you could argue any coach should be fined any time they want to put Scott on the ice, but this is reaching by the league, no doubt.
That doesn't even mention that Scott was already on the ice before the initial fight got things started. So it wasn't as if he went out of his way to put Scott on the ice, he just kept him out there.
There would be little issue with fining Rolston simply for the conduct of his team. Pretty clearly his decisions didn't do anything to settle things down. If that's where the language of the fine ended, no problem. But the player selection element to this is just strange and really has no place.
Still, given all that transpired, I'm sure this fine was well worth it for Rolston and the Sabres.
Intrigue is high in Arizona after a wild offseason, but expectations should still be tempe...

Players are set to give personalized messages for Adidas' former hockey equipment brand

The 40-year-old center is returning to the Wild after a successful run in Pittsburgh
Edmonton locks up its 21-year-old RFA a month after McDavid's historic extension

Even with a new coach and added veteran help, the Canucks have a long road ahead

Unlike expansion teams before them, the Knights have enough talent to entertain right away