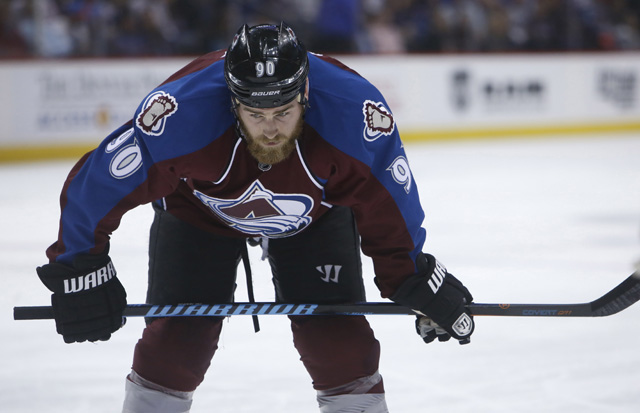 Weeks after signing a seven-year contract extension with the Buffalo Sabres after being acquired from the Colorado Avalanche, forward Ryan O'Reilly was charged with impaired driving and failing to remain on the scene of a single-vehicle accident by the Ontario Provincial Police in Middlesex County.
According to both AM 980 radio, which first reported on the incident, and the Buffalo News, O'Reilly's truck collided with a Tim Hortons coffee and donut shop.
OPP announced Monday that O'Reilly, 24, from Bluewater, Ont., had been charged with driving a motor vehicle while ability impaired (alcohol) and care or control over 80 mgs. He was also charged under the Highway Traffic Act with failing to remain at the scene.

According to Middlesex County OPP, a green Chevrolet pickup truck struck a commercial building on Richmond St. last Thursday morning (July 9) just after 4:00am. An employee of the Lucan Tim Hortons confirmed to AM980 that there had been a motor vehicle incident, but was unaware of the driver's identity.

After the collision, police say a suspect drove the vehicle southbound on Saintsbury Line, before abandoning it and travelling by foot with another, unnamed, male occupant.

Police determined that the the driver had been drinking alcohol. He was arrested, transported to an OPP detachment for breath testing, then released on a promise to appear.
The full release from the OPP is here.
O'Reilly is due to appear in court in London, Ontario, on Aug. 20.
Here's a look at what he could be facing according to Mike Harrington of the Buffalo News:
Under Canada's Highway Traffic Act, O'Reilly faces fine of $400-$2,000 and a maximum of six months in jail for leaving the scene. #Sabres

— Mike Harrington (@BNHarrington) July 14, 2015
ROR blood alcohol over 80 mg, thus meaning 90-day license suspension. If convicted, faces fine of $1,000 & license ban of 1 year. #Sabres

— Mike Harrington (@BNHarrington) July 14, 2015
UPDATE 1: Marty Thompson of BlackburnNews.com, which covers this region of Ontario, went to the Tim Hortons O'Reilly's truck allegedly collided with and snapped these photos.
Looks like a window has been smashed out of the Lucan Tim Hortons. (cc: Ryan O'Reilly impaired driving reports) pic.twitter.com/tUafQzJntT

— Marty Thompson (@martythompson_) July 14, 2015
The Sabres acquired O'Reilly, a former Lady Byng winner, on June 26 along with Jamie McGinn for a package that included Mikhail Grigorenko, Nikita Zadorov, prospect J.T. Compher and a second-round pick.
He signed his seven-year, $52.5 million extension with the club on July 2 and is the highest-paid player on the team.
O'Reilly apparently posted a picture of the vehicle in question, a green antique Chevy truck, on his Instagram account back in May. He has also apparently deleted his Twitter account within the last few days, according to the Buffalo News.
In addition to recently drafted forward Jack Eichel and in-season acquisition Evander Kane, O'Reilly is viewed as one of the key pieces for the Sabres following a painful rebuilding process over the last three-plus seasons.
UPDATE 2: Sabres GM Tim Murray released the following statement in regards to Ryan O'Reilly:
"We are aware of the reports regarding the incident involving Ryan O'Reilly last week. We are currently in the process of gathering more information and will have no further comment until we have spoken with all parties involved."