Sabres waive Cody Hodgson for purpose of buyout
The Sabres waived once-promising prospect Cody Hodgson with the intention of buying him out if he clears. He's just 25 years old and had 20 goals in 2013-14.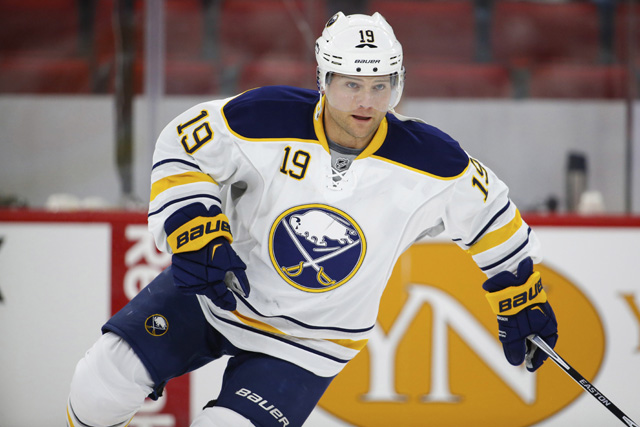 When Cody Hodgson was selected 10th overall in the 2008 NHL Entry Draft, who could have seen a buyout coming for him at age 25? That's where he's at now, though, as the Buffalo Sabres have elected to place Hodgson on unconditional waivers for the purpose of buying out the remaining four years on his contract, according to multiple reports.
The once-promising winger is coming off his most disappointing season of his young career, having posted just 13 points in 78 games for the last-place Sabres. He never seemed to mesh well with since-fired head coach Ted Nolan, which saw his ice time dip and landed him as a healthy scratch occasionally.
Hodgson originally came to the Sabres in a trade from the Vancouver Canucks, who selected him 10th back in 2008. Buffalo sent forward Zack Kassian the other way.
After notching 34 points in 48 games in the lockout-shortened 2012-13 season, Hodgson was signed to a six-year, $25.5 million extension for a robust cap hit of $4.25 million. The first year of the deal went well enough as he had 44 points in 72 games in 2013-14, but last year was a disaster.
Once he clears waivers and is bought out, the Sabres will be on the hook for a portion of the remaining $19 million on Hodgson's deal. Because he's under 26, the Sabres only have to pay him one-third of the remainder, instead of the two-thirds more senior players get.
The cap savings for the Sabres are immense even though they'll be paying Hodgson $791,666 for the next eight years to not play for them. Buffalo will absorb a $1,041,666 cap hit for Hodgson's buyout next season, but after that it will never be more than $791,666 over the next eight years according to generalfanager.com.
As the Sabres continue to retool, they shed an expensive cap hit and give Hodgson a chance for a fresh start. It was pretty clear he was not going to be part of the long-term solution, but that doesn't mean he'll be without value to someone else.
Hodgson suddenly becomes an interesting free agent. His stock is extremely low right now, which should keep the cost down, but he also had 20 goals in 2013-14. He's also only 25, which is hardly washed-up territory.
Thinking back to his years as a prospect, Hodgson once had 16 points in six games at the 2009 World Juniors to help lead Canada to gold. He put up 92 points his last year in the OHL. The upside isn't what it once was now that he's 25, but there has to be something left to extract from a player that showed that kind of promise at one point in his career.
If the price is right, he could be a good reclamation project for a team that could use a little scoring help.
Joffrey Lupul spent last season on long-term IR but seems to be saying he's healthy

Early playoff trouble has been evident, but the Wild tout an offense capable of making another...

Why walk with skate guards when you can rollerskate instead?
This will not leave your memory any time soon

Vegas isn't being quiet about its hot start to the NHL preseason

The blue-liners are set for another big push, but Edmonton's rise is hard to ignore in the...