Sam Stosur picks up where she left off with breezy first-round U.S. Open win
Samantha Stosur nearly began with a Golden Set on her way to a stroll through the first round in defense of her U.S. Open title.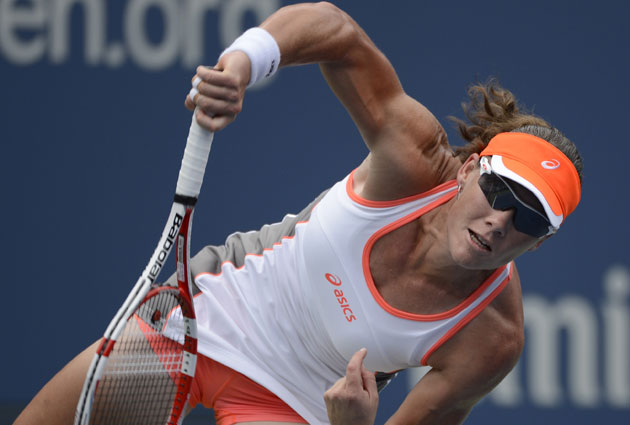 Stosur's big serve produced 10 aces in the 6-1, 6-1 win. (Getty Images)
Samantha Stosur would have had a tougher day by going for a run through Central Park than she had in Arthur Ashe Stadium to open up defense of her U.S. Open crown from a year ago.
Stosur, who romped through the field at the Open last year including a surprisingly dominant thrashing of Serena Williams in the final, picked up exactly where she left off a year ago. She began her match against Petra Martic of Croatia by winning the first 19 points, beginning the Golden Set chatter.
"It pops into your head and you think, 'Oh, that would be cool,'" Stosur said about finishing a golden set. "I knew that I hadn't missed a point and the match had been going pretty quick and obviously in my favor. Then I hit the double fault."
That double fault came at 40-0, 4-0 in the opening set. But that was about the only fault of the day for Stosur who was just smooth as could be to open up. She made Martic look a lot lower than the No. 64 ranking she carries on the WTA.
You could be forgiven if you had dismissed Stosur a bit coming into the Open. Even though she is the defending champion, she has had a pretty unforgettable year since the breakthrough a year ago in New York. Coming into the Open even as the reigning champ, Bovada.LV had her at 16/1 odds of repeating. She just didn't carry any momentum with her to the rest of the schedule.
Instead, she might have just left it on the court at Arthur Ashe Stadium.
Martic seemed to be working through a bit more than jitters on the court. She just didn't stand a chance against Stosur's serve, one of the very best on the women's circuit. In total Stosur had 10 aces while never even facing a break point. Martic was never able to present a serious challenge to the defending champ.
The added bonus for Stosur? She got her match in before the rains halted play in Flushing Meadows. So she'll get to rest easy while she watches some of her other competitors sweat out delay and crammed schedules to help make up. It's something small but it's a benefit for Stosur, the bonus of playing the first match and breezing through.
"It was good to be first match on, it was an early start," Stosur said in a post-match interview with ESPN. "Obviously now with this coming down, it was perfect timing."
I'm not going to sit here and tell you that after one win against an overmatched opponent means that Stosur is going to cruise to another championship. That would be silly, especially with how open (see: packed) the women's draw is at the Open this year. But you couldn't ask for anything better than what Stosur did on Monday vs. Martic.
Well, unless you wanted to see the Golden Set.
David Kelly, a Toronto-born hockey analyst, has strong advice for Edmonton vs. Chicago game...

Gary Bettman says otherwise, for the time being, but Houston could be primed for a team

Here's what you might have missed across the NHL on Wednesday night
Ovi breaks down doors in Virginia

Winger also says he will no longer raise a fist during the anthem after his protest started...

Here's what you might have missed across the NHL on Tuesday night