Sean Couturier signs two-year, $3.5 million extension with Flyers
The Flyers have already signed Sean Couturier to an extension for two seasons and $3.5 million with another year left on his entry-level deal.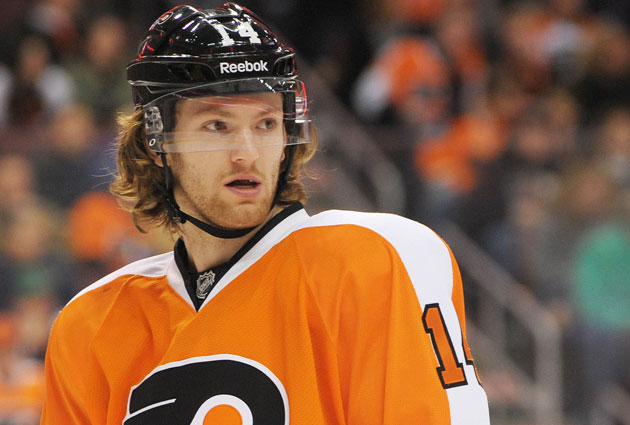 More NHL offseason: Rumors | Top 50 Free Agents | Buyout Tracker | Trades | Transactions
The Philadelphia Flyers have signed young center Sean Couturier to a two-year extension with another year left to go on his entry-level contract.
The contract for Couturier comes in at a very reasonable $3.5 million for the two seasons, or an annual cap hit of $1.75 million. For a player who has already shown a very strong two-way game in just two years since being drafted, that's a pretty great good for the Flyers.
In the upcoming season Couturier will carry a $1.375 million cap hit from his initial deal. Given what he has done in the past two seasons, a slight raise is only fair. It could look even better if Couturier takes big steps forward this upcoming season.
Couturier only had four goals and 11 assists this past season but his value goes deeper than his offensive game, which should continue to develop. Remember, he came right to the NHL after being drafted. He continually faces some of the toughest minutes for the Flyers and has handled himself very well.
Philadelphia's front office is on a bit of a roll lately. GM Paul Holmgren usually draws loud criticism for almost every move he makes but the last couple of signings between this, Ray Emery, Claude Giroux's extension and even a pretty reasonable cap hit for Vincent Lecavalier, he's had worse stretches. Add the return of Ron Hextall to the front office and the summer hasn't been bad to the Flyers after a rare postseason spent at home.
The league's GMs want goalie interference to be determined by the situation room in Toront...

Donato was signed to the Bruins on an entry-level contract Sunday

Erik and Melinda Karlsson announced they were expecting their first child back in November
This could have ended a lot worse for the Kings defenseman

Jay Inslee dropped the name of a Seattle hockey team this week, but was it intentional?

Nashville has to be favored to return to the Stanley Cup Final, but Columbus is suddenly on...