Semyon Varlamov as big a key as any for revitalized Avalanche
The Avalanche are a perfect 5-0-0 to start the season and a large reason has been the play of Semyon Varlamov in net.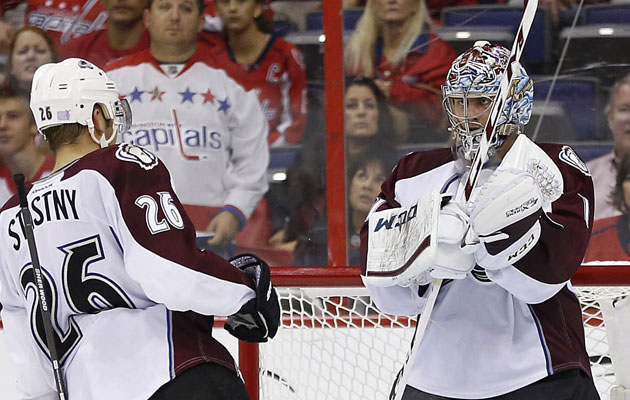 More NHL: Scores | Standings | League Leaders | Odds | Injuries | Power Rankings
WASHINGTON -- The season is still young but undoubtedly the biggest surprise of the first couple of weeks is the Colorado Avalanche and their 5-0-0 start. It's not just the fact that the Avs are suddenly the 1996 Avs reincarnate, but that they have a goaltender to match.
Well OK, nobody's ready to go that far, including Patrick Roy himself, the man who WAS that goalie back then and is leading the team now as a rookie coach.
"I don't want to start to compare here, but at the same time he's playing outstanding," Roy said after goaltender Semyon Varlamov stopped 40 of 41 shots in the Avs' 5-1 win over Washington. "Both goalies have been Wow for us."
That's as good of a way to put it as any; what Varlamov did on Saturday night and what he has done in four starts has just been "wow." How does a .970 save percentage in four games for Varlamov sound to you?
It was easy to dismiss the Avalanche coming into the season. They were the second worst team in the league a year ago, they have a coach who had never been behind an NHL bench (other than when he was demanding a trade out of Montreal), a defense that was subpar the past couple of seasons and a pair of goaltenders who were just ... not Wow. One look at the Avalanche right now, though, and you can see there's a little more to this team than just a hot start.
Nobody would dare suggest that Varlamov and his backup Jean-Sebastien Giguere could keep this up. Of course they can't. The Avalanche are hot right now, no getting around that. Capitals coach Adam Oates noticed it after the Avs gave his team quite a beatdown.
"Everything they do right now is turning to gold. They're obviously going on all cylinders."
That said, there's also some credence to the idea that these goaltenders have legitimately turned a corner, that it's more than just being insanely hot.
What's interesting is that goal scoring is up across the NHL, partly attributable to the fact that goaltenders are still adjusting to changes in regulations on pad length. The Avalanche are having no such problems keeping the pick out of the net. In five games this season they have surrendered exactly four goals. Varlamov has a tidy 1.00 goals against average. Credit the goalies, sure, but there is enough credit to spread.
"I think it's all about the coaching staff," Varlamov said. "During the summer we had a couple of changes on the team. We changed the coach, changed the goal coach, I think guys were excited about it. We're playing a defensive system, playing different hockey. I think guys play better defensively right now, they help me a lot out there. If they play better, I play better."
Captain Gabriel Landeskog added to the point on his goalies.
"I am sure they have changed a lot of things working with [goaltending coach] Francois [Allaire], but I think they have always been great goalies," Landeskog said. "The previous two years, we just haven't been a good team in front of them and I think now we have established a pretty good team defense. The goalies are standing out and have a lot easier job back there. We gotta keep this going and obviously tip our hats to Varly and Giggy, they've done a great job. I think overall we've come a long way."
They certainly have but there's still a long way to go, too, 77 more games long way to go. But it's hard not to get excited with what we're seeing of the Avs in the early going. They are a fast team with plenty of young skill on the ice. Consider that they're leading scorer right now is the third-line center ... and No. 1 overall pick Nathan MacKinnon, who had his first of many career goals on Saturday.
And of course they have a goaltender who is showing them he can help get them where they want to go. Varlamov right now is a goalie playing with a lot of confidence, getting square to the shooters, staying quiet in the crease. His rebound control has been excellent, his movement side to side in the crease befitting of the same adjective.
Perhaps it even has him on the inside track to be the No. 1 goaltender for Russia at the Olympics in Sochi this year over last year's Vezina Trophy winner, Sergei Bobrovsky. It's a lot to read into the start, sure, but Varly already had an edge on Bobrovsky for that competition given his play for the national team in the past. He'll likely to have to play his way out of starting for Russia and with the way he's playing to start the season, that's nearly impossible to imagine.
That's because to start the season he has found a new gear. He might not another Roy, but he's certainly taking after Roy right now and his new goaltending coach Francois Allaire. They've made a difference as much as anything.
"He knows now what I want, that's for sure," Roy said of Varlamov. "Francois makes a goalie work hard, he wants to make sure they are in good shape when they play. I think it's been working really well for both of them."
It's working well for all of them, the entire Avalanche team. Everything is working well.
"Right now I have to be honest with you, we take it one game at a time and just say 'why not? Why not us?'" Roy posed. "We've been working hard every day, we remain humble, we know that we're playing against very good teams."
Los Angeles isn't rushing to sign the 45-year-old forward any time soon

The University of Denver star and Hobey Baker Award winner is drawing interest

Intrigue is high in Arizona after a wild offseason, but expectations should still be tempe...
Players are set to give personalized messages for Adidas' former hockey equipment brand

The 40-year-old center is returning to the Wild after a successful run in Pittsburgh

Edmonton locks up its 21-year-old RFA a month after McDavid's historic extension