Senators blow out Canadiens; teams brawl in huge fight
The Ottawa Senators and Montreal Canadiens don't like each other very much, and it resulted in a line brawl on Sunday night.
More NHL Playoffs: Scores | TV Schedule | Expert Picks | Odds | Mock Draft | Rumors
With the Ottawa Senators well on their way to a blowout 6-1 win in Game 3 of the Eastern Conference quarterfinal series on Sunday night, frustrations reached a boiling point in the third period and resulted in a massive line brawl that involved everyone on the ice except the two goalies.
And given the way Carey Price played on Sunday, he might have been better off getting involved and getting himself ejected so he wouldn't have been subjected to the rest of the game.
The aftermath of all of that madness was a penalty sheet that looked like this...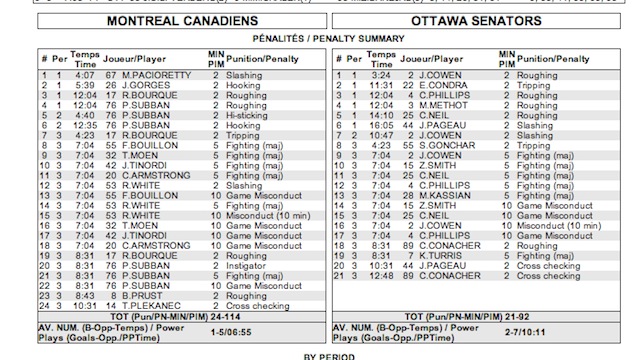 The hate is really starting to flow in this series, and it started very early with Eric Gryba's hit on Lars Eller that earned him a two-game suspension. That resulted in Senators coach Paul MacLean putting the blame on Canadiens defenseman Raphael Diaz for exposing his teammate to a big hit by making a bad pass, and Montreal's Brandon Prust responding by calling MacLean a "bug-eyed fat walrus."
More on Canadiens-Senators
Related links
The fisticuffs continued over the remaining ten minutes of the game and reached a new level of absurdity with 17 seconds to play following a pair of penalties to Canadiens forward Rene Bourque for slashing and cross-checking Kyle Turris.
At that point MacLean used his team's timeout which angered the Canadiens' bench and seemed to be the focal point of the post-game discussion. Canadiens defense Josh Gorges was seen screaming at the Ottawa bench during the stoppage. Coach Michel Therrien called it "classless" after the game and said that he had never seen anything like that in the NHL (he also said the referee had never seen anything like that, either).
Only in the NHL would something like that be worthy of more outrange and anger than the line brawl and more than 220 minutes of penalties that were handed out.
MacLean should have nothing to apologize for here, whether he was calling the timeout to prepare his guys for what might be a hectic final 17 seconds or doing it to show up the Canadiens he was justified in his actions.
This is the NHL. Everybody in that game is a highly paid professional and if you don't want another team to show you up and embarrass you, don't give them an opportunity to do it. With the Montreal played in the third period (and for most of the game) the Canadiens brought all of it on themselves and deserved everything the Senators gave them.
Settle in, folks. Because this series is probably going to have a lot more of this.
The city has already received approval from the NHL to file for an expansion team

Bovada says the two nicknames are favored to be used, with Rainiers coming in third place

Here's everything you need to know to watch the NHL's marquee midseason event
The expansion Golden Knights officially moved into first place in the NHL on Sunday

The former Boston Bruin was the first black player to play in the NHL

Inclement weather led to the Charlotte Checkers and Bridgeport Sound Tigers playing in front...