Senators coach Paul MacLean: 'I hope they don't bill us for the clinic'
The Ottawa Senators proved to be no match for the Pittsburgh Penguins in the Eastern Conference semifinals. Pittsburgh simply put on a clinic.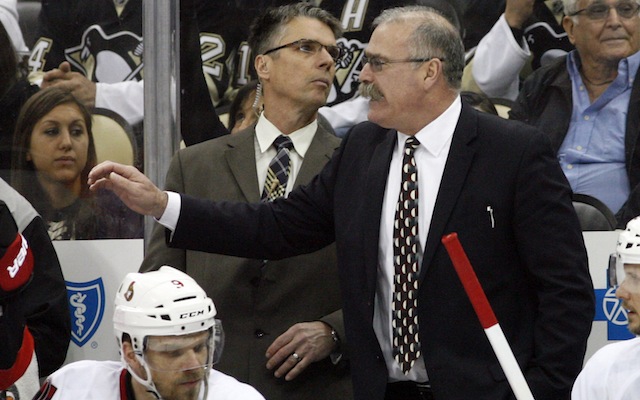 More NHL Playoffs: Scores | TV Schedule | Expert Picks | Odds | Mock Draft | Rumors
PITTSBURGH -- For at least a couple of games, the Ottawa Senators were able to put up a fight against the Pittsburgh Penguins in their Eastern Conference semifinal series.
They kept it close in Game 2 and found a way to steal Game 3 with an improbable last-minute comeback to make the series at least somewhat interesting heading into Game 4.
But by the time the final two games rolled around, the Penguins started to show which team had the superior talent. The Senators proved to be absolutely no match for a Pittsburgh team that's now rolling onto the Eastern Conference final.
The Senators were also given quite the harsh lesson on what it's going to take for their team to take a step to the next level.
"I hope they don't bill us for the clinic," Senators coach Paul MacLean joked following the Senators' season-ending 6-2 loss on Friday night.
And that's pretty much what this was over the final two games.
An absolute clinic. The Senators had no answer for anything that Pittsburgh did in any phase of the game and were pretty much playing the role of the Washington Generals. Even strength. Special teams. Goaltending. It didn't matter what position or what situation you were looking at; everything was tilted in Pittsburgh's favor.
"It's frustrating. They played well, and we didn't play well,"  Senators forward Kyle Turris said after Friday's game. "I think that pretty much sums up the last two games. I think we definitely had much more to show. Their guys played well, and we didn't respond. We didn't respond after the start in Game 4, and we didn't respond after losing Game 4."
About the only chance that Ottawa was going to have in this series, given the obvious disparity in talent, was going to be if goaltender Craig Anderson was able to steal a couple of games. He ended up stealing one in Game 3. But in the end, even that went against Ottawa. Anderson was simply overwhelmed by the constant pressure of Pittsburgh's relentless attack as they continued to pump in goals like few playoff teams in recent NHL history have.
Anderson, one of the best goalies in the NHL during the regular season, had to be relieved twice during the series and was in for all six of Pittsburgh's goals on Friday. A goalie who stopped more more than 94 percent of the shots that he faced during the season (by far the best mark in the league) was only able to put up an .883 save percentage in the series.
He definitely struggled, but it's hard to argue that this was just about the goalie. Few netminders would have had much of a chance to do better in this series given what Pittsburgh was putting on net.
"We weren't able to slow them down enough," Senators captain Daniel Alfredsson said. "Our goalie kept us in there and gave us a chance, but we weren't able to slow them down enough to stop them from scoring.
"One thing that hurt is that we took too many minor penalties, and they're too good of a power play to be able to hold them off for that long."
The University of Denver star and Hobey Baker Award winner is drawing interest

Intrigue is high in Arizona after a wild offseason, but expectations should still be tempe...

Players are set to give personalized messages for Adidas' former hockey equipment brand
The 40-year-old center is returning to the Wild after a successful run in Pittsburgh

Edmonton locks up its 21-year-old RFA a month after McDavid's historic extension

Even with a new coach and added veteran help, the Canucks have a long road ahead