Senators make surprising cut, demote Mika Zibanejad to AHL
Already at 23 players, the Ottawa Senators trimmed their roster by one Monday, sending young center Mika Zibanejad down in a surprise.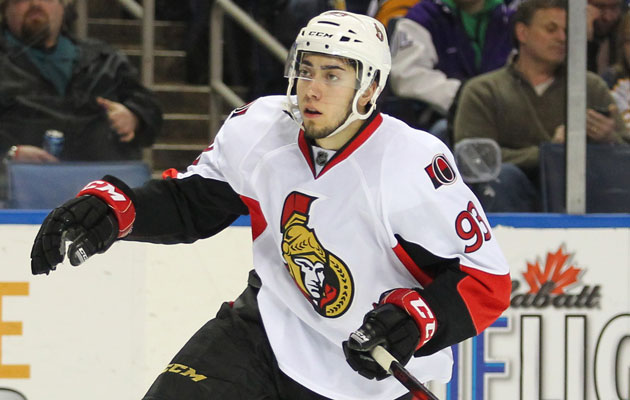 NHL previews: Atlantic Division | Metropolitan Division | Central Division | Pacific Division
In their final preparations for the upcoming season, the Ottawa Senators made a somewhat surprising move on Monday, electing to send young center Mika Zibanejad down to AHL Binghamton.
Zibanejad, the sixth overall pick in the 2011 draft by the Senators, spent last season at the NHL level playing 42 games. In those 42 games he had seven goals with 13 assists while averaging just 13:34 per game in ice time.
You have to think this has something -- OK a lot -- to do with finances. It's well known that the Sens are on an extremely tight budget with owner Eugene Melnyk's personal issues and by sending Zibanejad to the AHL, his salary goes from $925,000 to $70,000. It is a silly and frustrating reason to demote a player but it can't be ruled out as an option here. There was no need otherwise to cut Zibanejad, they were already at the 23-player limit. Now they will go with 22.
Plus, Melnyk recently commented that his team was already over budget despite having one of the lowest payrolls in the league. The penny pinching isn't going away. If this decision is money related, the financial concerns are Ottawa are very real.
Whether it's the case or not, sending down Zibanejad at this point could backfire on the Sens. It can't sit well with him knowing that he had shown himself well last season and then is being sent down now for no apparent reason. About the only defense right now would be to say he didn't figure to crack the opening-day lineup with Stephane Da Costa and Jean-Gabriel Pageau emerging, so instead they want him to play minutes instead of munching on press-box popcorn.
UPDATE: Or even simpler, Zibanejad was beaten out and this is a message. "He let two guys come in and take his job," GM Bryan Murray said. So there's that, too.
Either way, it's a surprising move but it probably won't be the last we see of Zibanejad this season. He is still a top prospect and figures to be a big NHL player going forward. It's just going to have to wait a little longer to happen.
The Pittsburgh Penguins will put politics aside and visit the White House out of 'respect'...

NBC will reportedly be devoid of NHL game broadcasts between Feb. 7-26

The Winnipeg winger suggests Trump is going after 'the principles the U.S. was founded on'
League gets excited about exhibition matches in Beijing and Shanghai

NHL players are still disappointed they won't be going to skate in PyeongChang

With Artemi Panarin in the mix and a Vezina winner headlining the defense, Columbus can be...