Senators owner Melnyk wants to know why Matt Cooke is still in NHL
Ottawa Senators owner Eugene Melnyk wants to know why Matt Cooke is still allowed to play in the NHL.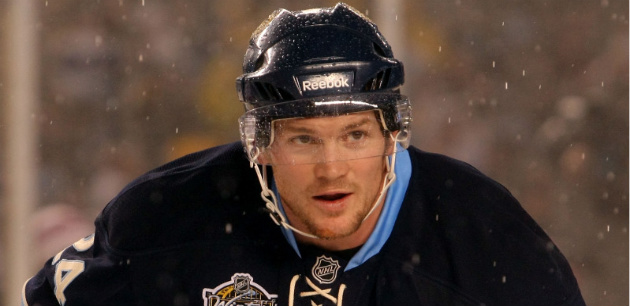 The Senators are not happy with Matt Cooke after the injury suffered by Erik Karlsson. (Getty Images)
More NHL: Scores | Standings | Odds | Fight-O-Meter | League Leaders | Rumors

The Ottawa Senators lost their best player for the rest of the season on Wednesday night, when Erik Karlsson suffered a devestating Achilles injury.
Naturally, the Senators are not happy.
Making matters worse is the fact that he was injured when Matt Cooke's skate blade came down on the back of Karlsson's leg. As we've already discussed, Cooke, for years the NHL's biggest villian, is not going to get the benefit of the doubt in these situations. While none of the Senators openly accused of him dirty play, there was a lot of suspicion thrown around in the immediate aftermath.
And now, their owner, Eugene Melnyk, is joining the screaming. He wants to know why Cooke is even allowed to continue playing in the NHL.
From James Gordon of the Ottawa Citizen:
He did have some choice words for Cooke, however, who he described as "a five-time suspended goon who shouldn't even be playing in the NHL."

The owner made several references to Cooke's career-ending hit to the head of former Boston Bruins centre Marc Savard in 2010.

"That's the question I pose, and I pose it to everyone: 'What is this guy even doing still playing?"

"I just don't know what it's going to take. You take out one of the most elite players in the game by a goon. By a goon … how many times do you let this happen?"
He had some even stronger words in an interview with Bruce Garrioch of the Ottawa Sun, saying "He doesn't belong in the league. He belongs somewhere where the goons play. Get him in the Central league. He can be a $60,000-a-year guy playing pick-up hockey there."
Again, the Senators' frustrations are understandable. They're a different team without Karlsson. And it's not only a huge injury for the team, it's a very scary injury for a player like Karlsson who relies on speed and skating ability. But Melnyk comes across sounding like an angry fan here instead of the top man in a professional organization.
Especially since the Senators under Melnyk's watch haven't exactly employed a bunch of choir boys -- as per the following video:
For more hockey news, rumors and analysis, follow @EyeOnHockey and @Agretz on Twitter and like us on Facebook. Also, subscribe to our YouTube Channel.
The NHL said the Flyers defenseman was 'reckless' and used 'excessive force'

'How you gon' do that hockey?'
The puck didn't go in the net but the skater did!

Another sign that Houston is a potential destination for an NHL relocation

The two teams combined for 111 penalty minutes and five ejections