Sens owner: Team losing 'staggering' amount of money, sets own cap
Senators owner Eugene Melnyk's aim for a casino was shot down, leaving him to talk about the franchise's finances, or lack thereof.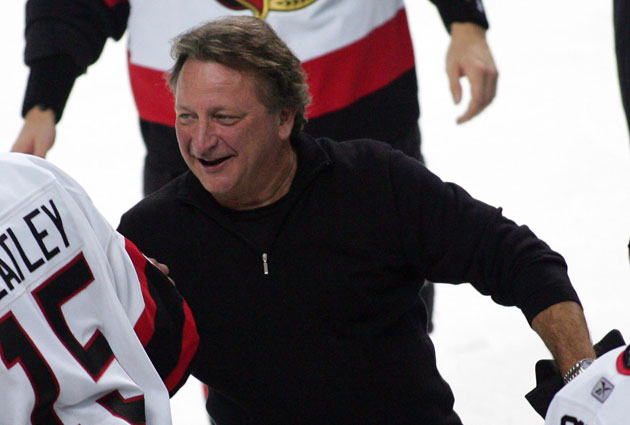 More NHL offseason: Rumors | Top 50 Free Agents | Buyout Tracker | Trades | Transactions
The big story of the Friday free-agent frenzy came pretty early in the day when Daniel Alfredsson signed with the Detroit Red Wings, leaving the Ottawa Senators after spending his entire illustrious career with the team.
Alfredsson explained his decision was purely selfish in that he wants to win a Stanley Cup before he goes. The Senators echoed that with GM Bryan Murray saying they pretty much told Alfredsson to name a price. But all along the suggestions of the Senators not being able to pay Alfredsson wouldn't go away.
Whether or not that had any impact on Alfredsson leaving or not, there are certainly some truths to financial issues with the Senators, specifically about how much they can spend (hint: it's not a lot).
Senators owner Eugene Melnyk had been trying to build a casino next to the Senators' arena in the Ottawa suburb of Kanata. He had to petition the officials to accept his bid instead of a competing gambling operation at the Rideu Carleton Raceway but lost out, at which point Melynk revealed some of his dire financial situation. From the Ottawa Citizen:
The Senators lose money as a hockey operation, Melnyk said ("If you heard a number, it would be staggering," he said); although his Ottawa entertainment empire makes some money off concerts as well, that's not the business it used to be. He's set a $50 million cap on player salaries and can't afford to spend more, retooling the team into a young, inexpensive one that'll need some luck to win consistently.
It pleases Melnyk to own a hockey team and he doesn't intend to sell or move the Senators, but without a "third revenue stream," his options for expanding the empire and renovating the arena are limited. "It puts a whole damper on my enthusiasm that I came here with 10 years ago," he said.
That's hardly ideal, huh?
It still seems hard for me to believe that a team in a Canadian city that puts butts in the seats on a nightly basis is a losing operation, especially when they don't operate near the salary cap, but Melnyk says that's the case.
Either way, he doesn't seem interested in being much above the $48 million salary floor next season and that's only going to change from the sounds of it because the floor will continue to rise. So for any Senators fans hoping for a spending spree, don't. Then again, Sens fans are used to it by now so just don't expect it to change.
Sign up now, and your name can be under the Golden Knights' skates, too!

Pittsburgh coach Mike Sullivan says the team also respects players' right to protest

Some familiar faces are back, but a cap-strapped summer left Chicago a little shakier than...
The Pittsburgh Penguins will put politics aside and visit the White House out of 'respect'...

NBC will reportedly be devoid of NHL game broadcasts between Feb. 7-26

The Winnipeg winger suggests Trump is going after 'the principles the U.S. was founded on'