Sergei Fedorov to play for Wings in Winter Classic Alumni Showdown
Sergei Fedorov became the latest Red Wings great to join the list for the 2014 Winter Classic Alumni Showdown this year.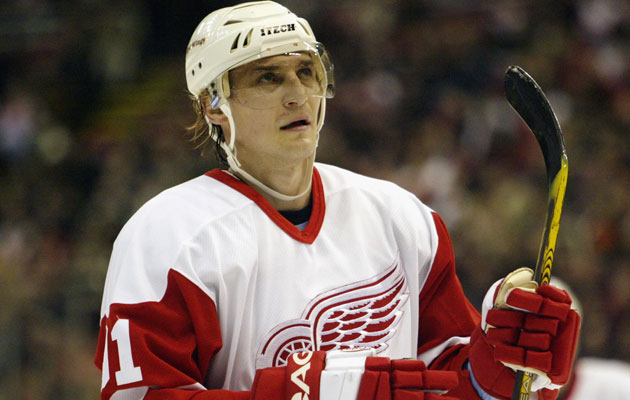 More NHL: Scores | Standings | League Leaders | Odds | Injuries | Power Rankings
The Detroit Red wings added another great name to their Winter Classic Alumni Showdown list on Wednesday with the addition of Sergei Fedorov to the festivities.
What's interesting about the Russian great joining the party is that he's still an active player, albeit in the KHL. I'm pretty sure that will be a first in the Winter Classic alumni events. You'll recall that Fedorov, the GM for CSKA Moscow, decided to put the skates back on and join his team as a GM/player. Then again, he hasn't actually played a game yet, he has just been on the roster.
Fedorov, 43, came to the NHL in 1990-91 to play with the Red wings and was an immediate hit. He had more than 30 goals in each of his first three seasons before busting out for 56 goals and 120 points in 1993-94, a season which earned him the Hart Trophy as MVP. He stayed with the Wings through 2002-03, winning three Stanley Cups, two Selke Trophies and one Ted Lindsay Award while making six All-Star Game apperances.
He shot his way up to fourth in franchise history with 400 goals, fifth in assists (554) and points (954) with the Wings before bouncing around the league and KHL a bit in the latter years.
The Alumni Showdown this year will feature two games instead of one given the amount of legendary players the Red Wings and Toronto Maple Leafs have with interest in playing. While the Winter Classic itself will be played at the Big House at the University of Michigan, the Alumni Showdown festivities will take place at Comerica Park in Detroit.
You can see the commitment lists for both teams here.
It seems it's all as wild as it sounds, with Canadian actor Zack Ward heading a 'West Coast...

Lots of moving parts may be the biggest hurdle for Carey Price and Co., a defensively geared...

The Penguins have some fun with the names of some Ducks linemen
Rookie Tyler Wong scores a hat trick to lift the NHL's newest team in its exhibition debut

Depth is a concern, but Edmonton is all in on its young, speedy stars with Stanley Cup pot...

The longtime Olympics enthusiast and Capitals standout releases a statement on the 2018 Ga...