Seth Jones' roomie at USA Olympic camp? Former Predator Ryan Suter
The Predators' top draft pick this year, Seth Jones, is rooming with former Predator Ryan Suter at USA's Olympic camp. Can you say awkward?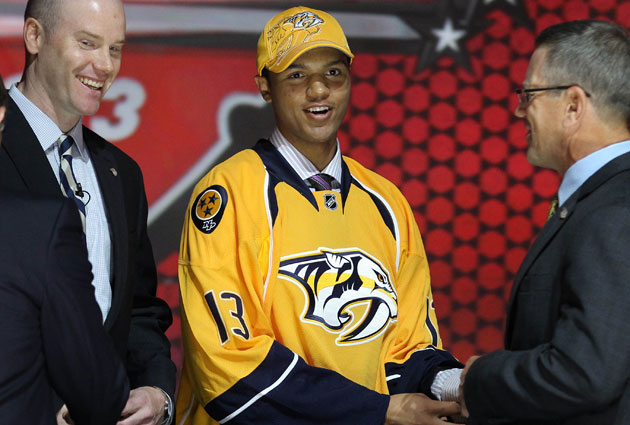 More NHL offseason: Rumors | Top 50 Free Agents | Buyout Tracker | Trades | Transactions
ARLINGTON, VA -- This week the focus at USA Hockey's Olympic Orientation Camp is only on USA Hockey and the Olympics early next year in Sochi, Russia. But let's not forget that these guys are mostly all in the NHL and have their own teams and situation from those teams to deal with.
Which makes things like this so interesting ... and potentially awkward. Seth Jones, the No. 4 overall draft pick this summer by the Nashville Predators, has himself a roomate here outside Washington like everybody else. His roomate? Former Predators star defenseman Ryan Suter, a man Jones is more or less going to be tasked with replacing.
"He played in Nashville for quite a long time and was obviously a pretty good defenseman there," Jones said Monday of his temporary roomate. "I like to ask him questions. I haven't really had a chance yet because we just got here yesterday but it's nice getting to know him and ask him quesitons about Nashville."
("Say Ryan, any tips on how to not upset the fan base forever?")
Not necessarily music to the ears of those in Music City. In Nashville they probably didn't know whether to laugh or cry with the idea of what could have been hanging tantilizingly over their heads.
Bear in mind that the GM for USA Hockey is David Poile, who also happens to be Nashville's GM. The odds he made this room arrangement happen are high, an interesting angle to an already interesting week. Consider that Predators coach Barry Trotz was remarking last week how he wants to beat Minnesota because of Ryan Suter being with the Wild and it's a nice little subplot this week in Arlington.
It seems it's all as wild as it sounds, with Canadian actor Zack Ward heading a 'West Coast...

Lots of moving parts may be the biggest hurdle for Carey Price and Co., a defensively geared...

The Penguins have some fun with the names of some Ducks linemen
Rookie Tyler Wong scores a hat trick to lift the NHL's newest team in its exhibition debut

Depth is a concern, but Edmonton is all in on its young, speedy stars with Stanley Cup pot...

The longtime Olympics enthusiast and Capitals standout releases a statement on the 2018 Ga...