Shane Doan's agent confirms offer for four seasons and at least $7 million per
Shane Doan's agent told the 'New York Daily News' that there is indeed a big offer on the table for his client and cleared up which teams Doan has visited.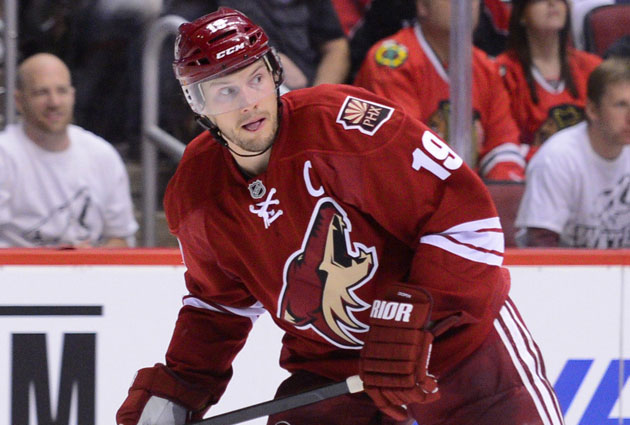 Doan has maintained all along he wants to stay in Phoenix but wants stability. (US Presswire)
Remember those reports out there that Shane Doan was seeking a four-year contract worth around $30 million? Of course you do, you probably laughed at them.
Turns out it's not really a laughing matter. There might be some real truth to the rumors.
Speaking with Pat Leonard of the New York Daily News -- and of "Stop coaching, Pat" fame -- Doan's agent Terry Bross said it's indeed true while clearing up some other misnomers out there about his still free-agent client.
Bross confirmed that a team outside of New York has offered Doan a four-year deal worth at least $7 million per season, both a high price and long term for a player who turns 36 on Oct. 10 and racked up his lowest point total last season (50) since 2001-02. There is no telling whether that offer comes from a team in which Doan has interest, though, so there is no knowing what leverage it would create against the Blueshirts and GM Glen Sather.
As to the misnomers part:
Bross confirmed that his client has visited only three teams during free agency: the Rangers, Philadelphia Flyers and Vancouver Canucks.
So there you go, coming from the agent's mouth.
Understand first that it is the agent's job to talk up his client and try to leverage the most that he can. That's why you hire agents after all. That means this must be taken with at least a little grain of salt, it's always possible Bross is trying to ratchet up the heat on some of the contenders.
Yet after some of the contracts we've seen in recent years I don't think I would be at all surprised if Doan does get that money from some team. I can't see a 36-year-old who had 22 goals and 28 assists last season as being worth more than $7 million per season, but that doesn't mean some GM can't.
As to the suitors? Well the list of visits cuts down a few previous reports. Doan had previuosly been tied to visiting Pittsburgh and Montreal as well as the cites already mentioned. Of course that doesn't mean that it is only down to those three teams. A report earlier this week from Larry Brooks of the New York Post had Doan down to three teams -- Pens, Rangers and Canucks. Another team that is supposedly very keen on Doan is Nashville. So who knows?
Still, don't count out Phoenix. There's a reason why Doan hasn't landed with a team yet, he continues to hold out hope things will work out in the desert.
"We're trying to see this thing through with the Coyotes, and a decision could come at any time," Bross told Leonard.
So what do we take away from this all? Despite the time crunch of real-life issues creeping in, Doan still isn't all that close to having a team. Oh, and he's likely going to be very rich.
For more hockey news, rumors and analysis, follow @EyeOnHockey and @StubitsCBS on Twitter and like us on Facebook.
Washington, Nashville and Tampa Bay are still rolling with winning streaks atop the NHL

Saturday's showdown will serve as a rematch of one of the NHL's first-ever regular season...

Stacia Robitaille says Donald Trump told her in an elevator that she was coming home with...
Vladislav Yeryomenko was the Teddy Bear Toss goal scorer for the Calgary Hitmen

The Golden Knights are finally getting their No. 1 goalie back after a 25-game absence

Washington has won four straight, and the Kings are also on a tear right behind the Lightn...