Sharks coach thinks Tomas Hertl will be fine after collision
Sharks sensation Tomas Hertl left the game on Saturday after a collision in the second period but coach Todd McLellan thinks he'll be fine.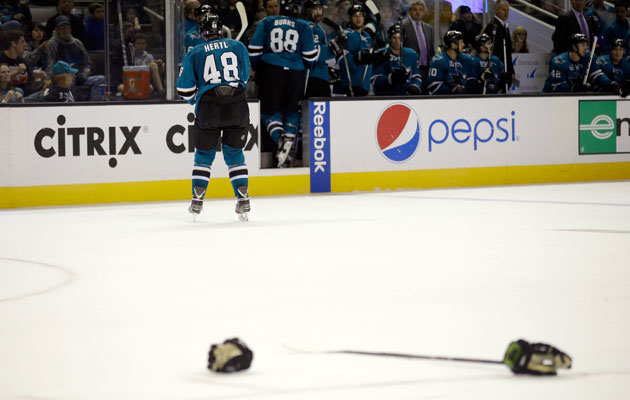 More NHL: Scores | Standings | League Leaders | Odds | Injuries | Power Rankings
The San Jose Sharks got a scare from the Ottawa Senators on Saturday night and we don't mean their narrow 3-2 win to move to 5-0 on the season.
Late in the second period rookie sensation Tomas Hertl, who has been the talk of the league this week after his amazing goal in a rout over the Rangers, had a collision with Senators forward Clarke MacArthur and didn't return in the game. What made things look that much worse was the fact that Hertl immediately dropped his gloves and stick and just left the ice.
As you can see, it was nothing more than an accident as Hertl was off balance and leaning forward, running right into MacArthur. Still, that doesn't mean there wasn't injury concern for Hertl. You can't see a play like that and not worry about any potential head injury to the league's leading goal scorer (he had another Saturday night to move his total to seven already).
Good news, though: It doesn't look that bad. Sharks coach Todd McLellan think Hertl will be fine. From David Pollak of the San Jose Mercury News:
"He fell into a player," the coach said. "Basically he was going to the net, stumbled and fell into him. He's a little bit sore but I think he'll be fine tomorrow."

Later, I asked McLellan if it was fair to say the area of concern was the shoulder, not the head.

"Yeah that would be fair," he said.
That's a relief. Hertl has been a tremendous story in the early going. I don't want to use the term surprise because a lot of people saw big things coming, but being lined up with Joe Thornton and Brent Burns on the Sharks' top line has led to a dominating trio in the early going.
Pittsburgh coach Mike Sullivan says the team also respects players' right to protest

Some familiar faces are back, but a cap-strapped summer left Chicago a little shakier than...

The Pittsburgh Penguins will put politics aside and visit the White House out of 'respect'...
NBC will reportedly be devoid of NHL game broadcasts between Feb. 7-26

The Winnipeg winger suggests Trump is going after 'the principles the U.S. was founded on'

League gets excited about exhibition matches in Beijing and Shanghai