Sharks don't take kindly to talk of embellishment from Kevin Bieksa
Kevin Bieksa suggested the Sharks are embellishing calls, specifically Logan Couture and Joe Thornton. The Sharks responded on Tuesday.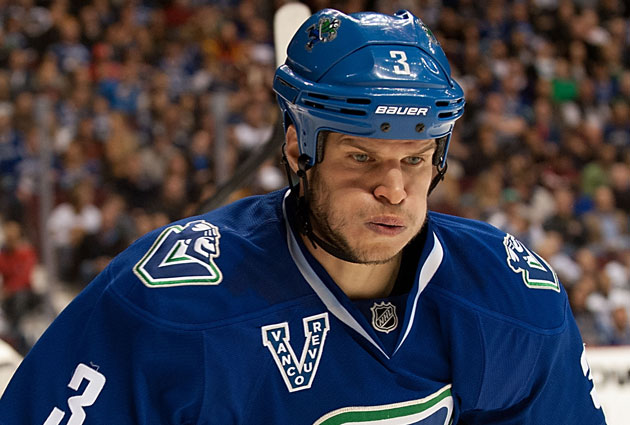 More NHL Playoffs: Scores | TV Schedule | Expert Picks | Odds | Mock Draft | Rumors
When the Vancouver Canucks are in the embellishment conversation, they are typically the ones being accused of committing the unsportsmanlike act. Not this time.
This time it was Canucks defenseman Kevin Bieksa accusing the San Jose Sharks of embellishment, specifically Joe Thornton and Logan Couture. He expressed his frustration with the Sharks doing all they can to sell calls and in hockey that constitutes smack talk because hockey players are tough and tough guys don't fake.
Bieksa specifically referenced Couture drawing a penalty on Henrik Sedin for this butt-end to the back of his head. "Couture has been snapping his head back and this isn't my opinion, the evidence is in the video," Bieksa said. "Hank touches him off the face-off and he does a full back arch and goes flying off in the corner from getting this [stick] off the side of the face and that doesn't make your glove fall off."
Of course these comments made their way to the Sharks on Tuesday before Game 4 and while neither Thornton nor Couture had much to say about it, Adam Burish piped up. From the San Jose Mercury News:
"I guess if I was him, while I was up on the soap box and trying to save the integrity of the game and all that stuff, I might swing by player No. 14 and player No. 17," Burish said. No. 14 is Alex Burrows and No. 17 is Ryan Kesler, two players saddled with diving reputations.
"I'd swing by their stalls," Burish continued, "and have a little talk with them about diving and intergrity, that kind of thing. Then he can work his way over to our room."
That's the angry approach. Sharks coach Todd McLellan went with the, um, biting approach.
"If we go back to look at the series, we've been called cheaters after Game 1, we've been called embellishing Canadians after Game 3," McLellan said. "If the series goes any deeper, we may even be accused of biting eventually.
"They use that word embellish, but I haven't heard that in a while. In fact, I think it was in vogue a couple of springs ago."
Ouch. It sure sounds like somebody remembers the Canucks' run to the Stanley Cup Final two years ago pretty well.
You know, it's kind of too bad this is just happening before Game 4 when the Canucks face the possibility of being swept. It would have been fun to see this play out for a whole series instead of potentially only one game because when this type of animosity spread in that Final between Vancouver and Boston, it became a great series with that extra bit of hate included.
Even on the brink of elimination the Canucks remain a fun team if nothing else.
After the Caps went 'all in' a season ago, a rough offseason figures to lead to disappointment...

Two of Blake Wheeler's teammates back his comments on supporting players' right to protest

Sign up now, and your name can be under the Golden Knights' skates, too!
Pittsburgh coach Mike Sullivan says the team also respects players' right to protest

Some familiar faces are back, but a cap-strapped summer left Chicago a little shakier than...

The Pittsburgh Penguins will put politics aside and visit the White House out of 'respect'...