Sharks hire Devils assistant Larry Robinson as associate coach
Larry Robinson, former Kings and Devils coach who lead New Jersey to the Stanley Cup Final in 2001, was named associate coach of the San Jose Sharks on Monday.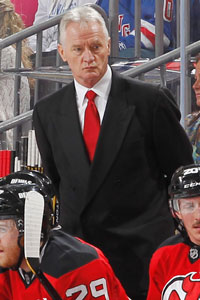 Robinson has a career head-coaching record of 209-217-64-11. (Getty Images)
Moving teams isn't just for the free agents at this time of the year. Assistant coaches are getting in on the fun, too.
Devils assistant coach Larry Robinson, former Kings and Devils head coach who lead New Jersey to the Stanley Cup Final in 2001, was named associate coach of the San Jose Sharks on Monday. He joins Todd McLellan's staff to create a somewhat interesting aspect of a head coach/assistant dynamic.
As mentioned, Robinson does have head-coaching experience in the NHL, in three different stints. He was thought by some to be a candidate for other top spots this summer, like the Canadiens' post that was vacated, since he spent the majority of his Hall of Fame career in a Habs sweater.
Instead he joins the bench alongside a coach who almost wasn't brought back for another season in San Jose. As if McLellan weren't already feeling the heat, bringing on a potential successor in an "assoctiate coach" role should do it, even if that's not the intention of Robinson.
"That was the first thing that I said when I came into the room -- I do not want to be a head coach," Robinson said in a conference call on Monday (via Kevin Kurz, CSN Bay Area). "I'm not here to take Todd's job. I'm here to help in any way I can. I wouldn't want to be a head coach knowing that there's somebody with a gun behind me waiting to shoot me whenever something went wrong.

"We'll work things out when they're not going right, but you've got the best head coach here in the best position possible and I don't foresee any problems at all."
The move is a great one for the Sharks as Robinson is viewed as one of the best assistants out there, particularly with defensemen. He was so good on the ice when he played and he's done well with the ability to translate that into coaching. Sometimes the best players don't turn out to be the best teachers (see: Gretzky, Wayne) but Robinson hasn't had that issue.
Where he will really bring a lot of expertise to the table is on the penalty kill. Of course you know that the Devils set an NHL record with their PK efficiency this season. San Jose? Not so much. Try the worst PK in the league.
"I do have a few ideas and a few things that hopefully will help it move up the ranks," Robinson said of the penalty kill. "The league is a specialty league, so you can win and lose games with your power play and your penalty kill. There are definitely things that we can work on."
It does come as a little bit of a surprise, though, at least to me. It was easy to get the impression that Robinson was going to be a Devils lifer. Despite being their head coach twice he has also had a few tenures as an assistant. Seems like he was one of those guys who was just in like flynn with GM Lou Lamoriello, one of those guys Lou will always go back to. That speaks about Lou's loyalty, sure, but also of Robinson's aptitude as a coach.
I would be lying if it didn't seem to be another blow to the image of the Devils. They just lost one of their star players in Zach Parise, they came close to losing their legendary goaltender Martin Brodeur and the ongoing financial issues before seeing a mainstay like Robinson make close to a lateral move to San Jose.
The Sharks will definitely take him, though. Assistant coaches don't move the meter, but this is one of the better hirings you can expect to see among the assistants.
For more hockey news, rumors and analysis, follow @EyeOnHockey and @BrianStubitsNHL on Twitter and like us on Facebook.
Stacia Robitaille says Donald Trump told her in an elevator that she was coming home with...

Vladislav Yeryomenko was the Teddy Bear Toss goal scorer for the Calgary Hitmen

The Golden Knights are finally getting their No. 1 goalie back after a 25-game absence
Washington has won four straight, and the Kings are also on a tear right behind the Lightn...

The NHL says it's only interested in expanding to Seattle, but here's a look at all the moving...

The NHL says it is only looking toward Seattle for the next expansion team