Sharks, Kings series heats up with round of diving accusations
After being accused of diving in Round 1, the Sharks are lobbing the accusations in Round 2 at LA, and the Kings didn't respond in kind.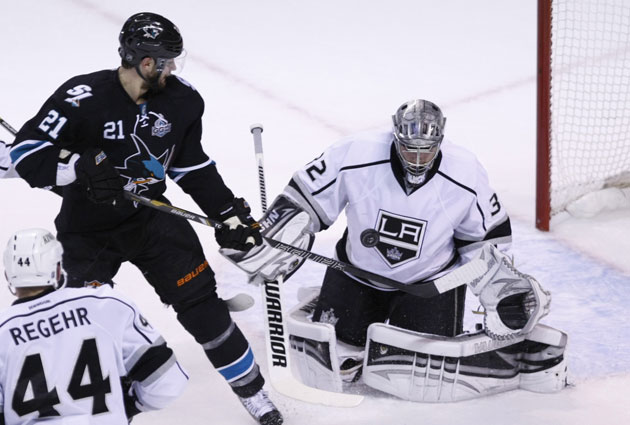 More NHL Playoffs: Scores | TV Schedule | Expert Picks | Odds | Mock Draft | Rumors
Another playoff series for the San Jose Sharks, another round of diving accusations flying like Greg Louganis off the high dive.
After going through the embellishment conversation in the first round brought on by Vancouver's Kevin Bieksa, this time it's the Sharks who fired the first shot at Los Angeles. Sharks forward TJ Galiardi came out and very shyly pointed out that the Kings have a diver and his name is Jonathan Quick.
From the San Jose Mercury News:
"What kind of bugs me about him, I don't know if I should say it, but a little embellishment every now and then," Galiardi said. "You skate by and you don't even touch him or you barely even touch him and he's throwing his hands in the air. So that's one of those things. It's playoffs. Everyone's trying to draw a penalty. Whatever."
Galiardi wasn't the only one to claim a King dives. Logan Couture -- who was called out by Bieksa directly -- pointed the finger at Dustin Brown.
As you would expect, those comments made it to the Kings and on Thursday after the morning skate, the Kings had their retort. Ironically, it sounded an awful lot like San Jose's reponse to Vancouver's accusations.
Here's what Drew Doughty had to say to the LA Times:
"It's not even playoff talk," Doughty told the Times after Thursday's morning skate before Game 5. "It's just funny to even hear that from a guy who is the biggest diver on their team. Like it's just ridiculous he can even say that, to be honest.

"But I don't want to get involved in that stuff. I don't think you have to watch many (Sharks' games). You can just watch three of his shifts and you'll see how many times he dives. There's been times where even the refs are telling him, just get up, because he's diving so often."

...

"For him to call Quickie out like that, it's just not right and we all know Quickie is an honest hockey player," Doughty said. "He's not diving. He's not flopping. Quickie is as tough as nails."
The divers are everywhere!
In a series that has already had a heavy focus on the officiating, this just adds another layer of extracurricular intrigue. Nobody likes a diver in hockey, yet so many players dive. It's a dishonest and ugly thing to do, but the rewards far outweigh the risks given how infrequently diving penalties are handed out.
As Galiardi admits, undercutting his own complaint, a lot of people do it to get the penalties. If you ain't cheating you ain't trying, right?
All that said, if these spats aren't enough to convince you or the league that somehow, some way it has to find a way to curb the embellishment in hockey, I'm not sure what will. The only thing more ridiculous than diving is everybody claiming the other guy is diving. Sure, it adds a nice little layer of trash-talking intrigue but it's just not something that we should even have to worry about.
Maybe Brown put it best.
"I don't think there is a whole lot of embellishing going on, on either side," Brown said to the Times. "Considering all of the talk of embellishment in the last series, you'd think it'd be enough talking about that."
Apparently not.
Stacia Robitaille says Donald Trump told her in an elevator that she was coming home with...

Vladislav Yeryomenko was the Teddy Bear Toss goal scorer for the Calgary Hitmen

The Golden Knights are finally getting their No. 1 goalie back after a 25-game absence
Washington has won four straight, and the Kings are also on a tear right behind the Lightn...

The NHL says it's only interested in expanding to Seattle, but here's a look at all the moving...

The NHL says it is only looking toward Seattle for the next expansion team