Sharks lost $15 million last season and are OK with it
The San Jose Sharks sold out every game last season yet still took $15 million in losses. The most surprising part? The owners don't mind.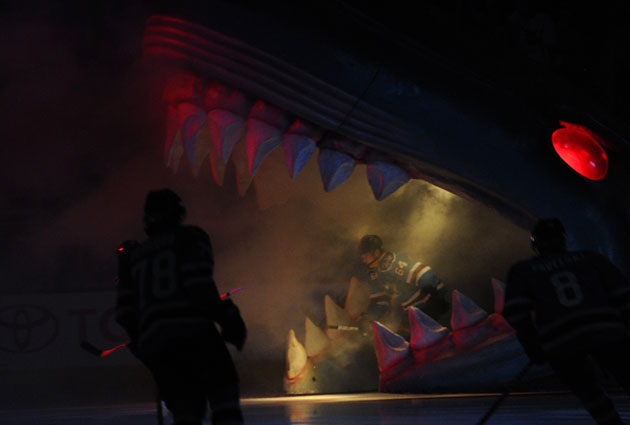 The Sharks might put butts in seats, but they still see red. (Getty Images)
The San Jose Sharks have not had a problem filling the seats of the Shark Tank. They are, though, having a problem filling the bank with money as a result.
Not that that is a real problem for the owners of the Sharks.
Speaking with David Pollak of the San Jose Mercury News about the financial side of the business, one of the Sharks' more prominent members of the ownership group said the team is losing money but that's not causing them to lose any sleep at night.
The Sharks' parent company said this summer that it lost $15 million last season despite selling out every game. But the disclosure -- coming shortly before the start of NHL collective bargaining talks -- wasn't as surprising as the group's response.

"We're OK with that because that's a decision we've made to stay competitive," said Kevin Compton, referring to the fact his team's player payroll bumped up against the NHL salary cap.
It is a bit hard to believe, all things considered. The Sharks have been one of the greatest success stories of the NHL's great expansion of the 1990s. After some rocky seasons to start, the Sharks have become competitors year in, year out and a loyal fan base has been built in the Bay Area. As mentioned in the Pollak story, they sold out every game last season.
Still, it wasn't enough to turn a profit, or so they say. There might be other money hiding in the books, we will never know because those records are kept private. So we'll just have to take Compton at his word in this case. Why would they possibly lie about it? I'm not sure there are many upsides but it does make an awfully strong case to the fans of the franchise that they are fully committed to icing a winner. That can go a long way in getting -- in this case, retaining -- fans.
Disingenuous or completely factual, there's no harm in making sure that the fans are aware of the commitment you're making. Just to be sure, co-owner Stratton Sclavos made it perfectly clear.
"It all comes back to mission No. 1 -- win the Stanley Cup," Sclavos said in June. "We have to give the hockey side the resources to put the best team on ice every season that we can."
That's all well and good. It's great to see the ownership of the franchise willing to do what it takes to try and bring the Stanley Cup to San Jose after so many failed attempts in recent years.
But everything this summer, especially things that deal with finances, gets viewed in a different prism: the Collective Bargaining Agreement. The owners of the Sharks made it perfectly clear to Pollak, they aren't complaining about the CBA. They aren't crying poor, they are making a decision to operate at the top of the cap and lose a little money. If they wanted they could shave money here and there and operate to break even, at least.
Still, I'm sure they wouldn't mind if a new CBA kicked a little more money into their pockets. As Jimmy Fallon always asks, who wouldn't want more cash? (Excuse me while I hate myself for referencing that ad campaign.)
The Sharks turn into a pretty good example for this illustration here. They are losing money and while they are OK with it, other teams in their position aren't. That's why the owners made an initial offer in CBA talks that would reclaim money for the owners from the players' pockets. The change? The owners would go from receiving 43 percent of the hockey-related revenue right now to 57 percent. That's a large increase.
Interestingly enough, if that change in revenue were applied to last season (we'll ignore that the player salaries would be lower, just leave everything the same except how much money the owners get) it would be just enough to make the Sharks profitable. Barely profitable.
Considering the NHL's revenue last year was right around $3.3 billion, that would mean each percentage point that goes up and down in the negotiations is $33 million that changes hands. Divide that up among 30 NHL owners are you have $1.1 million per team. So that change swing in the revenue split would give the Sharks $15.4 million extra, good enough to put them $400,000 in the black.
Why do I point this out? Because the Sharks' situation is an easy illustration to show how taking revenues from the players isn't the best solution to solve a lot of teams' woes. There are a lot of teams that are much further in the red than the Sharks. Even if the owners were able to get the 57 percent they asked for -- obviously they won't -- it won't change much for a lot of those teams. A few million per year isn't going to make a significant debt.
I don't know where the Sharks would stand in a world with greater revenue sharing, I doubt they would get much in that regard. And again, the owners are making it clear they don't need it, either. They are OK with what they are doing right now by operating with losing margins. But if they did it would probably be much more significant than the $7.7 million extra per season they stand to gain should the split move to 50/50 (again, that doesn't account for a decrease in the salary cap, so keep that in mind).
You can imagine for the teams struggling much more than the Sharks to turn a profit how much more impactful serious revenue sharing would impact their bottom line vs. taking away percentage points of the revenue from the players.
Getting back to the Sharks: One reason why they can take these losses is that it doesn't send them deeper into debt. In fact, they are debt free, helping them avoid some of the pratfalls of other organizations that are struggling.
The owners say the Sharks are debt-free. Instead of turning to banks to cover operating losses, they turn to one another with annual cash calls.

"We're a completely liquid organization and so far have continued to fund operations by choice," Compton said. "This isn't Phoenix."
Intended or not, that's a little jab at former Sharks CEO and potential Coyotes purchaser Greg Jamison.
Not all franchises are going turn a profit. That's a reality of sports, particularly NHL hockey. The big question becomes if owners are OK with not turning a profit or not. The answer in the Sharks' case appears to be a solid Yes.
For more hockey news, rumors and analysis, follow @EyeOnHockey and @StubitsCBS on Twitter and like us on Facebook.
Saturday's showdown will serve as a rematch of one of the NHL's first-ever regular season...

Stacia Robitaille says Donald Trump told her in an elevator that she was coming home with...

Vladislav Yeryomenko was the Teddy Bear Toss goal scorer for the Calgary Hitmen
The Golden Knights are finally getting their No. 1 goalie back after a 25-game absence

Washington has won four straight, and the Kings are also on a tear right behind the Lightn...

The NHL says it's only interested in expanding to Seattle, but here's a look at all the moving...