Shea Weber doesn't have a point, and that's not a massive problem
Shea Weber has been one of the best all-around defensemen in the NHL for a while, but in nine games he's not only without a goal, but pointless as well. That doesn't mean he's been a waste, though.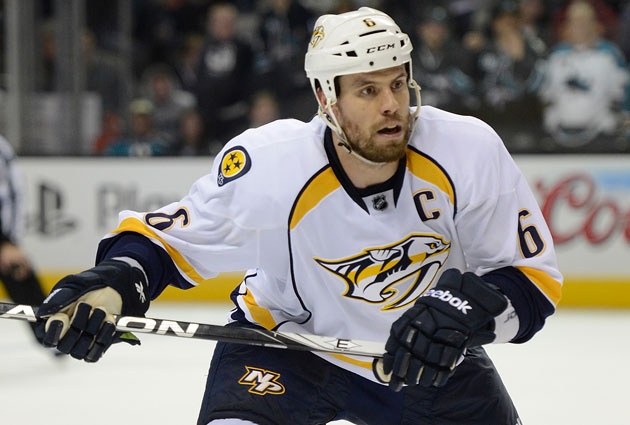 Weber is pointless through the first nine games. (Getty Images)
More NHL: Scores | Standings | Odds | Fight-O-Meter | League Leaders | Rumors
After Ryan Suter elected to leave the Predators and signed with the Wild, an even bigger burden was placed on the shoulders of Shea Weber in Nashville. It became gigantic when the Flyers signed Weber to a massive offer sheet that the Preds matched, making Weber one of the highest-paid players in the league.
It was with that backdrop and those expectations that Weber entered the season, clearly the face of the franchise, at least among the skaters (that guy Pekka Rinne is pretty good, we hear). So it shouldn't be such a surprise that a lot of people are scratching their heads and wondering what is going on as Weber, who had 49 points last season, doesn't have a single point in the first nine games. Not a goal -- although he doesn't have one of those, obviously -- but a point. No secondary assists or anything.
That's just not something we've come to expect from Weber. He's an elite two-way defenseman and has one of the hardest shots in the league behind only Zdeno Chara -- as they prove every year (except this one) at the All-Star Game.
Is everything all right? Should the Predators be concerned about Weber and, more specifically, the lack of offensive production? In a word, no.
Coach Barry Trotz addressed the issue earlier this week and had the same sentiment, that he isn't concerned.
Trotz:'Zero concern about Shea Weber. He has the toughest assignment every night.He doesn't care about goals, only winning.'

— 102.5 The Game (@1025TheGame) February 6, 2013
There's absolutely some truth to what Trotz is saying there. Let's examine.
This season, Weber has been getting a ton of ice time -- as is normally the case. He is averaging 27 minutes a night, or almost half the game on the ice. That's a load. How is it that he doesn't have any points? Because, as Trotz said, he's getting some tough assignments and is playing solid defense.
Remember, he is a DEFENSEman.
How tough have his minutes been? Figure that among the team's defensemen, he has the highest Corsi Relative Quality of Competition rating, barely edging Roman Josi (who was his partner until the past few games when he started playing with Scott Hannan, so that makes sense).
So far he has had the most time on the ice against guys such as David Perron, David Backes, Zach Parise, Anze Kopitar and Ryan Getzlaf. That's a pretty talented lineup.
Despite all those minutes, he has been on the ice for only two goals against at even strength. That's it. With very few exceptions, those players have all been better against other competition than against Weber.
In other words, he's doing the biggest part of his job: defending.
Much the same as has been said over and over about Phil Kessel, Weber has been a touch unlucky. He has fired 22 shots on goal this season, and it hasn't resulted in a point yet. You'd think that maybe he'd at least create a rebound opportunity with his booming slap shot, but it hasn't happened. But as long as he keeps shooting, it will come.
Part of the issue, too, is that the Predators, as has often been the case over the years, just don't generate a ton of offense. They are once again near the bottom of the NHL in scoring and are averaging less than 22 shots per night. So it's not just Weber who isn't lighting up the scoreboard in Nashville, it's just about everybody right now. That was especially true before Tuesday's 6-1 outburst against the Blues.
Even if Weber doesn't put up the good offensive numbers that we're used to, it doesn't mean he is underperforming or buckling under the pressure of the new big contract. He's still doing plenty of work for the Preds, and as long as that's happening, there's not much of a worry. All it means is that he might not be in the finalist group for the Norris Trophy this season because we all know that offensive numbers are an important factor in that race even if it is for the top defenseman.
As long as he keeps it up, the offensive numbers should follow. The loss of Suter shouldn't send him plumetting from a 17-goal player to a three-goal player. And hey, there can't be too much of a problem when the team has points in all but two games this season.
The point is, don't worry, be happy. (Unless you have him in Fantasy. Then, you can worry.)
For more hockey news, rumors and analysis, follow @EyeOnHockey and @StubitsCBS on Twitter, subscribe to our YouTube account and like us on Facebook.
The league's highest-paid player and Hart Trophy winner says his Penguins counterpart is No....

Defense is better and motivation shouldn't be lacking, but the Red Wings are still too cap...

The 45-year-old free agent is taking things patiently as September approaches
The playoff drought might not end immediately, but something is brewing in restocked Buffa...

Former Lightning standout will be guarding the net in style in 2017-18

Devils are still in rebuilding mode, but they have reason for hope thanks to young additio...