Shea Weber excited to be back in Nashville, downplays agent comments
Shea Weber says he's excited to be back in Nashville and did his best to distance himself from comments made by his agent over the past week.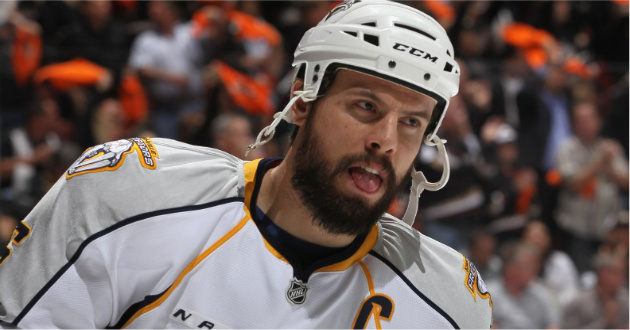 Shea Weber downplayed his agents comments about not wanting to go through a rebuild in Nashville. (Getty Images)
In what was probably one of the biggest days in the history of the Nashville Predators organization, defenseman Shea Weber spoke to the media for the first time since the club matched the 14-year offer sheet he signed with the Philadelphia Flyers last week.
Along with talking about how excited he was to return to Nashville, he also did his part to distance himself from comments made by his agent over the past week regarding his interest in playing for Philadelphia, and how he may not want to be a part of another rebuilding phase in Nashville.
"I guess that was his business," said Weber during a conference call on Wednesday afternoon. "His feelings, I guess. I wasn't a part of any of that. I love the city of Nashville. I love the fans."
Shea Weber offer sheet
More NHL coverage
Of course, at this point -- and this is admittedly a very cynical approach -- it wouldn't have done Weber any good to say anything different as he's now locked in with the Predators on a long-term contract, while he's not eligible to be traded for a full year as per the current CBA. That said, it doesn't seem like there's any issue between either side here. He seemed quite comfortable with the fact he will be back in Nashville, had nothing but positive things to say about the organization and the statement they made by keeping him, and went out of his way to distance himself from his agents comments.
Regarding his decision to sign the offer sheet itself, Weber simply chalked it up to the business side of the game.
"We utilized the CBA the best way we could," said Weber.
Predators coach Barry Trotz also spoke during the call on Wednesday afternoon and predicted that Weber will win a Norris Trophy one day, while also adding that "money is secondary to him" and that Weber is "all about winning."
Now that he is back in the mix in Nashville he's going to have to adjust to playing alongside a new defensive partner now that Ryan Suter has moved on to the Minnesota Wild.
Trotz said that as the roster stands right now there's a good chance that Roman Josi would open the season playing next to Weber. The 21-year-old Josi is coming off his first full season in the NHL and scored five goals to go with 11 assists in 52 games. During 5-on-5 play last season he only spent about 28 minutes playing next to Weber. It would be a definite downgrade at this point but Josi has plenty of talent and upside, especially when it comes to the offensive side of the game.
For more hockey news, rumors and analysis, follow @EyeOnHockey and @agretz on Twitter and like us on Facebook.
The NHL says it's only interested in expanding to Seattle, but here's a look at all the moving...

The NHL says it is only looking toward Seattle for the next expansion team

The 33-year-old defenseman hopes to help find a cure for serious head injuries in athletes
Chicago becomes the latest NHL club to earn an evaluation of $1 billion or more

The city council has approved a $600 million redevelopment project for KeyArena

Arvidsson took off his glove to reveal an engagement ring for one lucky fan