Sheldon Souray will miss 4-6 months for Ducks after training injury
Ducks D Sheldon Souray will miss 4-6 months after suffering a training injury in July. The Ducks signed Marc Fistric to help fill the void.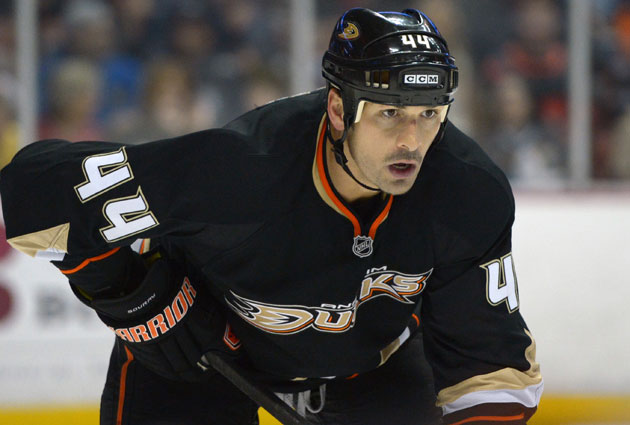 More NHL offseason: Rumors | Top 50 Free Agents | Buyout Tracker | Trades | Transactions
The Anaheim Ducks suffered a big loss to their lineup this summer, something that was revealed on Tuesday when the team announced Sheldon Souray tore a ligament in his wrist in late July and will be out 4-6 months.
The injury came while Souray was working out on July 17, simply an accident in training. He had surgery on July 25 to correct the issue but it's going to take a while to heal. The time frame is from the surgery so the best case scenario is that Souray will return in late November, worst case late February.
Not so coincidentally, the Ducks made another announcement on Tuesday afternoon as they announced they've signed defenseman Marc Fistric to a one-year deal. Pretty clearly the intent right now is that Fistric will help with their depth on D while Souray is on the mend.
It's a big blow for the Ducks, Souray showed well in his first season with Anaheim. The Ducks took a shot on Souray after he rebuilt his game in Dallas for one season and gave the Ducks seven goals and 10 assists in 44 games last season while sporting a plus-19 in 20:56 of ice time.
Wrist injuries aren't new to Souray. He missed more than a season in the early 2000s with a wrist injury while playing for the Canadiens.
The 38-year-old defenseman had been on the free agent market since July 1

New York fans aren't too happy about it, either

The league is not backing down, but players aren't hiding their frustrations, either
Draisaitl remains unsigned as Edmonton's premier restricted free agent

Yes, it is as perplexing as it sounds

Here's a look at the best of what's left in the pool of unsigned veterans