Should the Red Wings worry in the race for eighth in the West?
Looking at what the teams in the race for eighth out West have left as they try and chase the Red Wings.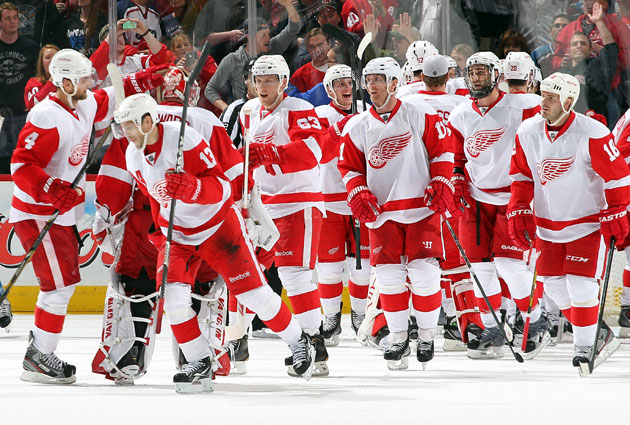 More NHL: Scores | Standings | Odds | Fight-O-Meter | League Leaders | Rumors
Believe it or not, we're already down to the final few weeks of the season with teams having just 10 or fewer games left. Time is running out and with each passing day the playoff picture becomes easier and easier to nail down.
As usual, the fun mostly resides in the races for the eighth and final playoff spot and also as usual, the Western Conference is truly a dogpile. The separation from eighth-place Detroit to 13th-place Nashville is just five points.
Now, making up points at this point in the season is awfully tough, especially when there are no cross-conference games. It's asking a lot for any team below the playoff cut line right now to make it up and take a berth, but with so many at least within range, it's going to make for a fun stretch.
Right now the target is square on the backs of the Red Wings. Before the season GM Ken Holland delivered an honest assessment of his team, saying this could be the year the Wings don't make the playoffs, a streak that goes back more than two decades now.
While they are close to that becoming a reality, the Wings are still in a good position. They are three points clear of ninth place with nine games to go in their season.
The question, though, is how comfortable should they feel? Just because it's tough for teams to make up points at this time of the season doesn't mean it's not possible. We have seen in the past week-plus what a quick run can do for a team like St. Louis, which was below the playoff cut line but has rattled off four wins in a row and is now four points clear of ninth. All it takes is one quick hot streak by another team and Detroit will feel the heat.
Let's begin by looking at what the Red Wings have remaining on their schedule since they appear to be the team everybody below will be chasing; they're the rabbit.
Red Wings remaining schedule
April 11: San Jose
April 22: Phoenix
April 12: at Chicago
April 24: Los Angeles
April 14: at Nashville
April 25: Nashville
April 17: at Calgary
April 27: at Dallas
April 20: at Vancouver
 

The Wings have a nearly even split between home and road: five away from the Joe and four back in Hockeytown. That shouldn't be too much of a factor, though, as the Wings haven't been appreciably better at home than on the road this season.
More importantly they have four games against teams that are in the pack chasing them: two vs. Nashville then one vs. Phoenix and one at Dallas.
By virtue of their starting point in this sprint to the finish line, you're looking at a scenario where the Red Wings probably need 10 more points to feel absolutely safe. A record like 5-4-0 could get it done but they would feel just a wee bit safer if they put a few more points up than the minimum. Most importantly, though, they need to get the points in the games against the chasers; those are four-point swing games.
Next on the list are the Coyotes who, like the Blues, recently ran off a few wins in a row to get back in the hunt. They're still three points back and it's a true three points; they and the Wings have each played 39 games.
The Desert Dogs have made the postseason each of the past three seasons and if I've learned anything in that time it's to not count them out. Here's what they have ahead.
Coyotes remaining schedule
April 10: at Edmonton
April 22: at Detroit
April 12: at Calgary
April 24: San Jose
April 15: San Jose
April 26: Colorado
April 18: at St. Louis
April 27: at Anaheim
April 20: at Chicago
 

The Coyotes probably have the toughest schedule left of any of the contenders in the West. Six of their final nine are on the road and six of those nine are also against current playoff teams.
Perhaps they could catch a break by facing teams that might be playing for nothing when they come up on the schedule like the Blackhawks, Avalanche and Ducks. Still, they have their work cut out for them.
To have a shot they probably need 13 points in the final nine games, or a record of 6-2-1 or some combination of that sort. A three-point deficit might not seem like a lot, but put that way it seems like a much greater challenge, unless everybody around them falls apart.
Out of the pack of chasers, the Dallas Stars might have the best chance to catch the Red Wings by virtue of having a game in hand on the rest. Of course that game in hand means nothing if you don't do anything with it, you have to get the points and make it count.
Stars remaining schedule
April 9: Los Angeles
April 19: at St. Louis
April 12: at Nashville
April 21: at Los Angeles
April 13: San Jose
April 23: at San Jose
April 15: at Chicago
April 25: Columbus
April 18: Vancouver
April 27: Detroit

Now the Stars are in the boat along with the Coyotes, looking at a tough row to hoe. Eight of their final 10 are against playoff teams at the moment, though there is an even split between home and away. Interestingly enough, though, the Stars have been better on the road this season than at home.
It's kind of wild to think the Stars are still in the conversation after trading away their captain, their leading scorer and a play-making center before the trade deadline, but here they are, in the same spot they're always in: close enough to see the playoffs but not close enough to touch them.
The advantage that the Stars have is closing the season at home with two games against fellow playoff-chasing competitors, including the Wings. If they get to the point that it matters, having the Red Wings in their barn for the final game of the season could be awfully fun. The trick is getting to that point while still being able to do something about it.
Next we have the Oilers, who were making quite a charge until losing three games in a row. What was looking like a possibility just a few days ago is looking like a long shot. The Oilers are four points back of Detroit having no games in hand.
Oilers remaining schedule
April 10: Phoenix
April 22: Anaheim
April 13: Calgary
April 24: Chicago
April 16: Minnesota
April 26: at Minnesota
April 19: at Colorado
April 27: Vancouver
April 21: Anaheim
 

One of the bonuses about playing in the Northwest Division is the fact that the Oilers get to play the Flames and Avalanche once more apiece down the stretch.
At the same time, the Oilers kind of have a murder's row lineup to close out the season with two vs. Anaheim, Chicago, at Minnesota and Vancouver. If they're going to pull this off, they're going to have to really earn those points.
The good news is that seven of their final nine are back in Edmonton, where they are 8-5-4. It's always nice that when you are trying to make a last great push you get to do it mostly in the confines of your own home.
That said, the Oilers need to do a lot with these games. Just to have a chance they will need to go something like 7-2-0. With that slate of games, it's probably asking a little too much of a young team.
Now we come to Columbus, the team that brough itself into the race amazingly with a tremendous point streak earlier this season. But like the teams around them, they have petered out -- they couldn't keep that up forever -- by losing their last two.
The Jackets are right there with the Oilers at 39 points, an identical 16-16-7 record.
Blue Jackets remaining schedule
April 9: San Jose
April 18: at Los Angeles
April 12: St. Louis
April 21: at San Jose
April 13: at Minnesota
April 25: at Dallas
April 15: at Colorado
April 26: Nashville
April 17: at Anaheim
 

I'll make this one short and sweet: You can say good night to the Jackets if you hadn't already. Not even Marian Gaborik will be able to help them get through this with what they need.
A six-game road trip at the end of the season with stops in the three California cities is tough enough. Add in the fact that the Jackets have been significantly better at home than on the road, it's unrealistic to expect them to rattle off a 7-2 finish. They have only five wins on the road all season up to this point. There's some excitement for the future but this year's pipe dream was always just that; a pipe dream.
Last within the five-point cutoff are the Predators. They take a three-game losing streak into this final push.
Predators remaining schedule
April 9: St. Louis
April 23: Calgary
April 12: Dallas
April 25: at Detroit
April 14: Detroit
April 27: at Columbus
April 15: Vancouver
 
April 19: at Chicago
 

That sound you hear is taps being played for the Preds. You'll notice they only have eight games left and they are at the bottom of the pack at 38 points. There's no guarantee that they would make the playoffs even if they go 8-0 to finish the season.
However, the Predators will have a say in how things go down. They play Detroit twice and would nlove nothing more than to send them to the Eastern Conference with a couple of spoiler losses. They also play Dallas and St. Louis as well in that run. They won't make the playoffs but you can see they might have a hand in how it goes down.
The point is the Red Wings are still in an awfully good position at this point in the season. They would certainly prefer to be up much higher and not contemplating their own playoff mortality, but barring them falling apart down the stretch, it's going to be incredibly tough for a team behind them to catch up.
The real trick for the Wings will be trying to catch the Blues and/or Wild to move up and avoid Chicago in the first round. Considering the Blues have two games in hand, that, too, is probably asking too much.
Saturday's showdown will serve as a rematch of one of the NHL's first-ever regular season...

Stacia Robitaille says Donald Trump told her in an elevator that she was coming home with...

Vladislav Yeryomenko was the Teddy Bear Toss goal scorer for the Calgary Hitmen
The Golden Knights are finally getting their No. 1 goalie back after a 25-game absence

Washington has won four straight, and the Kings are also on a tear right behind the Lightn...

The NHL says it's only interested in expanding to Seattle, but here's a look at all the moving...