Sidney Crosby returns for Penguins, and so do some old problems
Sidney Crosby's return to the lineup did not go exactly as planned for the Pittsburgh Penguins in Game 2 against the New York Islanders.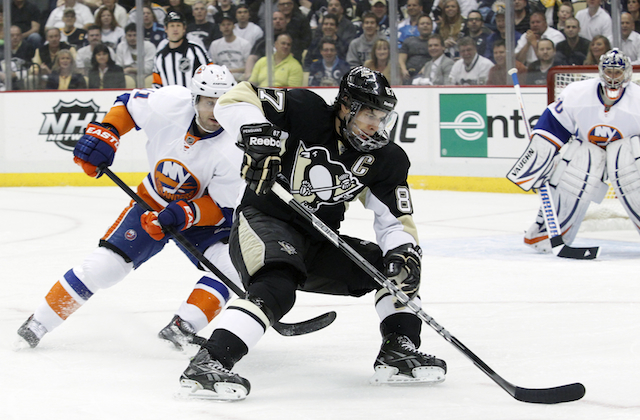 More NHL Playoffs: Scores | TV Schedule | Expert Picks | Odds | Mock Draft | Rumors
PITTSBURGH -- Apparently nobody told the New York Islanders they weren't supposed to have a chance in their Eastern Conference quarterfinal series against the Penguins.
After getting a blown out in Game 1 on Wednesday night against a Pittsburgh team that didn't have Sidney Crosby, it probably wouldn't have been a stretch to assume they were going to be in some trouble for Game 2 when Crosby returned to the lineup Friday.
Except that's not at all what happened as the Islanders went out and stunned the Penguins with a 4-3 win to even the series as it shifts to New York this weekend.
For one period it appeared as if the Penguins were going to run the Islanders out of the building thanks to a pair of early goals from Crosby as he scored two goals in his first four shifts after missing the past 13 games with a broken jaw. The scoreboard indicated a lopsided game, but even though the Penguins raced out to an early two-goal lead there were some things happening on the ice that should have been a concern for the Penguins.
And perhaps a sign of encouragement for the Islanders.
For one, the Islanders recorded 20 shots in the first period and seemed to be generating a large number of quality scoring chances. The Islanders seemed to generate more chances in the first period than they did in the entire first game.
"We had our legs goings," said Islanders coach Jack Capuano.
"I think after the first period you could tell we were playing our game. Our guys were relentless, it was only a couple of shots to get back in the hockey game and if we continued to play the way we did in the first period I thought we would get on the scoreboard. I knew we would have some kind of success throughout the game because as a coach, and our coaching staff, we know that when we play that kind of hockey we normally give ourselves a chance. I thought for 60 minutes tonight it was much closer to the game plan than it was the other night."
Penguins coach Dan Bylsma agreed that the early score was not a great indication of the way the game was being played and how well either team was playing.
After the Penguins jumped out to their early 2-0 lead -- and regained their two-goal lead after the Islanders cut the deficit to one -- a lot of the problems that existed for them in last year's playoff loss, and even at times during this season, started to resurface.
Poor puck management. Overpursuit. Turnovers. Undisciplined penalties. Forwards getting caught up the ice on the forecheck and being unable to catch up with the Islanders going back the other way in transition. If the Islanders have an edge in this series it's the speed their forwards have going up against a Pittsburgh defense that doesn't have a great deal of mobility.
All of that was pretty clear at times on Friday.
The Islanders were able to take advantage of the mistakes and seemed to approach the game with the mind-set that they were going to throw as many pucks at the net as they could, from every angle, and crash in on Penguins goalie Marc-Andre Fleury. After recording only 26 shots in their Game 1 loss on Wednesday, the Islanders fired 42 on Friday, outshooting the Penguins by a 36-23 margin at even-strength.
"We put a lot of pucks on net," Islanders forward John Tavares said after the game. "We were going to the net and we didn't make it easy for them. Going forward it's going to have to be more and more of that and we're going to have to take it to another level because it's just going to get that much more intense and there's going to be less and less given out there."
Eventually some of those shots started to find their way into the net. None of them was a particularly pretty goal, and some of them were the result of some fortunate bounces off the glass and off Penguins players, but sometimes you can create your own luck. Sometimes that's what it takes in the playoffs.
"We didn't do a good job getting to Fleury in the first game, we were getting a few shots but he was pretty much gobbling everything up," Islanders forward Matt Martin said. "Tonight we were throwing a lot of pucks at them, there was a lot of rebounds and the boards are lively here and we were able to get a couple of good bounces. I think it's an indication of how we played, how hard we worked, and those bounces will come if you work for them."
The good news for the Penguins is their captain returned to the lineup and played very well. Along with the two goals he also won 14 of his 26 faceoffs and generated 11 shot attempts, including eight that were on goal.
The bad news is the rest of the team was badly outplayed. Take for example that when neither Crosby and/or Evgeni Malkin were on the ice the Penguins generated just three shots on goal during 5-on-5 play. That's not good at all, and it needs to improve.
The assumption around this series from those watching it has been that the Penguins were going to just show up and roll over the Islanders and move on to the next round. After watching Wednesday's game, that belief continued to build.
As we saw on Friday night, that might not be the case at all, especially if the Penguins don't start takin better care of the puck and struggling as much in the defensive zone as they did on Friday.
The Pittsburgh Penguins will put politics aside and visit the White House out of 'respect'...

NBC will reportedly be devoid of NHL game broadcasts between Feb. 7-26

The Winnipeg winger suggests Trump is going after 'the principles the U.S. was founded on'
League gets excited about exhibition matches in Beijing and Shanghai

NHL players are still disappointed they won't be going to skate in PyeongChang

With Artemi Panarin in the mix and a Vezina winner headlining the defense, Columbus can be...