Slumping Jets to try big Dustin Byfuglien at forward Thursday night
In a scoring slump and four-game skid, the Jets are going to shake things up by returning Dustin Byfuglien to forward on Thursday.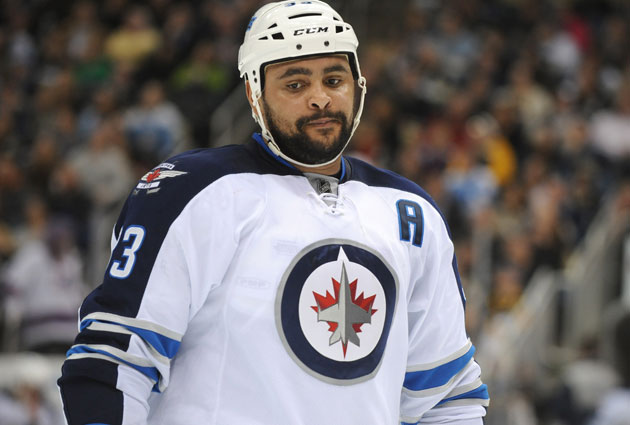 More NHL: Scores | Standings | Odds | Fight-O-Meter | League Leaders | Rumors
Dustin Byfuglien is returning to his roots. Sort of.
The Winnipeg Jets, in a funk and seeing their lead in the Southeast shrink by the day, are going to add some size to their forward corps the day after the trade deadline. How? They're going to start Big Buff on the wing Thursday night in Montreal.
I'm sure you'll recall that when Byfuglien was a member of the Blackhawks he was a forward, not a defenseman like he is now. That transition didn't happen until he was traded to the Atlanta/Winnipeg franchise.
He was moved because, frankly, defense is probably his better position. But he can perform just fine at forward. In Chicago, he specialized in parking in front of the net and being a general pest for goaltenders. In that run to the Cup for the Hawks, he was a breakout hit in the playoffs with 11 goals in 22 games.
That success was largely due to the fact that he's as tough as anybody in the league to move from in front of the crease considering he's a mountain of a man. A wide mountain.
It's probably not an ideal situation for the Jets. They just need to spark an offense that has fallen into a slumber. It's akin to what we saw the Sharks do with Brent Burns, bumping him up from the blue line to a forward spot. And that's worked out pretty well. The Sharks are all of a sudden scorching again with six straight wins. The Jets would love the same kind of results.
"We've been trying to find some consistency with our top two lines, with finishing and offense," coach Claude Noel said. "He can do those things, so that's an option that we have.
"He gives us a guy on the right side, maybe we can create a little more offense, more offense on two lines.
Overall, the secondary offense has been missing. Of the Jets' 92 goals this season, 41 have been scored byAndrew Ladd, Blake Wheeler and Evander Kane. Olli Jokinen was supposed to help, but he hasn't really worked out as well as they hoped with just seven goals and five assists in 38 games. It's tough to keep up a winning pace when your production is so concentrated to three players.
The other addition to the forward group was made on Wednesday when the Jets claimed Mike Santorelli off waivers from Florida. I don't think he's going to be able to provide the spark they are looking for.
To get a little, the Jets might be giving a little, though. Byfuglien is relied on more than any other defenseman on the team, averaging a team high 24:50 minutes per night. Take that off the blue line for a team that already has the 23rd worst goals-against average in the league (2.97 per game) and it's a risk. They do have a lot of defensemen, so bodies aren't an issue; it's a concern more about quality.
At this point, though, the Jets need to try something. They are down to just 10 games left on the schedule, and they have lost four in a row. They are up only two points on Washington, four on Carolina -- and each of those teams have games in hand (two for the Caps, three for the Canes). So while the Jets have the lead in points, it's precarious.
There's no telling at this point if the move is going to be permanent, just for the rest of the season, just for one game or maybe even just for one period. Noel will determine that more after seeing Byfuglien back in action up front or if they miss him too much in the back.
They hope it won't hurt to try because they pretty much have to try something. Without any help at the trade deadline, this will have to do.
Rage is all the rage in Montreal

Buffalo's 20-year-old phenom pulls off the highlight of the night against Vancouver

The North American love affair with Edmonton's superhuman center continues to grow
The defending Western Conference champion Predators are also heating up early in the year

The Oilers' young star remains seriously unfair

David Kelly, a Toronto-born hockey analyst, has strong advice for Edmonton vs. Chicago game...