Some suggestions for how NHL could win back fans in short season
If the NHL even plays a 48-game schedule this season, how could it win back fans? From an idea to expand playoffs to not patronizing fans, here are some suggestions.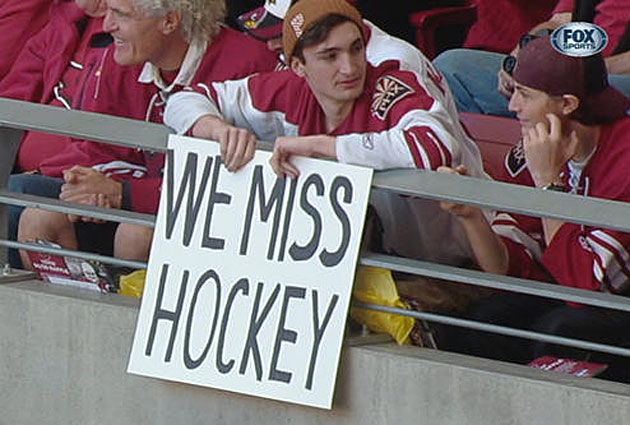 We know, guys. How can the NHL make it up to you? (@WorldofIsaac)
Assuming the NHL comes back in time for a season -- and that's still the belief here -- it will have a lot of work to do to win back fans. By a lot, we mean massive moves to try to lure back fans who have become seriously jaded by professional hockey during this lockout.
NHL commissioner Gary Bettman foolishly lauded the NHL's fans as the best in the world early in this lockout and more or less said the league wasn't too worried about the fans returning to the game that they love. Because, you know, hockey fans are the bestest fans in the whole wide world and they would never leave us. Or something like that.
While undoubtedly there is some truth to that -- there are fans who are just waiting to get to the rink and will be there as soon as the NHL is back -- there will be plenty who won't be so easy to hop back on board. The NHL will have to woo some patrons all over again if the league wants them back. And, really, with hockey-related revenue to surely take a hit from this lockout, why wouldn't the league want all its fans back?
Don't be confused here. This is a problem that falls squarely on the shoulders of the league. Of course, the lockout is a shared responsibility. But the players can do little compared to the owners to make things right. Players can be more engaging than they already are with fans, particularly kids, but their best attraction is to be awesome on the ice. In case you didn't know, they already try that every time they play. So it's primarily the league's job to do what it can to win back the fans. The question is how?
The majority of the responsibility for getting fans back to the rinks will fall on the individual teams. There are countless promotions that they can do with ticket upgrades, giveaways, free parking if the team has a lot, etc, etc. But what can the league do that will directly impact the fans? Get creative, that's what.
Kevin Allen of USA Today had a suggestion to kick start the conversation -- hey, you can never be too far ahead when thinking of public relations. His proposal was to expand the playoffs for the one truncated season to include not 16 but 24 teams.
If we play a 48-game season, my suggestion would be to increase the playoff pool from 16 to 24 teams. It would be a conference-only format, and the top four teams in each conference would draw a first-round bye, and then teams ranked fifth to 12th would play in a best-of-three play-in round. No. 5 would play No. 12. No. 6 would play No. 11, and so on.

The lower seed starts with a home game, and then the higher seed gets the final two games at home. You would have to do that to ensure that each team gets a home game while minimizing travel.

Once the play-in round is over, the teams are re-seeded No. 1 through No. 8 and the regular playoff format resumes.
Allen goes on to note that the intensity level would be amazing for those best-of-3 series, which is certainly true. The sense of urgency would be great, and you'd have even more playoff games to put on TV and collect revenue from at the gate.
While I don't love the idea -- I think it makes the already questionable playoffs thanks to a short season even more sketchy -- it certainly has some appeal. Think about it this way: Now eight more teams would have the chance to collect some more money that otherwise wouldn't have. I'm sure this suggestion is incredibly popular in Toronto.
What other things could the league consider doing for one shortened season to try to appease fans? Unfortunately, doing things like relocating teams, realigning them or changing the rules isn't going to happen on this short of notice. Seriously, if the two sides can't agree on how long the new CBA should be, do we think they could agree on things like realignment? Probably not.
Instead, we offer up a few other, more practical solutions, even if they are unlikely to even be considered. Undoubtedly, it will be status quo.
Free Center Ice packages -- no blackouts
I can't take credit for this one here. This idea came from somebody in the Twitterverse a while ago, although I can't recall whom. But it's a brilliant idea, even if it is unlikely to happen.
The Center Ice package allows fans to watch any game in the NHL -- sans blackout restrictions, which should also be lifted for the short season -- at a cost. It's most beneficial to the hardcore hockey fan and the fan who no longer lives near the team that he/she roots for. So instead of forcing fans to pay for this product when they're already angry with the NHL, just give it to them for free. Whether you give it to everybody or people who had the package in at least one of the past three seasons, that's something that could be decided by the people at the NHL. But in terms of bones you can throw, this is a big one.
Sure, it would result in a reduction of hockey-related revenue that goes into the pot -- so in that regard, I guess you could say the players are paying the price for it, too -- but you have to think of it more as an investment. Deprive yourselves of a little money now to hopefully make more of it later.
Vary the schedule; don't narrow it

The assumption is teams won't play cross-conference games but will instead stay in just the East or West should the schedule be the minimum of 48 games. This might make the most sense from a competition standpoint, essentially turning the season into a long playoff battle where one team emerges from each conference just like baseball before interleague play came about. But it costs fans the chance to see the teams that they don't see often.
Fans already gripe about the lack of home-and-home battles with every team in the league with the regular 82-game schedule. I don't think it would be wise to dry that up altogether. The lockout already cost us the Winter Classic setting; now it could cost us the Maple Leafs and Red Wings renewing their rivalry altogether?
The schedules wouldn't be created equal, and not every team would play every other team. To try to keep at least some of the imbalanced aspect to the schedule and really try to determine the best in each division by letting them play each other, perhaps you could do it this way: Four games vs. every division opponent. That's 16 games. Then a home-and-home with all the other conference teams. That's 20 more games. That leaves 12 games to play against the other conference; split them up with one-way visits, and just three teams are left out.
It's not completely equal, but it allows a fan to see almost every team in the league. The seven Canadian teams should never have a season in which they don't all play each other at least once.
Don't patronize fans
Remember this?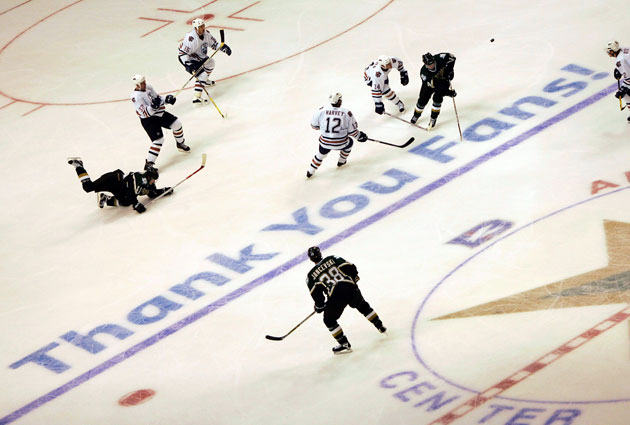 The ice in Dallas in 2005. (Getty Images)
Don't do that again. Don't thank the fans. It's insulting.
The lack of signs like this on the ice might not bring more fans back, but it won't piss off fans who decided to show up.
Organize an outdoor game
The Winter Classic is gone, and trying to set up a new location on short notice would be almost impossible. But I said almost.
The Heritage Classic might be a thing of the past, but bring it back for one season. Play an outdoor game in Canada. There are stadiums north of the border that won't have the CFL to compete against for time on the field, where making and maintaining ice is a lot easier than in, say, Philadelphia. Go to Winnipeg or Edmonton. There might already be ice on the football fields.
One twist here would be to incorporate an American team to draw in folks from both sides of the border. Put the young Oilers up against the Blackhawks, for example. Another twist: run your own version of 24/7 on the NHL Network. I understand that the Network hasn't been able to match the success of HBO's program on its own broadcasts, but go all out. The show on HBO has done a lot to generate interest and excitement among fans.
Don't charge for preseason games next year
This one doesn't do much to address the situation immediately, but it would be a goodwill gesture, a bone to be thrown in the not-too-distant future.
What I think makes this one a little more appealing than it sounds -- some wouldn't attend a preseason game even if it were free -- is that it would show some sort of Make Whole offer from the owners that has no relation to the one that they have been fighting the players over.
In the preseason, just as it is in the postseason, the players technically don't get paid. The revenue goes fully to the owners, so this is money that comes right out of their pockets. It would be a bigger sacrifice for some teams more than others, but the best way to get people to come to something is to give it away. A few preseason games when the ice is taken up by mostly AHL and/or junior players shouldn't hurt too much.
Gary Bettman resigns
Of all the things on this list, this one clearly has the least chance of happening (and that's saying something).
At the same time, I believe this one would also be the most effective.
It has been made clear almost every time that Bettman has handed out the Stanley Cup or announced the picks at the draft that the fans don't like him. He has been on the job for 20 years and is overseeing his third lockout. It seems just about every fan has a reason to dislike Bettman, even if the reasons aren't necessarily all his fault.
But there are no two ways around it. Bettman is an incredibly divisive figure for fans and some have pledged to stay away until he is gone. Very little would probably change if Bill Daly took the commissioner's seat, but that wouldn't much matter. For a lot of people, the beast would be slain.
For more hockey news, rumors and analysis, follow @EyeOnHockey and @StubitsCBS on Twitter and like us on Facebook.
Some familiar faces are back, but a cap-strapped summer left Chicago a little shakier than...

The Pittsburgh Penguins will put politics aside and visit the White House out of 'respect'...

NBC will reportedly be devoid of NHL game broadcasts between Feb. 7-26
The Winnipeg winger suggests Trump is going after 'the principles the U.S. was founded on'

League gets excited about exhibition matches in Beijing and Shanghai

NHL players are still disappointed they won't be going to skate in PyeongChang