Stadium Series, Dodger Stadium offer Ducks spotlight they deserve
Dodger Stadium as a backdrop for hockey will be a sparkling setting but the Ducks might steal the show as they get a spotlight they have more than earned.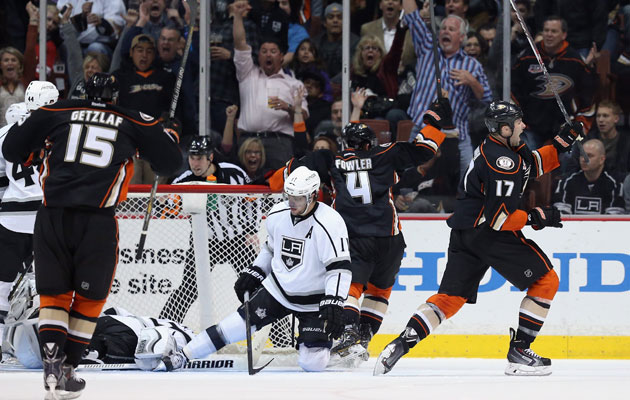 More NHL: Scores | Standings | League Leaders | Odds | Injuries | Power Rankings
On Saturday night in Los Angeles' historic Dodger Stadium, all the attention is going to be on the spectacle, on the entire show. An actual NHL game will be played outside in LA and it will be a celebration of Southern California and its hockey roots. That's as good and intriguing of a reason to watch as anything and it's why people will tune in Saturday night. The novelty of playing at Dodger Stadium is enticing.
That's the aim of the Stadium Series, to attract more viewers (and ticket-buyers) to what's really just another game in the midseason grind. Nothing can amp up the excitement for a late-January game more than playing in the "elements." We haven't quite seen the "elements" like a wintertime Chavez Ravine.
No matter how you slice it, that's a good thing for the NHL. You can worry about "killing the golden goose" as Steve Yzerman put it at the Winter Classic in Michigan or you can continue to marvel at the picturesque settings where hockey will be played (Yankee Stadium takes its spotlight Sunday afternoon). Those will be two prominent narratives.
Having said that, it also provides a tremendous stage for the NHL and in this case the Anaheim Ducks might just steal the show. We don't just say that because their sweaters are bound to blind a few viewers at home.
The Ducks have been the NHL's best team this season, becoming the first team to surpass the 80-point mark with a 38-10-5 record. They have managed to build a nine-point lead in the Pacific Division, which is neck and neck with the Central in terms of most difficult.
But by virtue of being a hockey team in Southern California (or just being west of Chicago, really) and still being relatively new to this whole hockey thing as one of the 1990s expansion darlings, the Ducks haven't been showcased much. After Saturday's spectacle against the Kings, the Ducks are slated to play on national television just once more this season, on April 9. That might change but the point remains; that's not a lot of exposure for a team that is on its way to winning the Presidents' Trophy. It's not like it's out of the blue either. The Ducks finished as the No. 2 seed in the West last season.
And Saturday night will give the Ducks something they so richly deserve -- their time in the national spotlight.
No doubt hockey fans know the Ducks are good this season, Stanley Cup-contender good, but it feels like they haven't sold the public at large that they're good enough to take on teams like the defending champion Blackhawks or even the rough-and-tumble Kings, who they just beat on Thursday night and will look to take down again Saturday. Seeing is believing.
Of course, from a hockey standpoint an outdoor game might not always give you the best sense of what a team is capable of. The ice is rarely up to snuff with indoor sheets and despite reassurances from the NHL, it's fair to be concerned about the ice holding up in LA of all places. Puddles of water aren't really conducive to good hockey action.
Even with that visceral hindrance, the Ducks should still shine through the spectacular scene as the dangerous squad they are. Ryan Getzlaf and Corey Perry are the stars but it's not just a two-man show. Sure, they've turned Dustin Penner into a 20-goal scorer again (that's about the pace he is on right now with 12) and they are both excellent players worthy of their salaries that exceed $8 million but Anaheim wouldn't be as powerful as it is with only those two.
There is the speed of Andrew Cogliano, who is now showing his full potential with 16 goals. Nick Bonino is hardly mentioned on a national level but he has been strong with 39 points in 53 games. You go down the list through guys like Mathieu Perreault, Kyle Palmieri, Saku Koivu before you even get to the great Teemu Selanne. Heck, coach Bruce Boudreau said this week that the Ducks' best forward on the team lately has been Patrick Maroon, and he's a fourth-line guy. There is a reason why they are the NHL's third-best offense; they're deep, quick and can be physical.
Defensively it's the same story. Led by American Olympian Cam Fowler, it's a strong unit that has been put together. Francois Beauchemin was a serious Norris candidate just last season. Hardly anybody knows much about the rookie Hampus Lindholm, who probably deserves more mention in the race for the Calder than he gets. Mark Fistric has been good (and really adds to their physicality), as have Bryan Allen, Sami Vatanen and Ben Lovejoy. That's a group that doesn't even have Sheldon Souray available.
All told the Ducks are seventh in the league in goals against and shots against. To be in the top seven in both offense and defense, well, you're pretty darn excellent. There are only three teams that fit that criteria: the Ducks, Blues and Sharks. That's some good company the Ducks are keeping. Put another way, you don't win 19 of 20 games as they did recently by having a lot of holes in your game.
That aspect, getting a team as hot as the Ducks, is something that was missing from this season's Winter Classic. We saw through 24/7 that both the Red Wings and Maple Leafs were struggling leading up to that game. While the Kings have hit a bump in the road, the Ducks are still as hot as any team not named the Blue Jackets. The same will happen in New York when the Rangers take the ice at Yankee Stadium but let's face it; if you aren't familiar with the Rangers at this point then you just don't follow hockey because that's a team the networks bludgeon fans with repeatedly. The same doesn't hold true for the team in the shadow of Disneyland.
Anaheim doesn't have a roster full of household names. There are a couple, yes, with Perry, Getzlaf and Selanne, but this is a team that NHL fans really ought to know. They might not be seen a lot during the season but that should change when the playoffs roll around. Amid the backdrop of the Stadium Series spectacle on Saturday night under the lights, the Ducks will get their due.
Saturday's showdown will serve as a rematch of one of the NHL's first-ever regular season...

Stacia Robitaille says Donald Trump told her in an elevator that she was coming home with...

Vladislav Yeryomenko was the Teddy Bear Toss goal scorer for the Calgary Hitmen
The Golden Knights are finally getting their No. 1 goalie back after a 25-game absence

Washington has won four straight, and the Kings are also on a tear right behind the Lightn...

The NHL says it's only interested in expanding to Seattle, but here's a look at all the moving...