Stadium Series: 'Veteran' Rangers take advantage into Wednesday
The Rangers will play at Yankee Stadium on Wednesday for the second time in four days. That is definitely an advantage over the Islanders but that's why they play the game.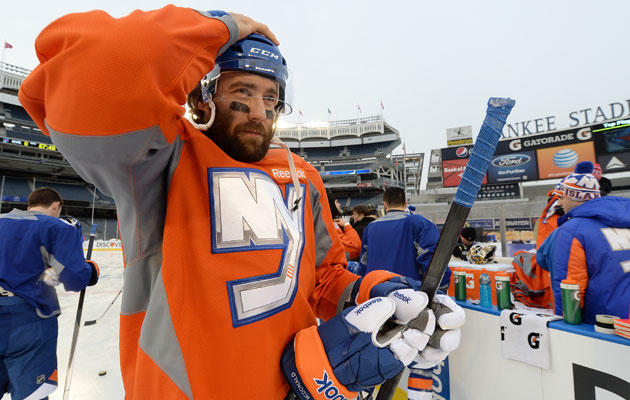 More NHL: Scores | Standings | League Leaders | Odds | Injuries | Power Rankings
It's not as though there is a long track record with the NHL in this department but on Wednesday night in Yankee Stadium the New York Rangers will make some history by becoming the first team to play two outdoor games in the same season. Considering this is just the second season there has even been more than one outdoor game, that's not saying a lot.
But that still means the Rangers have played outside and their opponents on Wednesday night, the rival Islanders, have not. Sure, just about every player has played outside before, but not in truly meaningful games and with such a big spotlight that the NHL's Stadium Series presents.
That notion has led to some wondering which team has the advantage -- if there even is one -- from this unique situation. The Rangers were asked that very question just moments after beating the Devils 7-3 on Sunday afternoon.
Rangers coach Alain Vigneault tackled that question; is his team taking an advantage into Wednesday night?
"Not really. I think for our group it's going to be another good experience in an 82-game schedule," Vigneault said. "But I think if I'm from Long Island and I'm a player and coach and member there I'm going to feed off this first opportunity for them. I don't see an advantage for one team or the other."
Nice try, coach, nice try. You have to understand where Vigneault is coming from, coaches are always doing and/or saying what they can to keep their teams from becoming complacent, to keep them up. But there is almost no way to look at this situation and say the Rangers aren't coming in with an advantage, small as it may be.
The thrill of playing outdoors is certainly great for players, they all remark about it every time these games come along. The thrill is very likely not going to be gone for the Rangers just because they've done this before. No matter if they just experienced it, this still won't be like another mid-season doldrums game when there are more than 50,000 people in the stands to take it in, the temperature is in the teens and Cee Lo Green is performing on a stage near the rink.
If anything that figures to help, the Rangers might be able to keep their emotions in check a little more having gone through it once before. They will surely still be excited but it's hard to argue they won't be more mentally prepared for everything that awaits with the pregame festivities and such having gone through it before.
Keeping emotions balanced is a challenge, even if a small one, that Isles coach Jack Capuano knows his team faces.
"Well, we've discussed that and we've addressed that," Capuano said after the Islanders' practice at Yankee Stadium on Tuesday. "We wanted to come down here today, have a spirited practice, execute, have a good pace, let the guys enjoy time with their family. That's what it's all about."
And then there's the ice, you can't forget the ice. Remember how Martin Brodeur said on Sunday that it was the worst ice he's ever played on? Yea, that same sheet of ice will be used on Wednesday. Granted, it could be in better condition on Wednesday night -- the Islanders said the ice looked good at practice and there weren't many complaints aside from Brodeur on Sunday -- but chances are it won't be perfect. Even from one 60-minute game, the Rangers players are likely to have a better feel for what the puck is going to do, of course that's to their advantage.
(Here's an update on the rink conditions from the NHL's Mike Craig.)
In situations like this with foreign elements, experience is never a bad thing to have on your side. Even bad experience -- which the Rangers didn't really have on Sunday -- doesn't hurt. How can it when there are lessons to have learned?
But advantages only take you so far, you still have to actually go on the ice and win. There's no guarantee that the Rangers will take advantage of ... well, of their advantages.
"You know, it's still 200 to 85," Capuano said, doing his best Norman Dale. "We still have to play the game."
Indeed, behind all of the hoopla (Cee Lo qualifies as hoopla), it's still just another regular-season game worth two critical points in the standings, points the Islanders have to have after dropping a couple recently. They especially need to have them against a divisional rival, a team that the Islanders will play again on Friday to end the season series.
The Islanders have taken two of three from the Rangers already this season, presenting them an opportunity to take the season series on Wednesday night. To do so, they've got their work cut out for them.
The Pittsburgh Penguins will put politics aside and visit the White House out of 'respect'...

NBC will reportedly be devoid of NHL game broadcasts between Feb. 7-26

The Winnipeg winger suggests Trump is going after 'the principles the U.S. was founded on'
League gets excited about exhibition matches in Beijing and Shanghai

NHL players are still disappointed they won't be going to skate in PyeongChang

With Artemi Panarin in the mix and a Vezina winner headlining the defense, Columbus can be...