Stadium Series: Weekend games set regular-season ratings records
The game Sunday at Yankee Stadium resulted in record regular-season national ratings (non-Winter Classic division) while the game at Dodger Stadium was a hit in LA.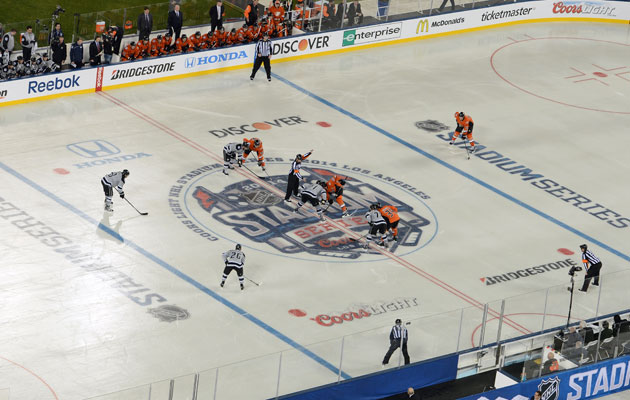 More NHL: Scores | Standings | League Leaders | Odds | Injuries | Power Rankings
If the novelty of outdoor hockey games is starting to wear thin, it's not being reflected very much in the television ratings.
The NHL opened the Stadium Series with two outdoor games this weekend, one on Saturday night in Los Angeles on NBCSN -- hardly an ideal setup for big ratings -- and then another on Sunday afternoon at Yankee Stadium between the Rangers and Devils that was aired on NBC. Both yielded good numbers for NBC in comparison to your average regular-season broadcasts.
NBC's NYR-NJD NHL Stadium Series game from Yankee Stadium did 1.6 overnight, a record NBC o'night for a NHL reg-sn gm (exl regionals & WCs)

— NBCSportsPR (@NBCSportsPR) January 27, 2014
Hard to read through the short-hand but the game at Yankee Stadium was NBC's best completely national broadcast of a regular-season game in the non-Winter Classic division.
In the New York area the game drew a rating of 5.1 and in a market the size of New York, that equates to a lot of eyeballs. Of course that doesn't count the 50,000 that were in attendance at the game, either.
NBC didn't release any national numbers for the game at Dodger Stadium between the Kings and Ducks but the local numbers were strong as well.
@LAKings @AnaheimDucks Stadium Series on @NBCSN drew 2.38 rating in L.A., highest rating ever in L.A. market for NHL reg-season gm on NBCSN

— NBCSportsPR (@NBCSportsPR) January 27, 2014
Like New York, the 2.38 isn't a huge number ratings wise but 1) it's a record for the network that just so happened to come on the worst TV night of the week and 2) in LA that still equates to a lot of people watching when you talk about the sheer volume in the market.
All in all, not bad when you're talking about regular-season games in late January. The NHL's gamble on the attraction lasting seems to be paying off as you can't complain about setting ratings records.
The former Boston Bruin was the first black player to play in the NHL

Inclement weather led to the Charlotte Checkers and Bridgeport Sound Tigers playing in front...

The NHL chose the Detroit rocker as its All-Star Game entertainment and not everyone is th...
NHL fans from all over seem to agree on one thing: Hating Kid Rock

The team tweeted on Monday that Shaw would be re-evaluated in 7-10 days

The Montreal forward was hospitalized after taking a Zdeno Chara slap shot to the head