Stanley Cup contenders shouldn't be afraid of the salary cap
NHL teams shouldn't be afraid of tying up half of their salary-cap space in a small number of players. It might be their only chance to win.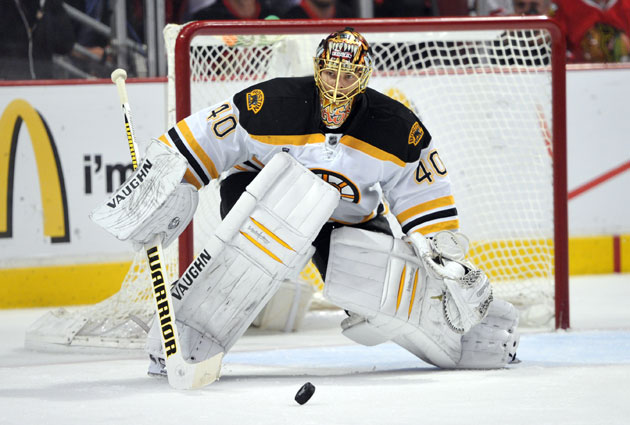 More NHL offseason: Rumors | Top 50 Free Agents | Buyout Tracker | Trade Tracker
Now that they've signed restricted free-agent goalie Tuukka Rask to his massive eight-year, $56 million contract, the Boston Bruins are right at the NHL's $64.3 million salary cap for the 2013-14 season.
Technically speaking, they're actually a little bit over the cap as of Friday and will only get back under it once Marc Savard -- with a $4 million cap hit -- is placed on the long-term injured list at the start of the season.
Whether or not Rask's contract was the right investment can be up for some level of debate. He looks like he's on his way to being one of the best goalies in the league for the foreseeable future, but there's an obvious risk when it comes to that sort of contract at the position. No matter which side of that discussion you fall on, it's clear the Bruins have identified him as one of their must-keep, core players.
It's just one of the contracts that is pushing them to the limits of the NHL's salary cap.
When looking at the Bruins' roster and the way the team is constructed, they have five players accounting for nearly 50 percent of the cap space that they're allowed under the CBA for this upcoming season. Rask, Zdeno Chara, Milan Lucic, David Krejci and recent free-agent signing Jarome Iginla are taking up more than $31 million, leaving just a little more than $33 million for the remaining 17 spots on the roster.
That's cutting it close for general manager Peter Chiarelli.
Boston will be in a similar situation next season (and future seasons), when Patrice Bergeron's brand new eight-year, $52 million contract extension kicks in to go with the long-term contracts for Lucic, Chara, Rask and the rest of the core.
Contrary to what you might hear whenever a player signs a huge contract and takes up a significant portion of his team's salary-cap space, it's not a bad problem to have.
In fact, it seems to be the only way to win in the modern NHL. Assuming you're signing the right players.
Nearly every team that can reasonably be viewed as a Stanley Cup contender has a similar roster build, including all four of the 2013 conference finalists.
The Penguins had 50 percent of their cap space going to their five highest-paid players last season (and even more for 2013-14). The Kings have 48 percent committed to their top five. The reigning Stanley Cup champion Chicago Blackhawks have more than 47 percent going to their top five.
This isn't a new development, and it's a problem that every GM of every contending team has to deal with.
The chart below looks at the past five Stanley Cup champions and what percentage of their cap space went to their five highest-paid players.

You might notice some similarities from year to year.
This also shouldn't be too much of a surprise. Teams need a core of great players to win, and great players aren't going to come cheap. It also means teams are going to have to sacrifice quality players to keep their core together.
The Blackhawks found out what that was like following the 2010 season, when their depth was completely gutted due to the losses of Andrew Ladd, Dustin Byfuglien, Kris Versteeg, and starting goalie Antti Niemi. It took them some time to rebuild. But thanks to a couple of shrewd trades and free-agent signings, not to mention a couple of quality players coming through the farm system, they were able to piece that depth back together for another Cup run this season.
And just like their previous championship season, they lost some of that depth this offseason when they traded Dave Bolland coming off a down year and lost Viktor Stalberg to free agency.
The Bruins also lost a couple of quality players due to their cap crunch when Nathan Horton and Jaromir Jagr left via free agency, while Tyler Seguin and Rich Peverley were traded to Dallas for Loui Eriksson.
It's a constant juggling act for general managers in today's game.
You still need your depth, but those are the players who are going to be coming and going as part of a revolving door when it comes to your roster.
You need cheap, productive talent coming up through your farm system. You need to find value in free agency and make the right trades to complement your roster.
And, most importantly, you need a core of five or six great players to build around.
And they're not going to be cheap. There's no reason to fear having half of your cap space going to a small number of players.
This might be the new norm at the Winter Olympics, so here are three reasons why

It isn't a surprise to anyone, but an NBC executive acknowledged the ratings

SportsLine's Mike McClure, a DFS pro with more than $1M in winnings, gives optimal lineup...
The Blackhawks take a stand against racism by banning four fans from future home games

With Brian Elliott and Michal Neuvirth hurt, Philadelphia adds a big name to the net

David Kelly has nailed 35 of 42 NHL picks and he just locked in a selection for the Ottawa-Nashville...