Stanley Cup Final: 5 keys for Game 1
It's finally time for the Stanley Cup Final between the Bruins and Blackhawks to begin, so here are five keys to watch for Game 1.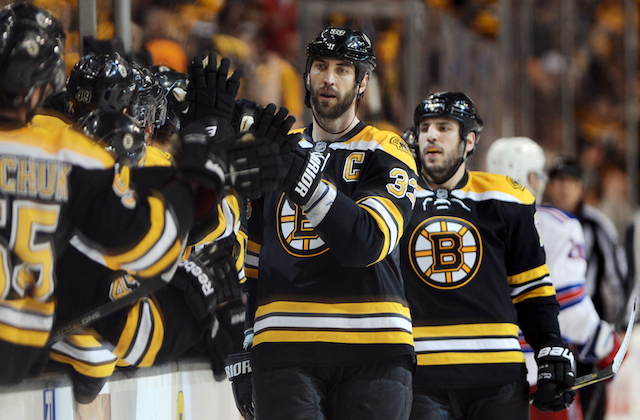 More NHL Playoffs: Scores | TV Schedule | Expert Picks | Odds | Mock Draft | Rumors
We've waited long enough, but it's finally time to drop the puck for the 2013 Stanley Cup Final between the Boston Bruins and Chicago Blackhawks. Both teams are coming off short series wins in their conference final series and are well rested coming in (as rested as a team can be in the playoffs, anyway).
Finally, it's time for hockey again so here are five keys to watch for Game 1. 
5. Can David Krejci keep up his scoring pace? Boston's David Krejci has always been a good player and a valuable part of the Bruins' core. But he's never at any point in his career scored like he has this postseason, leading the NHL in postseason scoring with 21 points in 16 games. The Bruins are always viewed as a big, tough, and physical team, which makes it easy to forget that they have a lot of talented forwards up front. So far this postseason Krejci has been leading way.
4. Will Chicago reunite Jonathan Toews and Patrick Kane? The Chicago Blackhawks had Jonathan Toews and Patrick Kane playing on separate lines for most of the 2013 season, but reunited them late in the Western Conference final. The results were excellent. But during practice on Tuesday they were back on different lines, which might be a way of guaranteeing that one of them gets to avoid Boston's Zdeno Chara and/or Patrice Bergeron.
3. Will either power play make any sort of an impact? Say this for both Chicago and Boston -- neither team relied on its power play to get this far. Both teams enter the Stanley Cup Final with two of the worst power plays (at least as far as goal-scoring is concerned) in the postseason, and considering both teams have excellent penalty kills (Chicago has been a league-best 94 percent this postseason. Boston, led by Zdeno Chara, Patrice Bergeron, and Tuukka Rask, completely shutdown Pittsburgh's power play in the previous round) it's going to be a challenge for both teams to get their power play going. Both teams have been among the best 5-on-5 teams in the NHL this season, and the winner of
2. Zdeno Chara vs ... Watching this postseason, especially the Eastern Conference final, it's still a little hard to believe that Bruins defenseman Zdeno Chara wasn't even a finalist for the Norris Trophy this season. He did a number on Pittsburgh's high-powered offense and it's not going to get any easier in this series. If the Blackhawks keep Toews and Kane apart, which player will get the Chara treatment? Even with home-ice advantage and the last line change it's going to be difficult for Blackhawks coach Joel Quenneville to avoid him completely given that Chara plays nearly 30 minutes a night.
1. Will anybody beat Tuukka Rask? Boston's goalie Tuukka Rask is doing to the NHL in 2013 what Jonathan Quick did to it during the 2012 playoffs. Rask enters Game 1 with the best save percentage in the NHL this postseason, and has only been getting better. In his past six games he has given up one goal or fewer five times and has a .964 save percentage over that stretch. There were moments in the previous round where the Penguins managed to get some pucks past him but couldn't find the back of the net (a lot of shots off the post) but the numbers are still absurd. It's not going to last forever, but fortunately for the Bruins they don't need it to last forever. They just need it to last for another week or two. 
Chicago player to watch: Corey Crawford
The other goalie in this series, but certainly not one to be forgotten. Corey Crawford has been outstanding for the Blackhawks this postseason and is at the top of the NHL leaderboards with Rask this postseason. Rask and Crawford are No. 1 and 2 in goals against average and save percentage this postseason which tells you pretty much everything you need to know about the importance of goaltending in the Stanley Cup Playoffs.
Boston player to watch: Jaromir Jagr
Jaromir Jagr is back in the Stanley Cup final for the first time since he was a teenager, and while he's not the game-breaking player he used to be, he's still a force to deal with everytime he's on the ice. He's yet to score a goal this postseason through three rounds, but when he's on the ice good things are happening for the Bruins and it's only a matter of time until he breaks through.
Vegas isn't being quiet about its hot start to the NHL preseason

The blue-liners are set for another big push, but Edmonton's rise is hard to ignore in the...

Meanwhile, the Devils' Brian Boyle isn't sweating his recent cancer diagnosis
Limited-time Warriors-colored jerseys are apparently on the way in January

The 32-year-old forward tells the media he expects to be back on the ice for the Devils op...

It seems it's all as wild as it sounds, with Canadian actor Zack Ward heading a 'West Coast...