Stanley Cup Final: Breaking down the Conn Smythe race
With the Stanley Cup Final tied at 2-2, how is the Conn Smythe race for postseason MVP shaping up? Well, it's still a goalie's award.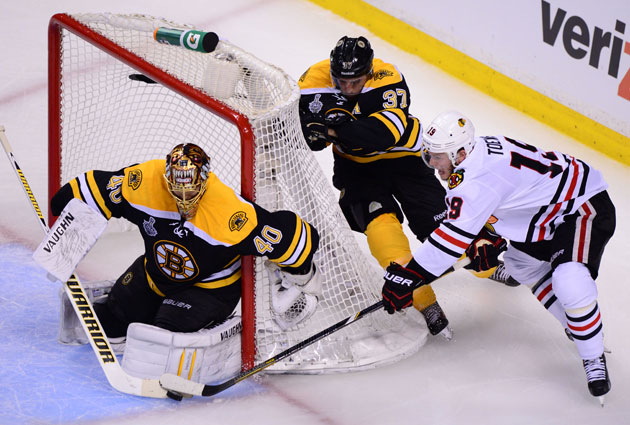 More NHL Playoffs: Scores | TV Schedule | Expert Picks | Odds | Mock Draft | Rumors
There are at most only three games left in the Stanley Cup playoffs, meaning it's about time to hand out the Conn Smythe Trophy to the postseason's most valuable player.
You would think by now there would be a clear front-runner -- there usually is -- but it's not as crystal clear as you'd expect. Game 4 kind of threw those plans for a loop as the man who was in front by most everybody's account, Bruins goalie Tuukka Rask, gave up six goals in an overtime loss to the Blackhawks. His counterpart, Corey Crawford, wasn't any better -- perhaps even worse -- as he was abused on his glove side for five Bruins goals.
Remember, though, that was just one game, as jarring as it might have been and as fresh as it is in our minds. The Conn Smythe goes to the playoff MVP, and one rough night won't alter things too much. With that said, here's how the Conn Smythe race is shaping up to play out.
1. Tuukka Rask

As mentioned above, giving up six goals in less than 70 minues of Game 4 is the lasting impression of Rask at the moment, but let's not forget how good he has been. Consider that in the previous 521:15 before Game 4, Rask allowed only seven goals. So even after the rough night, he still has a .941 save percentage this postseason and a goals-against average of 1.83, both outstanding numbers.
Remember, a goalie will almost always win the Conn Smythe, and typically the goalie on the winning side. If the Bruins do lift the Cup, Rask is going to be hard to beat. At least he will be harder to beat than he was for the Blackhawks to beat on Wednesday night.

Let's be honest here: goalies are almost guaranteed this award. It's basically a law of the Stanley Cup playoffs. That's not to say Crawford hasn't been a player worthy of winning the award. His .931 save percentage and 1.86 goals-against average are second in the playoffs only behind Rask. It's absolutely no coincidence that the Blackhawks and Bruins are the last two teams standing and goes to almost validate the idea that the Conn Smythe goes to a goalie; their value seems so magnified in the postseason.
So this is a ranking in a handicapping situation, not necessarily my personal rankings. It just doesn't quite feel to me like Crawford is a Conn Smythe winner. Again, that's not to say he hasn't been very, very good for the Blackhawks. He has. He just hasn't been inredibly memorable or stuck out the way Rask has, or how Jonathan Quick and Tim Thomas did the past two years. But right now this series is shaping up for Crawford to win it. If he and the Hawks take the Cup, he's probably the favorite for the MVP as well.

I know that he is just fourth on the Bruins in points this postseason, but Bergeron has been getting better as the playoffs have gone along to the point that he has been outstanding in this Final so far. Even though he doesn't have the most points on the team, he has managed to catch David Krejci for most goals (nine). He has four goals on what was largely an ineffectual power play, or at least that was the case before the Final began. An indication of how busy/effective he has been offensively speaking is that he has more shots -- 70 -- than any other Bruin in the playoffs.
In addition to the offense that has become more and more clear, he has continued to be an excellent defender as well, doing all the things that made him a very close runner-up to Jonathan Toews in the Selke Trophy voting. These facets of the game usually go unnoticed by many, but Bergeron is one of those players who make people notice. He probably doesn't really stand this good of a shot at the Conn Smythe because voters love to just look at points, but Bergeron is picking up momentum.
4. David Krejci

People love points, and Krejci's got 'em! He has 24, in fact, which is five more than any other player in the playoffs; his linemate, Nathan Horton, has 19. The Bruins' top line was simply on fire in the first three rounds. You cannot discount the attention that people will give to posh point totals. And even if Krejci doesn't score another point, he's already guaranteed he will finish as a point-per-game player in the playoffs.
But since Game 1 of the Stanley Cup Final, Krejci and his line have been quieted. That might hurt him in this vote. It's supposed to be about the entire tournament, but the lasting image of the Final games does have an impression. People remember what you have done for them lately. That Krejci doesn't have a goal in the five most recent games doesn't help much.

Not much separates the Blackhawks' top skaters in the playoffs, but I give Sharp the nod over the others. It seems it has been done quietly, but he has had a very good postseason after a somewhat disappointing regular season in which his offensive numbers were down. They haven't been lately.
His 16 points are tied for second on the Blackhawks while his 10 goals not only lead Chicago but all players in the postseason. He has been a very noticeable player on the offensive end, firing shots at will, and we all know that the best way to score is to, you know, actually shoot the puck. Unlike the regular season, he has been rewarded for it and it shows. He has the requisite points/goals production to make him a real candidate. A few more goals to put some space between him and the pack in the last couple of games wouldn't hurt.
6. Marian Hossa

If people weren't aware of how good and important of a player Hossa is, perhaps they should just go back and review Games 3 and 4 of the Final. When Hossa was out of the lineup with an injury, the Blackhawks were powerless on offense, unable to do much of anything. In Game 4, he was back on the ice and once again the Hawks were flying. With Hossa on the ice, the Blackhawks outshot the Bruins by seven.
Naturally, a player who has been making that kind of impact has also been producing. He is tied with Sharp with 16 points, one behind Patrick Kane for the team lead. And remember that he has played one fewer game than those guys. Even more amazing -- OK, not really -- is that he has three power-play goals, accounting for 37.5 percent of Chicago's scoring on the man advantage. Oh, and he has also been an effective player in his own end. He has 24 takeaways in the postseason, six more than anybody else.

Same thing as Krejci: points talk, and Horton has 19 of them with seven goals and 12 assists. In addition, though the emphasis on plus/minus has rightfully been diminished over the years to the point that it's almost an archaic number, there are plenty of people who do still pay attention to it, right or wrong. And Horton's number is pretty dang absurd at plus-23 in 20 games. His other linemates aren't even close to that. Krejci is at plus-16 and Lucic plus-15.
Like Krejci, though, Horton has gone relatively quiet here in the Final. It seems to have all coincided with Horton suffering an injury in overtime of Game 1, though he did return for Game 2. It's pretty clear that the Bruins' top line hasn't been the same since. Maybe it's just a matter of Chicago adjusting and shutting them down. Regardless, he needs a really strong finish to even get seriously back into the conversation. Either that or he needs to bring a water bottle of TD Garden ice water to Chicago.
8. Zdeno Chara

At this point, everybody knows that Chara is a beast. But he has proven it in these playoffs. He has been responsible for shutting down the top players/lines of the Bruins' opponents in every series and until Wednesday night's Game 4. Again, it was just one game, so keep it in perspective -- he had done a marvelous job with it. You could easily argue that no skater makes a bigger impact in a game than Chara. He is averaging just under 30 minutes a game at 29:59. Keep in mind that is slightly skewed by playoff overtime, but that's still a massive work load for a massive man.
With 14 points (2-12=14), he also has the second-most points of any defenseman in the postseason behind only Kris Letang. And (here I go again with the plus/minus) his plus-10 is the best in the postseason among defensemen, tied with Duncan Keith. Discredit it all you want, but there are still voters who pay attention to that stat and it does have some weight. Unfortunately, defensemen have a really hard time getting noticed for the Conn Smythe, even if Chara is impossible to miss on the ice.
9. Patrick Kane

Kane is Chicago's points leader in the playoffs with 17, but it honestly doesn't feel like it. He has had stretches of playing excellent hockey -- which have not so coincidentally come when he was playing with Jonathan Toews -- but there have been too many other stretches in which Kane has been nearly invisible. Still, he has seven goals and 10 assists in the playoffs.
Working in Kane's favor is that he did have one of the most memorable individual performances of the playoffs. In Game 5 of the Western finals vs. the Kings in a closeout game, Kane turned in a hat trick with the third tally being the game-winner in overtime. If the Blackhawks keep Kane and Toews together (honestly, there is no reason not to at this point with how good they have been), then Kane could shoot up the list in a hurry.
10. Jonathan Toews

Toews has come under fire a lot in the playoffs for his lack of scoring, but did you know that he has been a good player in the playoffs? I mean, a really good player. Alas, the fact that he only has two goals will be a detriment that will likely eliminate him from most people's minds as a contender.
Even if he scores something like five goals in the next two games to lead the Blackhawks to the Cup, he probably is too much of a long shot just because people will remember the criticisms of him disappearing instead of just seeing it as a player who was unlucky. Seriously, his shooting percentage is a whopping 3 percent. That's just bad luck, not poor play.
Keith is also right here with Toews on the fringe. But at this point, these guys are super long shots.
Here's what you might have missed across the NHL on Tuesday night

Montreal can't score, New York's defense is in disarray and the Oilers are supremely under...

The NHL's newest team is a hit on and off the ice
J.T. Brown, who raised his fist during the national anthem, meets with Tampa Police Depart...

The decision would likely be met by anger from some fans, but it could also make sense

Toronto shoots to the No. 1 spot, just ahead of the Chicago Blackhawks