Stanley Cup Final: Even up 2-0, Kings still searching for A game
The Kings are up 2-0 in the Stanley Cup Final but don't let that fool you, they haven't played their best games yet. If they want to win in New York, they'll need to find their A game.
More NHL Playoffs: Schedule, TV listings | Expert Picks | Bracket | Scores | Odds
When you hear the words Stanley Cup Final you think of the two best teams in the league playing the best hockey of the season. This year you might have to settle for most entertaining instead because it hasn't always been pretty.
Games 1 and 2 followed very similar paths. The basics you probably know; the Rangers took 2-0 leads in both games in the first period only to see LA come back and win each game in overtime. In that sense it has been pretty vintage playoff hockey from these Kings, overcoming big deficits.
In another sense, it has been anything but. That's the interesting thing about where the Kings find themselves right now, holding on to a two-games-to-none lead in the Stanley Cup Final -- they haven't been great.
But credit where it's due on a couple of accounts here. No. 1, the Kings have never stopped fighting, and even without their best have still found ways to win games, a true mark of a champion. The second is that the Rangers have been giving them some trouble, perhaps unexpected with speed and their forecheck.
Combine the factors and add in a mixture of other mitigating circumstances -- fatigue, ice conditions, etc. -- and you get a Kings team that has been downright sloppy at times. There are a lot of words that get used to describe the Kings, but sloppy is very rarely one of them.
In Game 2 alone the Kings turned the puck over 33 times (in the mind of the official scorer), and the Rangers were credited with another four takeaways. In just over 90 minutes, LA had 37 giveaways, not including a number of others that could have counted such as the fumble between Jonathan Quick and Willie Mitchell that led to a Rangers goal in the second period. The puck hopped right over their sticks -- a bit of a common theme in Game 2 -- and to Mats Zuccarello, who set up the New York goal.
For a team that is the best in the league at possessing and controlling the puck, that's uncharacteristically poor management. While it hasn't cost LA a game yet, it has come close.
There are a litany of examples from the first two games of any number of poor bounces, poor plays or simply poor decisions, things the Kings need to cut out of their game. The fumbled play between Quick and Mitchell is one, and here is another example -- an ill-advised pass attempt from Jake Muzzin to Anze Kopitar in overtime of Game 2. it was nearly a disastrous decision but the Kings were bailed out by the goal post.
That turnover just can't happen, especially in OT, but let's not put the play entirely on the shoulders of Muzzin or Kopitar (he circled the puck to look up ice rather than getting it right on his stick and away from a danger zone) because the Rangers' forecheck helped make that play happen. Clearly Kopitar thought he had more time than he did.
"The forechecks caused some of our guys some problems, for sure," Kings coach Darryl Sutter said after Game 2. "It's the strength of their team, so ..."
One of LA's many strengths is its puck-retrieving defensemen but in Game 2 the Kings lost the battle against New York's forecheck. It has been integral to the first two games being played so evenly but the Kings' forecheck was just about as good going the other direction. Good luck scoring five goals on Henrik Lundqvist any other way.
Most assuredly this is a case of some nit-picking. The bottom line is the Kings are up 2-0 in a series where they only need to win four. They are halfway there already before even leaving their hometown, so should there really be that much to complain about? With the series shifting back to New York now, the answer is probably yes.
The Kings' "A" game is one of the best in the entire league, and when they don't have it, their B game is still usually good enough to win. They know they haven't been their best in the first two games and are a bit fortunate to be here.
"Are we playing good or are we not? Right now we're doing a lot of things that aren't in our game, haven't been in our game for years here. We're getting away with it I think right now," Jarret Stoll said after Game 2. "Don't get me wrong, we did a lot of good things to come back. Down 2-0, down 4-2. Resiliency to come back and battle and push and pull everybody into it, battle for that tying goal and the winning goal again. It's just how we're playing. We've got to be honest with how we're playing. We know we got more."
They'll have to find more if they want to keep this series lead in New York.
The Rangers have essentially played them to a draw in the first two games, in LA no less. The Kings are an excellent road playoff team but a razor-thin margin of victory at home doesn't usually translate so well to the road. Three of the final five games (*if necessary) will be in New York. Considering how close the Rangers have come to winning in LA twice already, the Kings probably wouldn't like to play the home-ice advantage through to the end; winning a game or two in New York isn't by any means necessary but sure would be nice.
If they're going to do that, they'll have to find that A game in their luggage from LA to New York.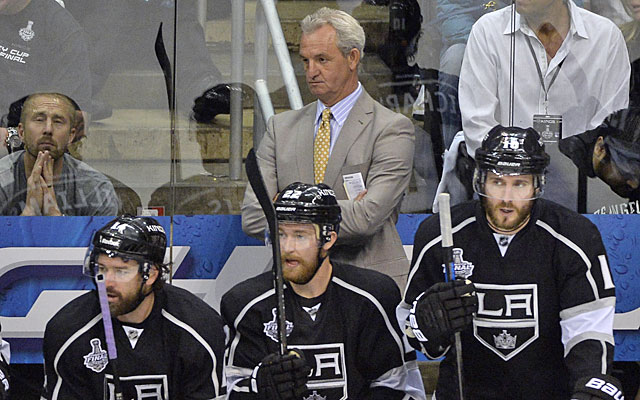 Buffalo is in the midst of contract extension talks with Jack Eichel, and the payout could...

Los Angeles isn't rushing to sign the 45-year-old forward any time soon

The University of Denver star and Hobey Baker Award winner is drawing interest
Intrigue is high in Arizona after a wild offseason, but expectations should still be tempe...

Players are set to give personalized messages for Adidas' former hockey equipment brand

The 40-year-old center is returning to the Wild after a successful run in Pittsburgh