Stanley Cup Final: Five keys for Bruins-Blackhawks Game 2
It is time to get ready for Game 2 of the Stanley Cup Final with five keys to watch for and two players who could have an impact.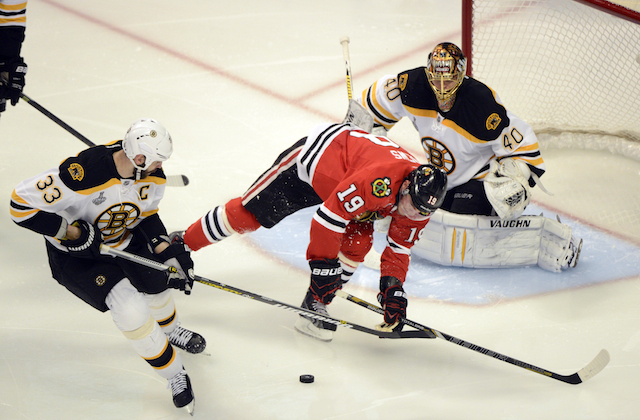 More NHL Playoffs: Scores | TV Schedule | Expert Picks | Odds | Mock Draft | Rumors
The two-day break between games was probably a good thing for both Chicago and Boston after the triple-overtime thriller that was Game 1.
The Blackhawks come into Saturday's game with the early series lead and look to head to Boston with a two-game lead. Even though Chicago trailed for most of Game 1, and even though Boston had a couple of solid chances to win it, the Blackhawks still have to be pleased with the way they played.
If they can match that sort of effort in Game 2 they may not need three overtimes to win it.
Let's get you ready for Game 2 with five keys (and two key players) to watch.
5. Boston needs to be better: It's weird to say this about a team that lost a one-goal game in triple overtime and had several chances of its own to win, but the Bruins need to be a lot better in Game 2. While they had a couple of unlucky breaks in overtime, they were also probably lucky to even get to overtime (and even have a two-goal lead at any point in the game) because of the way Chicago controlled the puck and kept the Bruins pinned in their own zone.
Chicago attempted 51 more shots than Boston at even strength and 47 more overall. The Bruins give up a lot of shots, the Blackhawks generate a lot of shots, and when you combine the two it could prove to be a problem for Boston.
A lot of things went right for Boston in the conference finals. Those same things did not go their way in Game 1.
4. Zdeno Chara and Dennis Seidenberg: Boston decided to use the Chara-Seidenberg pairing against Chicago's Jonathan Toews line, and it did not go well.
Seidenberg was scored on twice during 5-on-5 play (Chara only once) but they were dominated territorially with Boston attempting less than 35 percent of the shots with them on the ice at even strength.
That's actually a pretty bad night, and Boston's best defense pairing has to be better in Game 2.
3. Special teams ... again: If Game 1 was any indication, the only way you're going to earn a penalty in this series is if you send too many people out on the ice (which the two teams managed to do three times, including twice in the overtime periods for Chicago).
But even so, if there was one weakness Chicago had Wednesday it was, once again, its power play. The Blackhawks' power play has been a sore spot the entire postseason and went 0 for 3 in Game 1. Even worse, the Blackhawks managed to record just two shots on goal in its six minutes of power-play time. Given the lineup that team can put on the ice for a man-advantage that's just not anywhere near good enough.
2. Corey Crawford vs. Tuukka Rask: Even though Rask gave up four goals, double what he gave up in the entire Eastern Conference finals against Pittsburgh, he was still pretty awesome in net for Boston, posting a .936 save percentage (that number for the playoffs would be higher than every other goalie in the league). But when your team gives up 63 shots in nearly six periods of hockey, well, that's still going to result in a few pucks finding the back of the net.
For as good as Rask was, Crawford was just a little better in net for Chicago and continues his equally impressive postseason run. With the way he has played this postseason (and even during the regular season) he's certainly staking his claim on the starting position for Team Canada in next year's Olympics (assuming the NHL players play).
1. Will Nathan Horton play? The NHL's second-leading scorer this postseason had to leave Game 1, apparently because of a chronic shoulder injury that has been bothering him since the regular season, and is listed as day-to-day. He practiced Friday but his absence --if he misses the game -- would be a huge one for the Bruins given how well that line with David Krejci and Milan Lucic has played in the playoffs.
Player to watch for Chicago: Brandon Saad
One of the reasons the Blackhawks are back in the Stanley Cup Final is the emergence of young players like Saad, who have rebuilt a lot of the depth the team lost after its 2010 championship due to the salary cap crunch. The point production hasn't always been there for him this postseason, but he was one of Chicago's best players in Game 1. He posted a game-high plus-25 Corsi (plus-minus using all shot attempts) and was on the ice for two of Chicago's four goals, including one that he scored.
Player to watch for Boston: Tyler Seguin
If Horton can't go for the Bruins, somebody is going to have to step up and provide some offense in his place. Could that finally be Seguin? The third-year forward has scored just one goal this postseason on 62 shots, the fourth-highest total in the playoffs. Few players in NHL history have ever gone on such a goal-scoring drought in the playoffs so maybe he's due to put one in.
NHL players are still disappointed they won't be going to skate in PyeongChang

With Artemi Panarin in the mix and a Vezina winner headlining the defense, Columbus can be...

The league's crackdown on faceoff infractions and slashing penalties isn't without some cr...
Joffrey Lupul spent last season on long-term IR but seems to be saying he's healthy

Early playoff trouble has been evident, but the Wild tout an offense capable of making another...

Why walk with skate guards when you can rollerskate instead?