Stanley Cup Final: Five keys for Bruins-Blackhawks Game 3
It is time to get ready for Game 3 of the Stanley Cup Final with five keys to watch for and two players who could have an impact.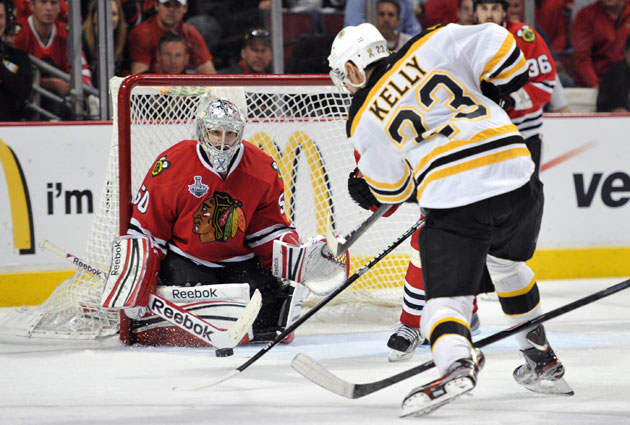 More NHL Playoffs: Scores | TV Schedule | Expert Picks | Odds | Mock Draft | Rumors
The Stanley Cup Final is shipping on up to Boston.
After two awesome games in Chicago that required overtime to settle things, we'll have to see if the trends will continue at TD Garden between the Boston Bruins and Chicago Blackhawks . It certainly feels like every game is going to reach overtime, which is probably just fine by every hockey fan out there.
It seems only right that the series is even going into Game 3, the first time since 2004 we could say that in the Final. The first two games have almost had games within the games, but by the end they were both pretty even. The Blackhawks completely dominated the first period in Game 2 in every single facet, but slowly and surely the Bruins battled back until they were the team controlling the overtime.
The production has come in waves for the two teams so far, and that is likely to continue, though the waves might get shorter and shorter as the series rolls on. Just another reason why this series should continue to remain so fun when Game 3 begins at 8 p.m. ET Monday.
5. Road woes: The road has not been incredibly kind to the Blackhawks in the playoffs, especially in Game 3s. In the first three rounds the Blackhawks have yet to win a Game 3 -- all of which have been on the road seeing as how the Hawks won the Presidents' Trophy. Whatever it takes for Chicago to find that success on the road, it's going to need all of it because going into Boston is not an easy thing to do if you're looking for a win.
4. Viktor Stalberg a go? In the first two games of the series, Blackhawks coach Joel Quenneville elected to sit the speedy Stalberg for Brandon Bollig . It looked like a pretty decent decision in Game 1 as Bollig three shots and nine hits in a little less than 15 minutes. He gave them pretty much what they wanted so Quenneville went back to Bollig in Game 2. But the only things on his stat line in that game were a minus-1 and two giveaways.
So now it looks like Quenneville might go back to Stalberg as Q said on Sunday that "he could play." He hasn't been terrific in the playoffs but there is little dispute that he presents a big offensive upgrade to Bollig. If Bollig is not going to be very effective in his own end then the Hawks might as well go back to the the guy who played a lot this season and had nine goals and 14 assists. It was kind of a curious decision from the start to sit Stalberg from the beginning
3. Boston's third line: Unquestionably this was Boston's best line in Game 2. Claude Julien has done a little bit of mixing on the bottom six since Gregory Campbell 's injury and he found a combination that worked really well, at least in Game 2.
Tyler Seguin might not be scoring a lot of goals but you could argue that he has been Boston's best skater in the first two games of this series. There are other contenders, certainly, but Seguin has been noticeable and very effective, his speed causing the Hawks issues at times. He led Boston with eight shots in Game 1 and then had the beautiful pass to Daniel Paille for the winner in Game 2. Speaking of Paille, he had himself a heck of a Game 2 as well, not only scoring that goal but setting up Chris Kelly 's equalizer earlier in the game.
If the Bruins can get similar production from the third line on Monday night then we can start talking about the Bruins having a top nine, not a bottom six.
2. The start: Perhaps the starts haven't proven to mean a whole lot in this series so far, but it will still be important to the game. You shouldn't expect a stat -- in a very small sample size -- like the first team to score will lose to stick around.
I believe the start will be very important, both teams looking to set a temp for how things will go in Boston. Chicago will come out trying to forget about the opportunity lost in Game 2 and just move on. When you go on the road in the playoffs, there is no better way to neutralize things in a hurry than by a quick start.
At the same token, the Bruins will be focusing on their start after showing up roughly an hour late to Game 2 in Chicago. The first period nearly buried them if not for Rask doing his job and more. The Bruins will have the loud crowd behind them and should be revved up now that they have home-ice advantage. You should figure the game will start at a pace similar to where it left off in overtime.
1. Corey Crawford vs. Tuukka Rask : Especially now that they are on the road, the Blackhawks are really going to need the best from Crawford, and we have seen the best can be pretty darn good. He has to be able to match Tuukka Rask save for save, or even beat him, now that the series shifts to the road. It's not like he has been bad in the first two games but Chicago could stand for him to go from very good to great in Boston.
The Bruins probably don't need more from Rask, they just need this to continue from Rask. He was good in Game 1, though not as sharp as he has been all season long. His rebound control was not perfect, there were second chances. Game 2 was much better and he was back to being the goalie we saw all postseason long. You can count on the fact that Rask will likely be excellent.
In a series that is playing out as closely as this one is, there is even more focus put on the goaltenders in the Cup Final when the spotlight shines brightest on them in the first place.
Player to watch for Chicago: Jonathan Toews
Why Toews? Well once again the criticism is starting to pop up because Toews, the captain, just isn't picking up the points and goals like it's expected of him. However Toews is still a player making a large impact on the ice for the Blackhawks. He nearly scored in Game 2 on a great individual play in the offensive zone, only to have the goal waved off because of the intent to blow the whistle from the referee. It says something about Toews -- and Marian Hossa on the line with him -- that the Blackhawks have continually put players needing a boost on his line.
That's not to say there aren't some areas Toews could be a little better in. One of the reasons why he won the Selke Trophy this season as the top defensive forward in the league was because of his proficiency in the faceoff circle. Through two games he has won 29 and lost 29. In a series as tight as this has been so far, a few faceoff losses could make a big difference. Patrice Bergeron has been beating Toews and the other Hawks centers quite a bit on the dot, winning 42 and losing just 26.
Player to watch for Boston: Milan Lucic
The Bruins top line didn't have the same type of offensive efficiency in Game 2 as it did in the first game -- or in the postseason as a whole -- Lucic included. After an excellent Game 1 where he scored two goals and had an assist, the offensive production wasn't there in Game 2. He attempted only one shot all game, and the same can be said for line mates David Krejci and Nathan Horton . There's been a pretty direct correlation this postseason between that line buzzing and the Bruins winning (although they did win Game 2 without much from them).
However Lucic was still making his presence felt. Literally. He had 10 hits in Game 2 alone, or 20 percent of the Bruins' total as a team. With his big body, that's something the Bruins would like to see continue to happen, trying to perhaps wear down the Blackhawks ever so slightly.
Former Lightning standout will be guarding the net in style in 2017-18

Devils are still in rebuilding mode, but they have reason for hope thanks to young additio...

Buffalo is in the midst of contract extension talks with Jack Eichel, and the payout could...
Los Angeles isn't rushing to sign the 45-year-old forward any time soon

The University of Denver star and Hobey Baker Award winner is drawing interest

Intrigue is high in Arizona after a wild offseason, but expectations should still be tempe...