Stanley Cup Final: Five keys for Bruins-Blackhawks Game 4
It is time to get ready for Game 4 of the Stanley Cup Final with five keys to watch for and two players who could have an impact.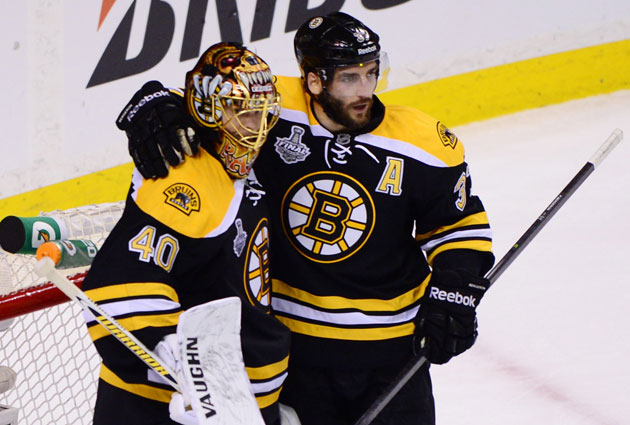 More NHL Playoffs: Scores | TV Schedule | Expert Picks | Odds | Mock Draft | Rumors
Just as they do a lot of things, slowly but surely the Boston Bruins are taking control of the Stanley Cup Final as if they were a vice grip. It's been more than two full games worth of time since they last surrendered a goal, and that's to a powerful Blackhawks offense.
In Game 3 it was almost easy to forget how balanced this series looked like it was going to be after the first two games in Chicago. On Monday night the action in Boston was much more imbalanced, obviously favoring Boston. The final was only 2-0, but you never had the sense that the Hawks were able to mount a threat at all against Boston.
In other words, it's time for Chicago to try to wake up and get back into this series. If this series is truly destined for seven games, they might absolutely need Game 4 to pull the series back even and stem the tide that is the Bruins.
That leads us to the five keys for Game 4 on Wednesday night. One that you will notice is not on the list is the Blackhawks power(less) play because, well, at this point it's almost at the point of being beyond hope. Anything Chicago gets from its man advantage is a bonus at this point, because the Blackhawks just can't count on it. The Bruins have killed 27 straight penalties, and Chicago has looked bad to awful. The Hawks can't be bad/awful in the rest of the keys for Game 4.
No. 5. Faceoffs: Normally you don't think a ton about the importance of faceoffs, largely because they're just like a coin flip; usually they balance out. They aren't balancing out in this series, slanted heavily in favor of the Bruins.
It was almost at an exaggerated level for comedic effect in Game 3. The Bruins won 40 of 56 faceoffs. That's 71 percent. Patrice Bergeron is the best faceoff man in the game and proved it going an incredible 24-4. Meanwhile, some of the Blackhawks had truly horrific numbers like Michal Handzus, who was 0 for 10, and Dave Bolland. His all-around awful Game 3 included winning 1 of 8. Winning faceoffs is important -- they kickstart offensive possession. It's a relatively small thing in the scheme of things, but it would behoove the Blackhawks to improve on the dots, as coach Quenneville knows.
"Very important. Two areas we weren't effective in [Game 3] were the power play and the faceoff circle," he said Tuesday. "Bergeron had one of those nights that you like to have in a career. I think across the board, we've been watching the group of centermen here, digesting it, dissecting it, knowing we have to be better as well."
No. 4. Blackhawks' lines: In Game 3, they were kind of a mess, to be honest. The Blackhawks were clearly in a bad spot having Marian Hossa out of the lineup and replacing him with Ben Smith, that puts you behind the 8-ball. Still, the lines were producing some very curious combos. For example, Jonathan Toews was paired with two fourth-liners in Michael Frolik and Marcus Kruger. The logic behind this seems to be it was to pull the matchup of Zdeno Chara to Toews and give the rest of the team a chance. But why put arguably your best player on a line that largely makes him absent? Toews is already having a hard enough time actually scoring.
Jonathan Toews in his past 44 playoff games -- TWO even-strength goals dating back to 2010 Conference Finals. Stunning stat.

— Greg Brady (@bradyfan590) June 19, 2013
It's tough to score against the Bruins, so you might as well put the best line together that you can and see if they can get the job done and then just try to survive with the rest. When Patrick Kane and Toews were paired together in the LA series, they really clicked, so why not try it again now?
No. 3. Tuukka, Tuukka, Tuukka: Man, oh man, is this guy good. He has been so locked in for weeks now and the Blackhawks are finding he still is. He's been so good that the Bruins hardly have needed any offensive production; it's pretty close to a lock that two goals will do it. If he remains unbeatable, obviously so do the Bruins.
What has been so impressive is Rask's positioning. He seems to always be square to the shooter, or as close to square as he can get. He's also been shutting down the rebound opportunities in the last two games. It has led to an incredible streak for him and the Bruins: In the last 521:15, Boston has surrendered seven goals (stat via @AdamVingan). That's pretty good. The key here, though, is as much about the Blackhawks finding a way to beat him as it is him lifting the Bruins. That leads us to the next key ...
No. 2. Can Blackhawks break down Bruins? Rask was undeniably good in Game 3 for the Bruins. You don't post a shutout without being on your game. But he was also hardly tested thanks to the stout defense that plays in front of him. They gave Chicago hardly any good looks. Just take a look at the shooting chart from Game 3 for the Hawks.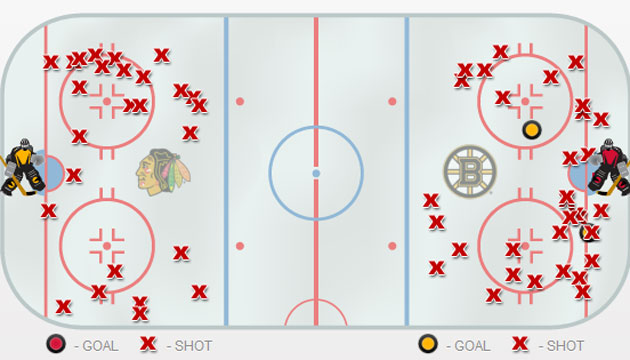 Notice how few Xs are between the dots or in any high-scoring area on the Blackhawks' side. It gets a little easier to see why Rask was able to keep the Hawks off the board -- there were only a couple of times where the Blackhawks even got close to him.
Somehow the Blackhawks have to find a way to penetrate the Boston defense to get some better looks because Rask is too good to be beaten from the perimeter. Of course that's not easy to do against guys like Zdeno Chara, Dennis Seidenberg and crew but it will help having a certain exceptional forward back for Game 4 for Chicago ...
No. 1. Marian Hossa: All indications are he will play in Game 4, so the Blackhawks have that going for them. His absence was very clearly felt and had a massive impact -- almost entirely negative -- on the Blackhawks. It can't be all attributed to him, but Hossa being out was a very large reason why the Blackhawks offense looked so impotent.
Perhaps Game 3 was a game that was needed for everybody to come to truly appreciate how good of a player Hossa is. Not only is his offensive ability and puck-possession skill missed -- he generates a ton of shots and is one of Chicago's leading scorers in the postseason -- he's also a good defender. Hossa continually racks up takeaways, and obviously those go the other direction in the form of offense. If the Blackhawks stand a chance of trying to win a game in Boston, no easy task, they must not only have Hossa back in the lineup but get him playing like his normal self.
Player to watch for Chicago: Patrick Kane
If you haven't been actively watching Kane, he's been kind of tough to find in this series so far. Kane's biggest job on the ice is to generate offense, and he can't do that without the puck on his stick because when that's the case he can do some excellent things. He was having similar issues earlier in the postseason before he was reunited with Toews so again we come back to the line combinations. Chicago needs a guy like Kane to make an impact, and there's no better time than Game 4 to start in this series.
Player to watch for Boston: Patrice Bergeron
How good has Bergeron been? Really, really good. He is scoring goals -- he actually has two power-play goals in this series, which is simply unheard of. He has centered a line that's been responsible for shutting down one of Chicago's top lines, typically Kane's trio. Oh, and he's been absolutely dominating in the faceoff circle. If it weren't for Rask putting up such good numbers, Bergeron might be entering Conn Smythe favorite territory. More of that from Bergeron and the Bruins are in great shape.
Former Lightning standout will be guarding the net in style in 2017-18

Devils are still in rebuilding mode, but they have reason for hope thanks to young additio...

Buffalo is in the midst of contract extension talks with Jack Eichel, and the payout could...
Los Angeles isn't rushing to sign the 45-year-old forward any time soon

The University of Denver star and Hobey Baker Award winner is drawing interest

Intrigue is high in Arizona after a wild offseason, but expectations should still be tempe...