Stanley Cup Final: Five keys to watch for Game 5
The Chicago Blackhawks and Boston Bruins have a pivotal Game 5 on Saturday. If it's anything like the first four, it should be a good one.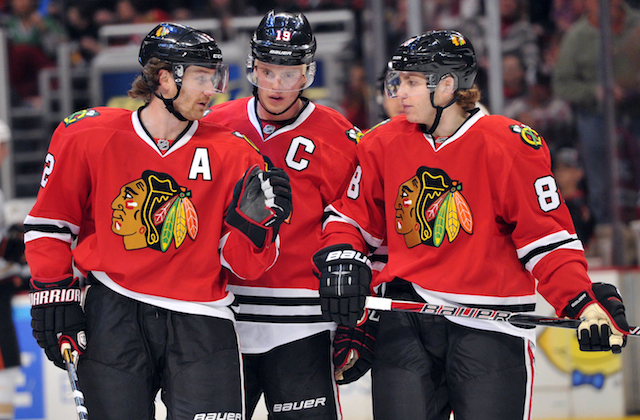 More NHL Playoffs: Scores | TV Schedule | Expert Picks | Odds | Mock Draft | Rumors
Somebody is going to come out of Game 5 of the Stanley Cup Final on Saturday night one win away from the Cup. If the first four games of this series are any indication, it's probably going to come down to a coin flip as it has been an incredibly close -- and for the most part, evenly played -- series.
We've already seen three overtime games, and the one game that didn't go to overtime was decided by just two goals in Game 3.
Game 4 was one of the more exciting Stanley Cup Final games we've seen in quite some time and featured some incredible back-and-forth action, 11 goals, overtime and countless chances.
It has certainly set the stage for what should be a great Game 5 in Chicago on Saturday night.
With that said, here are your five keys to watch for when the Bruins and Blackhawks return to the ice.
5. Corey Crawford's glove story: This became a big story after Game 4 when Crawford allowed five goals on his glove side, and you're sure to hear about it a lot on Saturday (I guess you already are).
Probably even before the puck drops. Every time he makes a save with his glove. Or gives up a goal over his glove. The funny thing is he has given up just as many goals blocker side as he has glove side, and in the three rounds before the Stanley Cup Final he actually gave up more goals blocker side. But hey, let's not let facts and objective numbers get in the way of a great narrative.
4. What happened to Tuukka Rask in Game 4?: With all of the talk about Crawford's Game 4 struggles it's kind of easy to forget that Boston goalie Tuukka Rask gave up six goals in the same game. And not just over his glove hand, but pretty much everywhere on the net. Before that game Rask had allowed just eight goals (total) over his previous eight games. Perhaps he was due for an off night because he's not going to keep putting up numbers like that forever, but given the number of shots the Bruins allow they're a different team when he isn't on top of his game.
Perhaps it was only a matter of time until Chicago broke through.
Why? Let's go on to No. 3...
3. Puck possession: The one thing Chicago has done very well in this series is control puck possession, especially at even strength. They're getting a ton of shots but until Wednesday just weren't getting many of them to go in. The Blackhawks were one of the best possession teams during the regular season and have continued through the postseason, and through the first four games of the Final have nearly 60 percent of the even-strength shot attempts in the series. That's a lot. And that's a sizable advantage. That's putting most of the pressure on Boston's defense and goalie. That's a good recipe for success, and if Chicago can keep it up Saturday night they must might be able to get the upper hand in the series.
2. Marian Hossa: It's the same story for Hossa as it was heading into Game 4, only this time there appears to be very little chance he doesn't play. Hossa came back for the Blackhawks on Wednesday night and even though he wasn't 100 percent played a fantastic game in Chicago's 6-5 overtime win. They're a different team with him in the lineup and on the ice.
1. Jonathan Toews and Patrick Kane, together again: So it turns out that putting Jonathan Toews and Patrick Kane on the same line is a great way for the Blackhawks to generate offense.
Let's see if they try it again.
Joel Quenneville put them together in the Western Conference finals and the duo responded by filling the back of the net against Jonathan Quick and the Los Angeles Kings, a team that had been shutting down everybody. For some reason the Blackhawks came into this series against Boston and split them apart and had a hard time generating offense against Rask and the Bruins.
In Game 4, with the Blackhawks trying to avoid falling into a 3-1 series hole, Quenneville reunited his two best players and was rewarded with a six-goal offensive outburst, with four of the goals coming with both Toews and Kane on the ice (three at even strength, one on the power play). They even combined to score two themselves, while both players played a role in Brent Seabrook's game-winning goal in overtime.
Stacia Robitaille says Donald Trump told her in an elevator that she was coming home with...

Vladislav Yeryomenko was the Teddy Bear Toss goal scorer for the Calgary Hitmen

The Golden Knights are finally getting their No. 1 goalie back after a 25-game absence
Washington has won four straight, and the Kings are also on a tear right behind the Lightn...

The NHL says it's only interested in expanding to Seattle, but here's a look at all the moving...

The NHL says it is only looking toward Seattle for the next expansion team