Stanley Cup Final: Have Hawks found way to 'expose' Zdeno Chara?
Zdeno Chara didn't have his best game in Game 4 on Wednesday night, but neither did the rest of the Bruins. The question is if the Blackhawks figured something out on Big Z.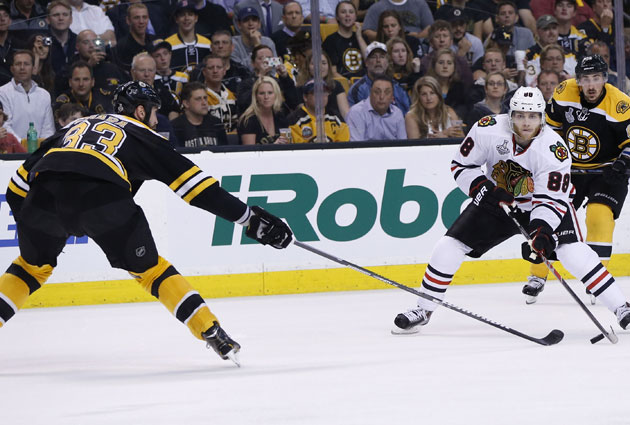 More NHL Playoffs: Scores | TV Schedule | Expert Picks | Odds | Mock Draft | Rumors
CHICAGO -- While nobody in their right mind could complain about the hockey that we have seen in this Stanley Cup Final, one thing has been mostly absent: ill will.
When the Bruins won the Stanley Cup in seven games over the Vancouver Canucks two years ago, there was enough bad blood to last for the next decade of Cup Finals. Some thought it was a Big Bad Bruins thing and that we would see some of the same vs. the Blackhawks. Outside of a couple of minor skirmishes, it has been very tame. The hockey has been enough entertainment, frankly.
That doesn't mean there isn't an attempt being made to brew some up.
With two days off between Games 4 and 5, there is a lot of downtime and a lot of player interviews with nothing changing. So when Jonathan Toews says something like he did on Thursday about Zdeno Chara, then it will get a little more mileage.
"He's not a guy that we should be afraid of," Toews said the day after Game 4. "We should go at him, protect the puck from him, make plays around him and through him. We use our speed.

"You saw the goal that Marcus Kruger scored, Fro [Michael Frolik] never stopped moving his feet and got around him -- great play by those two guys to finish off that play. It's a small example of the way we can expose him."
Seems relatively tame, right? It was. Toews didn't mean a lot by it, and I certainly don't view it as a dig or anything of that nature. Still, it was a topic of conversation early Saturday, and Bruins coach Claude Julien was asked to address the matter after the Bruins had their morning skate.
"I mean, they're allowed their comments. If that's what they think, then they should try it again," Julien said. "A lot of people have tried to figure out Zdeno, and he's the type of player he is. People talk about five goals against, but were they all his fault? None of them were his fault, actually.
"Just one of those situations where we feel he's one of our best players on our team. He's one of the best defensemen in the league, so I don't think there's too many flaws in his game.
"But if they want to think that way, they're entitled to it. I have no response to that except to know that my player is going to be good and ready tonight, and they can try it again if that's what they think."
Now that the idea of it turning into an ill-will situation is pretty much dismissed, the question at hand actually remains: have the Blackhawks figured out something on Chara?
The question itself stems from Game 4, when Chara was on the ice for five of the Blackhawks' six goals and took a minus-3 for the night. That's atypical of what we see on a Chara stat line. If the Blackhawks "figured" Chara out, could we see another bad stat line next to Chara's name after Game 5?
"He's going to have a big night," Tyler Seguin said of his team's captain. "He's that one guy that you have the most confidence in. He definitely leads our team. He's the one that starts everything off. I think he's going to have a good game tonight."
He could use some help from his teammates. The biggest contributing factor to Chara looking beatable in Game 4 was that the Bruins were forced to play an up-and-down game and it left Chara in some very vulnerable positions. On the Kruger goal that Toews mentioned, Chara was on the short end of a 2-on-1 break and did his best to use his 6-foot-9 frame -- made even bigger with his stick -- to block the passing lane. Tuukka Rask actually made the first save, but Kruger put it home on the second attempt.
Getting the Bruins out of their comfort zone was as big a factor as anything in beating their captain. As Julien said, teams have been trying to "figure out" Chara for years without much luck. If you can crack the rest of the team as they did in Game 4, it becomes a lot easier to crack Big Z.
For his part, Toews' linemate, Bryan Bickell, had a slightly different approach to facing Chara.
"We played a lot against him, a lot of minutes. We just have got to wear him down. I think we're going to match up different ways because we're at home, but I'm sure we'll see him as much as last game."
Considering Chara plays nearly 30 minutes a game, I'm sure they will. And, just in case, in the slight chance of things actually getting a little nasty on Saturday night, though, it shouldn't be a problem for Chara and the Bruins.
"I don't think he's going to shy away from anybody tonight," Seguin said.
Without the star power of the NHL, America is banking on big contributions from some AHL, KHL...

Lincoln Financial Field will play host to the annual outdoor game on Feb. 23, 2019

The Lightning stay on top as other teams begin to catch fire
The NHL said the Flyers defenseman was 'reckless' and used 'excessive force'

'How you gon' do that hockey?'